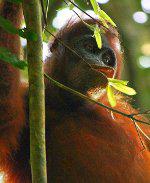 With ever increasing awareness about the negative effects that the palm oil industry is having on the environment, it remains a great shame that more and more everyday products seem to contain it. However, as companies are permitted to list it as "vegetable oil" in their ingredients consumers are unable to make an informed decision.
The worst thing for many consumer-level palm oil activists is not just the fact that basic products contain it, but also that those rare indulgences are now a thing of the past with palm oil found (but listed as vegetable oil) in all kinds of treats including chocolate, sweets, ice cream and numerous types of biscuit. So, at A-Z Animals we have prepared a number of palm oil free recipes for you to enjoy!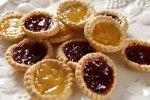 Treat 6: Jam Tarts
Ingredients
125g plain flour 55g softened butter, cubed 1 tbsp sugar pinch salt 2 - 3 tbsp cold water organic fruit jam
Cooking Preheat the oven to 200 °C/180 °F/gas mark 6. Grease and line a cupcake tin. Mix flour, salt and sugar in a large bowl before adding the butter, using your fingertips to rub it into the flour. Once the mixture looks like coarse breadcrumbs with no large lumps of butter, slowly add the water (only just enough to bind the mixture together) until a firm ball is formed. Wrap in cling-film to prevent it from drying out and chill in the fridge for 10 -15 minutes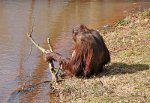 Roll out the pastry onto a lightly floured surface until it is about 0.5 cm thick. Using a round pastry cutter, cut out circles and place them into the lined cupcake tin before pricking the bottoms with a fork and adding a good tablespoon of jam to the centres. Bake in the oven for 12 - 15 minutes until the pastry is golden. Leave to cool on a wire rack. They can be kept for a few days in an airtight container. Save the rainforest. Save the orang-utan. Save the world. Sign the petition today.