How To Make Chicken Biryani
Growing up in Asia, Fridays were always a big deal in my family and one of the ways that my mother made Fridays special was to always have Chicken Biryani on the menu. This all encompassing meal in one dish is so flavorful, aromatic and simply irresistible. As you can imagine, I missed this fusion of rice and chicken ever since going Paleo until I figured this out…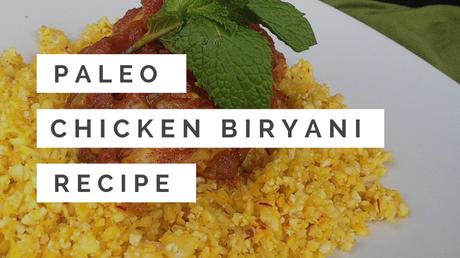 This is part of my new series of FREE Paleo Indian recipes that I will be sharing. So subscribe using the form on the side bar if you wish to receive all these recipes at no cost to you.
Ingredients
1 kg Chicken (cut into chunks)

1 onion (diced)

227 ml coconut milk

1 tbsp lemon juice

2 cloves garlic (crushed)

Small piece of ginger (chopped)

1 x 3 finger pinch chilli powder

4 x 3 finger pinches garam masala

2 x 3 finger pinches turmeric powder

2 x 3 finger pinches coriander powder

2 x 3 finger pinches cumin powder

Small bunch of fresh coriander leaves

750 g cauliflower rice

2 tbsp coconut oil

Salt
Method
In a large bowl, mix onion, coconut milk, lemon juice, garlic, ginger, coriander leaves and all the spices to create a  spicy marinade.

Add the chicken and marinate in the fridge for a couple of hours. Better if you could do this overnight.

When ready, Cook the marinade and chicken over a medium to high heat until cooked through, this takes around 18 minutes. On to the cauliflower rice

Cook the cauliflower rice in a pan in heated oil until soft,. This takes around 9 minutes.

Mix chicken and cauliflower rice, serve and enjoy!
4
Serves
15
Mins (Plus Overnight Marination)
Prep Time
30
Mins
Cooking Time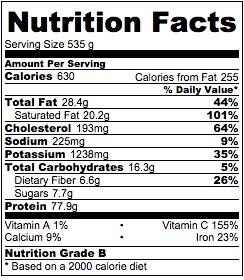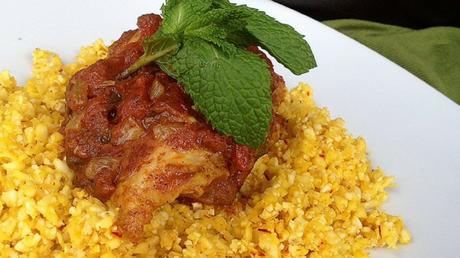 Share this entry
Thank you for reading! Enjoy My Paleo Indian "Rice" Recipe – Chicken Biryani
I appreciate you and your time. Check back regularly as I will be continuing to share more recipes and aim to have a great selection of Paleo Indian Recipes for you in the coming months.
Next steps
What are your thoughts on this? Would love to hear from you in the comments below?
PS – If you are looking for more Paleo diet recipes, why not check out my
9 Of The Best Paleo Cookbooks Of All Time (2016 Edition)
Alfie Mueeth