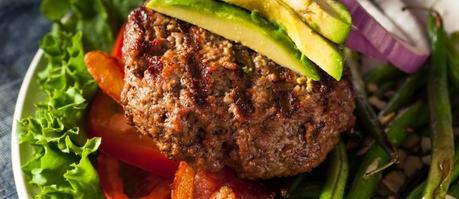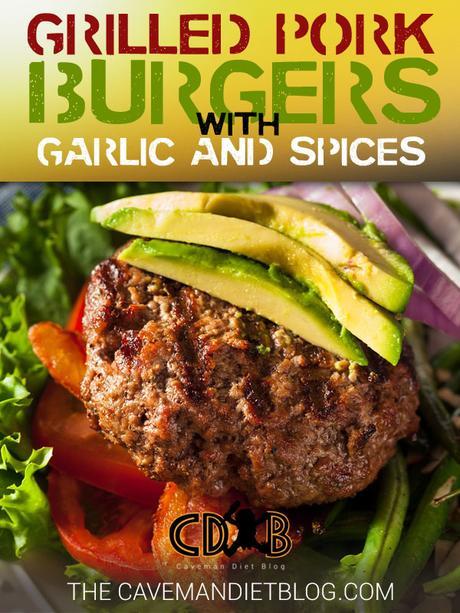 Paleo Dinner Recipes:
Grilled Pork Burgers
PREP/COOK TIME: 35 minutes
Homemade burgers are always better than the kind you can buy ready made and these are great because of all the ingredients in there. We like to use onion, garlic, cayenne and cumin to spice them up, along with bacon to add extra meatiness to the flavor. These burgers are best cooked on the grill but a griddle pan would also be fine if grilling is not an option.
Combine the ingredients and shape the patties by hand. Divide the mixture into two equal sized parts then repeat twice until you have eight patties. If you make them ahead and chill them in the refrigerator for half an hour before cooking, they are less likely to fall apart on the grill. Enjoy these homemade pork burgers with a fresh salad. Avocado pairs very nicely with them, adding a creamy flavor and contrasting texture to the meal.
Ingredients:
1 finely diced yellow onion
1 tablespoon oil (coconut oil works well)
4 minced garlic cloves
2 minced cooked bacon strips
2 1/2 lbs ground pork
1/2 teaspoon cayenne pepper
1 teaspoon ground cumin
1 teaspoon salt
1/2 teaspoon black pepper
Optional Ingredients to Serve:
Salad greens
Sliced fresh tomato
Crispy bacon strips
Avocado slices
Red onion slices
Method:
Preheat the grill to hot. Saute the onion in the oil for 3 minutes, then turn the heat down and add a pinch of salt and cook for 2 more minutes. Transfer the onion to a bowl. Add the garlic, bacon, pork, cayenne, cumin, salt and pepper, and mix well.
Shape the mixture into 8 patties, then grill them for 7 minutes per side or until cooked to your liking. Serve with any of the optional ingredients.