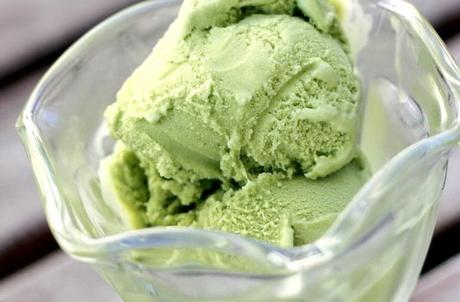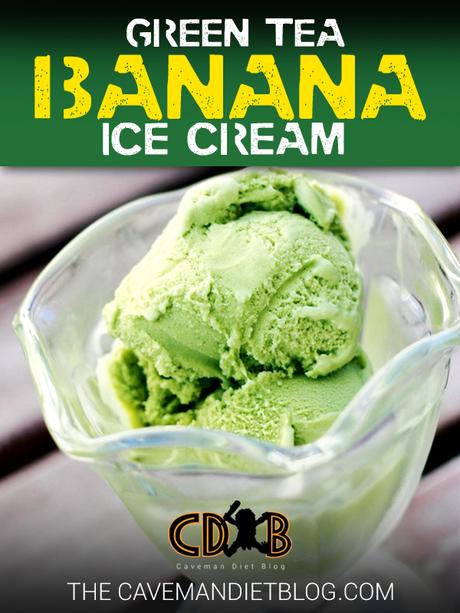 Paleo Dessert Recipes:
Paleo Green Tea Banana Ice Cream
Bananas and green tea powder (matcha powder) are the main flavors in this amazing paleo ice cream recipe. Coconut milk offers a rich, decadent texture, while honey, cinnamon and vanilla add aromatic flavor accents. You will need to freeze the bananas overnight before making this ice cream recipe so you need to plan ahead. The following day, you can put them into a food processor with the other ingredients, then the ice cream can be frozen to set it further or, if you prefer soft-serve, you can enjoy it right away. This ice cream is fruity, aromatic and perfectly balanced.
Ingredients
2 Bananas
1 1/2 cup Full Fat Coconut Milk
2 tsp Organic Matcha Powder
1 tbsp Raw Honey or Maple Syrup
1/2 tsp Organic Ground Cinnamon (optional)
2 Vanilla Beans or 1/2 tsp Vanilla Extract
Coconut Flakes or Chopped Nuts to garnish (optional)
Instructions
Peel bananas and roughly cut (or break by hand) into thick slices and place into a ziploc bag. The place in the freezer and freeze overnight. Once your bananas are completely frozen, place all of the ingredients into food processor or blender and pulse. (Note: bananas will break into pieces almost like shattered glass when you start to pulse) Pulse for approximately 6 minutes or until you have a smooth and creamy texture. Scoop into bowls and serve immediately or freeze the ice cream for an additional 2 to 3 hours to achieve a firmer texture. Garnish ice cream, as desired. chocolate chips, coconut flakes and nuts are all great choices.
---
I need more #Paleo #Greentea #Icecream in my life. Get the #Recipe. #matcha
Click To Tweet
---
Save
Print
Paleo Dessert Recipes: Green Tea Banana Ice Cream Author: 
CavemanDietBlog.com
Prep time:  10 mins Total time:  10 mins   Ingredients
2 Ripe Organic Bananas
1½ cup Coconut Milk (full fat)
2 tsp Organic Matcha Powder
1 tbsp Raw Honey or Maple Syrup
½ tsp Organic Ground Cinnamon (optional)
2 Vanilla Beans or ½ tsp Vanilla Extract
Coconut Flakes or Chopped Nuts to garnish (optional)
Instructions
Peel Bananas and cut into thick slices
Place in ziploc bag and freeze overnight
Put all ingredients into food processor. (Note: Bananas will break into pieces almost like shattered glass when you start to pulse).
Pulse until ingredients are well blended and the texture is smooth
Garnish with chopped nuts or coconut flakes
Serve immediately - To achieve a firmer texture, place ice cream in freezer for 3 to 4 hours prior to serving
3.5.3208