Fish forms an important part of our Axomiya diet.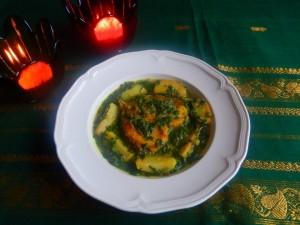 Growing up on the banks of the mighty Brahmaputra, fish would be in our plates every day for lunch and sometimes even dinner. It is caught fresh in the morning and prepared .The most common way of enjoying them would be a light, soup like curry (patla jhul). Pieces of fish are panfried and dunked into a light curry.On cold winter days we all love to have fish cooked with black pepper ,potatoes and spinach.  
Recipe:
Ingredients:
2 cups finely chopped spinach
2 sliced potatoes
1 grated onion
1 tbsp grated ginger
salt/sugar/turmeric
1 tsp cumin powder
1 tsp or to taste black pepper
1/2 tsp paanch phoren or jeera seeds
5/6 pieces pan fried fish  
Method:
Heat mustard oil in pan,add paanch phoren or few jeera seeds and let it splutter.
Add onion, ginger and fry nicely.
Add the sliced potato pieces,turmeric,salt and cook few minutes.
Add the finely chopped spinach and cook few minutes.
Add a cup of warm water ,cumin powder,fish pieces and let it simmer on low heat.
Add fresh ground black pepper and switch off heat.
- Courtesy Ajita Bhuyan