This post was originally published in the January 2011 issue of The Holland Times. The Holland Times is a newspaper that reports Dutch news in English for the expat community. A monthly publication, The Holland Times can be picked up for free at various locations throughout Amsterdam, The Hague, and Rotterdam, or you can pay for a subscription and have it delivered to your home. For more information, check out the website.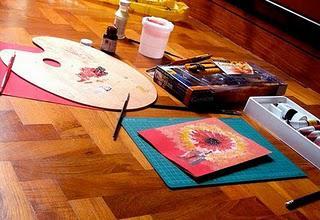 Arts and culture were dealt a double blow this year with cuts in funding and increased taxes. While artists and experts fear this will damage the industry, TIFFANY JANSEN uncovers the sector's staying power.
It has been seen in the movies - weathly lords and ladies dressing to the nines to go off to the theater, a museum or an art exhibition.
Throughout history, the arts have always belonged to the elite. Only the rich and educated had access.
But, the last century has seen cultural events become more accessible to the average "Henk en Ingrid." Theater and concert tickets are more affordable and museums and galleries are making efforts to attract a varied public.
Discount opportunities like the Museumkaart go that extra mile to make the arts even more affordable to the general public.
And the general public in the Netherlands seems to enjoy taking full advantage.
According to the Nederland Schreeuwt om Cultuur (Netherlands Cries for Culture) website, the number of people that attend theater is twice the number of those attending professional football games, four million people are members of a library, eight million people practice some form of art on an amateur level, and museums bring in about 20 million visitors per year.
But do not buy your season tickets to the opera just yet, because the arts are about to go back to being exclusive.
As of 1 January*, the new cabinet will be raising the value added tax (VAT) on event tickets to museums, theater and music performances, opera, ballet, concerts and festivals from six percent tp 19 percent.
This proposal comes as yet another unpleasant surprise to the country's creative community. In addition to raising taxes, the government also plans to cut funding to the arts by more than 20 percent.
Both proposals are part of an attempt to put the country in stronger financial standing. Though cutting taxes may benefit the country in the short-term financially, over the long run this tight-fistedness may end up doing more harm than good.
"Of course people are going to think twice if they are due to pay so much more for a painting or theater ticket," says Olivia O'Keeffe, a Utrecht-based artist.
"It will significantly reduce the amount of tickets being sold. People will still go to cultural events, but less. They will end up making a choice as to which instead of both."
Bruno Servaege, co-founder of Museumtickets.nl, urges for the consideration of tourism as well. "Once you've figured in transportation, hotel fees, food and souvenir expenditures, vacations to the Netherlands can easily cost a couple thousand euros."
To take in a museum or two at a six percent VAT may already be pushing many travelers' budgets. Raising the VAT to 19 percent will only serve to make these sorts of excursions less affordable. With the Netherlands' booming tourism, this may end up being a huge disadvantage.
Some also fear how these measures will affect patronage on a psychological level. Hacking funding and raising taxes are not typically the actions of a government that values arts and culture. If the government does not find the cultural features of the Netherlands important enough to stimulate, how can we expect anyone else to place value on it?
The moves may also impact how other countries view the Netherlands, especially whithin Europe where most countries have a mere five to six percent VAT implemented.
Servaege remains confident, however, that "a bunch of arrivistes in The Hague will certainly not influence our love for the arts and museums." But he does worry about what sort of impact this "destructive attitude" will have on the Netherlands in the future, prompting the question of whether or not the arts will survive this double whammy.
"Of all the sectors, artists already earn so little," says O'Keeffe. "They work from their desire to create. They, of all sectors, need support."
Museums too need support. According to Servaege, they spend thousands of euros just to acquire a single work of art and many of their staff are volunteers or work for very low wages.
Art lovers like Annemarieke Weber, writer and founder of FindFence, worry that these measures may stifle the future of art in the Netherlands.
"What if future painters can't afford a ticket to the Rijksmuseum?" she asks. "Who will continue the tradition of Dutch Light that our camera people and photographers are world famous for?"
A Nederland Schreeuwt om Cultuur initiative on 20 November saw 100,000 people from all over the Netherlands screaming in protest against the budget cuts and VAT increase. A petition on their website has over 10,000 signatures.
So, although these proposals may make it more difficult for cultural institutions and the people who enjoy them, the future is not an entirely bleak one for arts in the Netherlands,
"Art is basic to mankind, since the cavemen started to paint," Weber reassures. "It will always survive, regardless of taxes or subsidies."
*It was announced after the January issue of The Holland Times went to press that, as a compromise, the new cabinet has moved the initiation day to 1 July.
Pick up the February 2011 issue for Tiffany's article on the Utrecht Veilig movement.