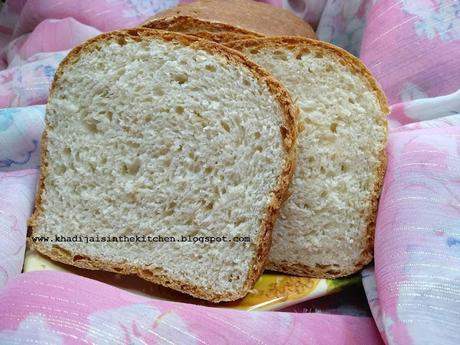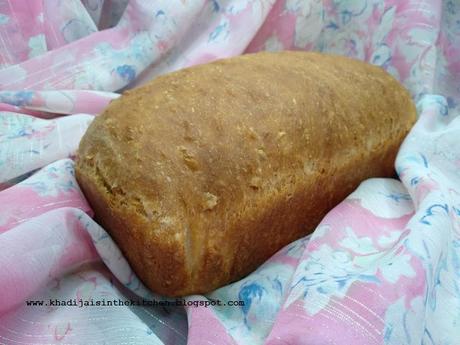 RECETTE / RECIPE / RECETA / الوصفة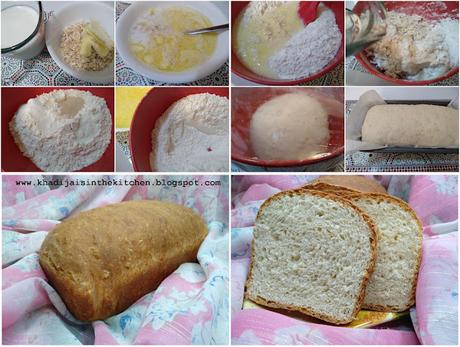 PAIN AUX FLOCONS D'AVOINE
INGRÉDIENTS :
50 g de flocons d'avoine
30 g de beurre
250 ml de lait tiède
425 g de farine tout usage
½ cuillère à table de sucre semoule
1½ cuillère à café de sel
2 cuillères à café de levure sèche
100 ml d'eau tiède
MÉTHODE DE PRÉPARATION :
1. Dans un bol, mettre les flocons d'avoine, le beurre et le lait tiède. Couvrir le bol d'un film plastique alimentaire. Laisser reposer pendant 30 minutes.
2. Dans un grand bol, mélanger la farine tout usage, le sucre semoule, le sel, la levure, le mélange de flocons d'avoine puis ajouter l'eau tiède et mélanger.
3. Badigeonner d'huile d'olive l'intérieur d'un grand bol, placer la pâte dans le bol et la tourner dans le bol jusqu'à ce qu'elle soit couverte d'huile. Couvrir la pâte et la laisser doubler de volume, environ 1 à 1,5 heures.
4. Dégonfler la pâte. Saupoudrer le plan de travail de farine tout usage. Déposer la pâte sur le plan de travail, lui donner la forme désirée, puis la placer dans un moule à gâteau chemisé de papier parchemin.
5. Laisser la pâte lever pendant 25 à 30 minutes. Enfourner pendant 40-45 minutes à 350°F. Laisser le pain refroidir sur une grille.
*******************************
ROLLED OATS BREAD
INGREDIENTS:
50 g rolled oats
30 g butter
250 ml lukewarm milk
425 g all-purpose flour
½ tablespoon caster sugar
1 ½ tsp salt
2 teaspoons dry yeast
100ml lukewarm water
INSTRUCTIONS:
1. In a bowl, put the rolled oats, butter and lukewarm milk. Cover the bowl with plastic wrap. Let stand for 30 minutes.
2. In a large bowl, whisk together all-purpose flour, caster sugar, salt, dry yeast, rolled oats mixture then add the warm water and mix.
3. Brush the inside of a large bowl with olive oil, place the dough in the bowl and turn it until it is coated with oil. Cover the dough and let it double in size, about 1 to 1.5 hours.
4. Deflate the dough. Dust the work surface with all-purpose flour. Place the dough on the work surface, shape it as desired then place it on a parchment-lined baking pan.
5. Let the dough rise for 25-30 minutes. Bake for 40-45 minutes at 350°F. Let the bread cool on a wire rack.
*****************************
PAN DE COPOS DE AVENA
INGREDIENTES:
50 g de copos de avena
30 g de mantequilla
250 ml de leche tibia
425 g de harina para todo uso
½ cucharada de azúcar en polvo
1 ½ cucharadita de sal
2 cucharaditas de levadura seca
100 ml de agua tibia
ELABORACIÓN:
1. En un bol, colocar los copos de avena, la mantequilla y la leche tibia. Cubrir el bol con papel film. Dejar reposar durante 3 minutos
2. En un bol grande, combinar la harina común, el azúcar en polvo, la sal, la levadura, la mezcla de copos de avena.Añadir el agua y mezclar.
3. Untar el interior de un cuenco grande con aceite de oliva, colocar la masa en el cuenco y girarla hasta que quede cubierta de aceite. Tapar la masa y dejar que doble su tamaño, entre 1 y 1.5 horas.
4. Desinflar la masa. Espolvorear la superficie de trabajo con harina común. Colocar la masa sobre la superficie de trabajo, darle la forma deseada y colocarla en una bandeja de horno forrada con papel pergamino.
5. Dejar que la masa suba durante 25-30 minutos. Hornear durante 40-45 minutos a 350°F. Dejar que el pan se enfríe en una rejilla.
****************************
خبز برقائق الشوفان
المكونات :
50 غرام رقائق الشوفان
30 غرام زبدة
250 مليلتر حليب فاتر
425 غرام دقيق ابيض
نصف ملعقة كبيرة سكر ابيض خشن
ملعقة صغيرة ملح
ملعقتان صغيرتان خميرة جافة
100 مليلتر ماء فاتر
طريقة التحضير:
1. في وعاء توضع رقائق الشوفان والزبدة والحليب الفاتر ثم يغطى الوعاء بغلاف بلاستيكي. يترك جانبا لمدة 30 دقيقة.
2. في وعاء كبير ، يخلط الدقيق الابيض والسكر الابيض الخشن والملح و الخميرة ثم يضاف الماء الفاتر. يدلك الخليط حتى يمتزج كل شيء جيدًا.
3. يدهن وعاء كبير من الداخل بزيت الزيتون ، يوضع العجين في الوعاء و يقلب في الوعاء حتى يغطى بالزيت. يغطى العجين و يترك حتى يتضاعف حجمه، حوالي ساعة إلى ساعة و نصف.
4. يفرغ العجين من الهواء. يرش سطح العمل بالدقيق الابيض. يوضع العجين فوق سطح العمل و يشكل حسب الرغبة ، ثم يوضع في صينية فرن مغطاة بورق الزبدة.
5. يترك العجين يختمر لمدة 25 إلى 30 دقيقة. يخبز لمدة 40-45 دقيقة على حرارة 350 درجة فهرنهايت. يترك الخبز ليبرد فوق رف سلكي.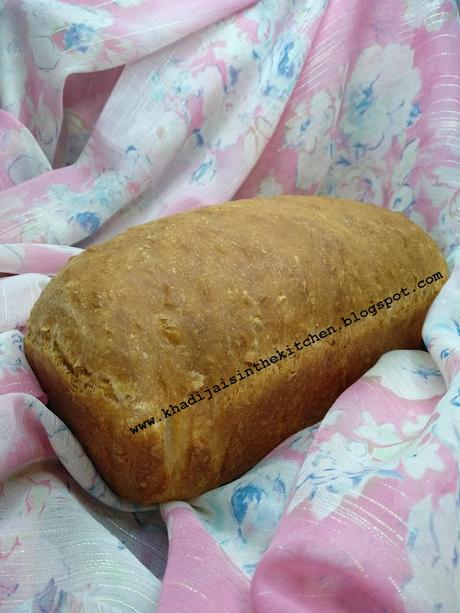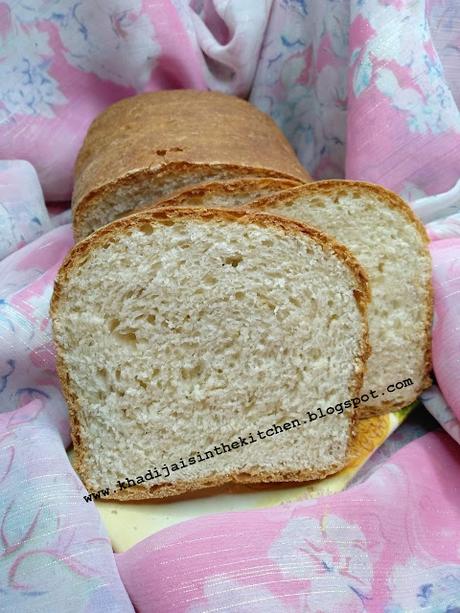 ****************
Hope you'll enjoy!!
****************
Merci de votre visite / Thank you for your visit /Gracias por su visita/ شكرا على زيارتكم
Pour d'autres idées de cuisine / For other cooking ideas / Para otras ideas de cocina / من اجل افكار اخرى للطبخ : Facebook, Instagram , Pinterest