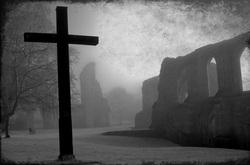 I'm reading through the accounts of Christ's death this morning. The hazy sky seems so fitting, the heaviness in my heart so appropriate.
As I read this piece of the Gospel for maybe the 500th time in my life, I once again find myself angry (royally pissed off actually) at the hypocrisy and the vitriol of the Sanhedrin. They're always the enemy to me. I've never, not once, read through these passages without thinking hateful thoughts towards them or somehow hoping that this time the story will turn out differently.
But it doesn't change, for as Pilate said 'What I have written, I have written."
It's natural to see them as the enemy because they wanted to kill my beloved Jesus.
For no reason but because He went against the status quo and He threatened the ease at which they blindly walked through life.
And they succeeded.
But what they didn't get and what I have to remember is that it was all a part of God's beautiful plan. It's what He had in mind all along. And what is amazing to me is that Christ knew it from the beginning too. He knew that each encounter with the Jewish leaders would bring Him closer and closer to death. And to rub salt in the wound, He knew that He'd be dying for them, just as much as He was dying for anyone else.
What kind of person does that?! Certainly not me.
And this is where I just get completely dumbfounded... because with all my faith and with all my interest in apologetics and proving God's existence, I still can't wrap my head around WHY God would do all of this. It's still so baffling to me that He loved us (and that's an all encompassing "us" by the way... there's not one that He didn't die for) so much that He would send this man, Christ, HIS SON, to die on a cross. That He would allow His son to endure the most painful death, meant only for the scum of the earth. And He did this not for fanfare or fame and not to put people in their place, but so that WE could have an all access pass to Him, The Father, and to life everlasting.
I don't know about you, but Good Friday is my favorite day of the year. Truly and honestly. Perhaps that sounds morbid, but the reality is without Sanhedrin taking advantage of Pilate and working so hard to "keep their hands clean" of Christ's death, God's plan would have not been fulfilled.
And without Christ's death, we'd have no resurrection... which ultimately means no salvation and no all access pass to our Mighty Father.
In Good Friday I see that despite darkness, despair, pain, hypocrisy, evil, and sin, God found a way. A way to bring us deeper in to His arms and a way to ensure that we have a continual relationship with Him.
FOREVER.
In Good Friday I see that God sometimes allows us to experience times of darkness so that we'd be ready for the light.
In Good Friday I see that in everything God is working towards
the good of those who love Him. That means that even in the dark times, He's working it out for YOUR good. Even in the times when you cannot feel Him, hear Him, see Him... HE IS THERE. That means that sometimes He allows the "Sanhedrin" of our lives to happen so that His plan can unfold... just as He planned it all along.
Good Friday is bittersweet, yes. But there is beauty in the breakdown, as always. The beauty is beyond evident to me and I hope it is to you too. Because without Good Friday, our debts would not be paid in full and we would not know what is like to be free, to be saved, to be loved so very much. And that just sounds tragic.
---
---
"Still it's what God had in mind all along, to crush him with pain. The plan was the he give himself as an offering for sin so that he'd see life come from it -- life, life and more life. And God's plan will deeply prosper through him."

-

Isaiah 53:10 The Message