PageCloud is one of the newest additions to the highly competitive website builder marketplace. Soon after their successful pitch at TechCrunch Disrupt 2015, PageCloud got released into the wild for the first time.
On their homepage, PageCloud leads with a very bold statement: "The world's best ‍‍‍drag and drop website builder." With several other drag and drop options available, we were excited to see where PageCloud fits in and what makes them unique.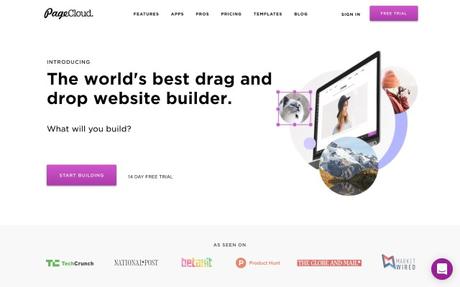 PageCloud Website Builder Review 2018: Is It Worth The Hype?
Getting Started
PageCloud offers a 14-day free trial that gives you the ability to test out the features before upgrading to a paid subscription. Unlike most of the website builders we've tried, PageCloud offers live chat support, even during trial. This was unexpected but very helpful for first-time users.
To sign up, PageCloud offers 3 options, traditional email, Facebook or Google SSO.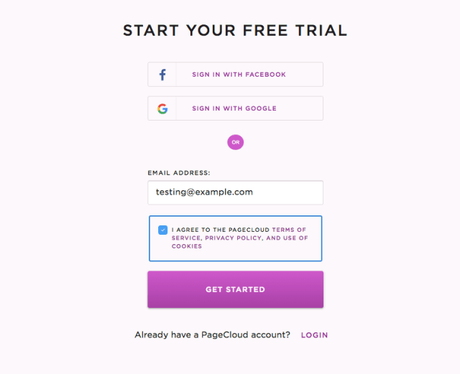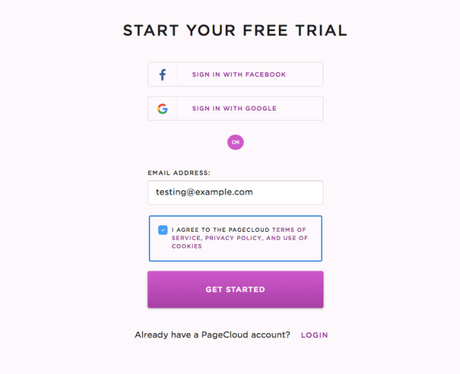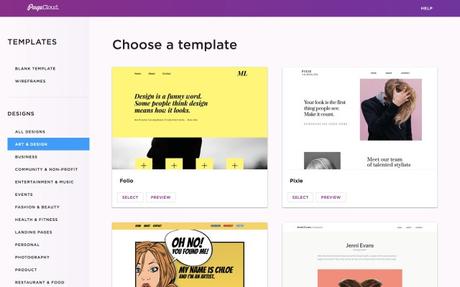 Once you answered a couple of questions that help them get to know you, the app directs you to a collection of templates that serve as the starting point to your new website. You can also view these templates on their main website.
After you've selected a template, you get redirected to the main dashboard where you'll find multiple tabs to help you manage your website.
Front and center, you'll find a step-by-step checklist that "helps you learn and experience PageCloud's innovative, time-saving features."
When you actually jump into one of your pages to start editing, you get hit with a short video that highlights some of the core functionality of PageCloud.
After we clicked on an image and started moving it around, we realized exactly what PageCloud meant by "The world's best drag and drop website builder".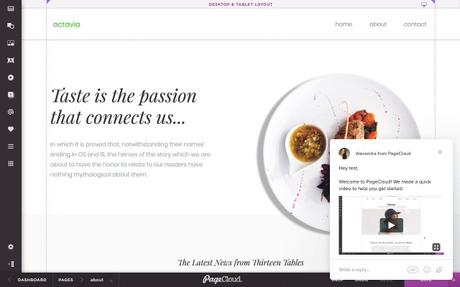 The design freedom you get with PageCloud is ridiculous. You can layer, resize, rotate, and reposition any object however you'd like. Although this might be a great feature for experienced designers, we believe that the lack of grids could make the experience overwhelming for first-time site builders.
PageCloud does offer some helpful guides to assist with spacing, but keeping a clean layout might still be a challenge for novice designers.
To ensure consistency across your site, PageCloud syncs your header, footer and site navigation on the pages you decide.
The sidebar (left) is where you can go when looking to add new content to your pages: shapes, images, text, icons, forms, apps, and more.
This sidebar is also where you will find Page Settings that let you customize the Title Tag, Meta Description, turn on the mobile layout builder, and access the source code for your site under Advanced.
More Features
Apps
Although PageCloud doesn't have PageCloud as some of the older, more established builders like Wix or Squarespace, PageCloud does things in a unique way. Here are some of the features we wanted to highlight:
PageCloud offers PageCloud to help you build a functional website, broken down into 14 different categories: images, videos, socials, music, podcasts, events, analytics, chat, e-commerce, donations, forms & docs, maps & weather, animations, and fonts.
The majority of the integrations are as easy as copying the URL or embed code and pasting it onto a page. This goes to show how friendly PageCloud is when working with other tools.
Drag and drop
Some "native" integrations include Shutterstock (for purchasing stock images) as well as Google for G-Suite and their suite of PageCloud tools, including Google Tag Manager.
Automatic Image Optimization
PageCloud doesn't just let you move things around freely on your pages, you can actually copy and paste content from your computer or the web directly into your site. This is a huge time saver as you no longer have to use an upload button to get content onto your site.
If you're serious about your web presence, you know that slow images can really damage your SEO and your overall user experience. To help combat slow websites: "All images uploaded to PageCloud are automatically resized to load as fast as possible and at the ideal resolution for every device, including retina displays."
Editing images
We tested out some websites built with PageCloud, and they were all super fast!
https://cdn2.hubspot.net/hub/2382067/hubfs/image-features-pagecloud.gif?t=1537386646786&width=1024&name=image-features-pagecloud.gif
Shortcuts
On top of being really fast, PageCloud images are a delight to edit. You can crop them and add filters and tints until they look just right.
Full source code access
PageCloud supports a ton of shortcuts (hotkeys) to speed up the process of designing a website. While basic users might limit themselves to copy/paste or undo/redo, more experienced users can leverage powerful shortcuts to align, distribute, group, and layer their content in a matter of seconds.
One of PageCloud's most powerful features is the access you get to your website's source code (HTML, CSS, JavaScript). With PageCloud, you can even edit the DOM inspector, hit save and your changes will be live on the Web.
Mobile
This feature really comes in handy when looking to do something with PageCloud that is not yet available out-of-the-box. While the team at PageCloud continues to build out features that everyone can use, the source code access gives power-users an additional way to add functionality to their site.
For some people, PageCloud's mobile experience is great; for others, not so much. In reality, it comes down to the level of control you get.
You can style something, like text, in one way on a desktop and then in a completely different way on mobile. Although this sounds amazing at first, it can quickly turn into a lot of work to manage on an ongoing basis.
We appreciate the level of control you get over position and size, but separate fonts? That's too much.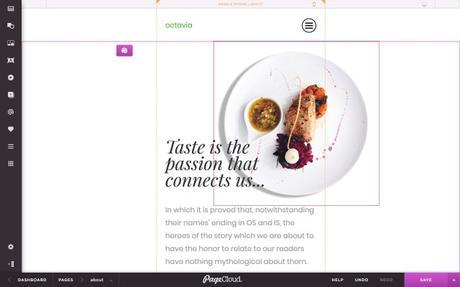 Blog (beta)
The good news is that the PageCloud support team told us that the behavior for mobile was going to be changing soon so "mobile styles will inherit from the desktop". This seems like a welcome fix that should drastically improve the experience.
PageCloud recently released a blogging tool to help their users share content online.
Although the blog doesn't currently have as many features as a software like WordPress, our first impressions of the focused writing experience were very positive.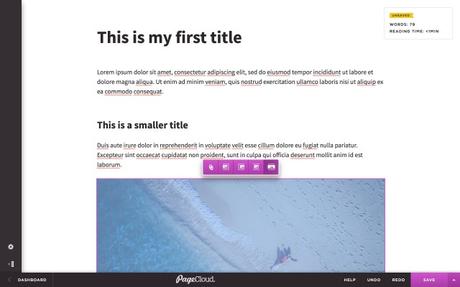 The team mentioned several upcoming blog features including support for multiple authors, additional templates, customizable URLs, Title Tags, Meta Descriptions, and more.
We look forward to seeing how this product evolves in the coming months.
Pricing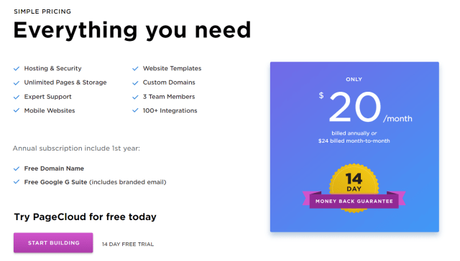 PageCloud only has only one pricing plan: $24 USD/month when billed monthly and $20 USD/month when billed annually.
Their plan includes everything you need to build your website, including:
Hosting & security
Unlimited pages & storage
Expert support (live chat)
Mobile websites
Website templates
Custom domains
3 team members
100+ integrations
If you choose annual billing, you'll get a Free Domain Name (with Hover) + Free G Suite for 1 year.
Pros and cons
Pros:
The PageCloud team did mention that they are looking at coming out with new pricing plans, but no dates have been released just yet.
Cons:
Arguably the best drag and drop + WYSIWYG (what you see is what you get) editor available (very intuitive)
Powerful features for experienced users: shortcuts, operating system-integrated clipboard, source code access, image editing, and optimization
One of the most customizable website builders
100+ app integrations
Amazing support, even during the trial
Easy to get overwhelmed by the freedom, level of customization (eg. mobile)
Lack of features for specific use cases (eg. password protected pages)
Site-wide changes can be a lot of work (eg: changing a font)
Only 1 pricing option, no matter the website size
Quick Links:
Conclusion: PageCloud Website Builder Review 2018
PageCloud is definitely worth trying, especially if you are a visual person that wants to create a unique website. No other tool can give you this level of customization without having to write any code.
If PageCloud can find a way to add a little bit more guidance for novice users, like guides or pre-designed sections, while continuing to build on what they've got, they will definitely be a force to reckon with.
Start your free trial with them today and make sure to reach out to their support team that will answer any question you send their way!