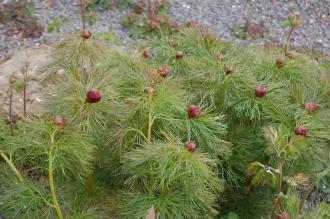 Paeonia tenuifolia (23/04/2016, Kew Gardens, London)
Position: Full sun
Flowering period: Spring
Soil: Moist, well drained
Eventual Height: 60cm
Eventual Spread: 60cm
Hardiness: 3a, 3b, 4a, 4b, 5a, 5b, 6a, 6a, 6b, 7a, 7b, 8a, 8b
Family: Paeoniaceae
Paeonia tenuifolia is a deciduous herbaceous perennial with a clump forming habit. Its mid green leaves are finely divided into numerous lanceolate leaflets. Its stems are erect and arching towards their tips. Its red flowers have yellow stamens, are cup shaped, appear terminally and are up to 8cm across. Its fruit is a follicle.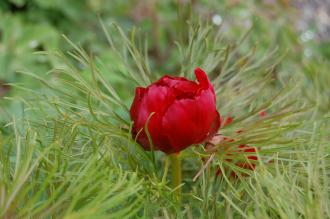 Paeonia tenuifolia Flower (23/04/2016, Kew Gardens, London)
Paeonia tenuifolia, commonly known as Fine Leaved Peony, Slender Leaved Peony, Fern Leaved Peony or Fennel Leaved Peony, is native to the Caucasus Mountains of Russia and an area to the north of the Black Sea. In its native habitat it grows in mountain slopes and scrubland with cold winters and hot, dry summers.
The etymological root of the binomial name Paeonia is named after Paeon, a Greek physician of the gods who, in mythology, was changed into a flower by Pluto. Tenuifolia is derived from the Latin tenuis meaning 'thin' and folium meaning 'leaf'.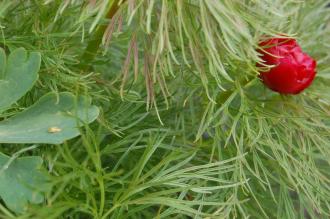 Paeonia tenuifolia Leaf (23/04/2016, Kew Gardens, London)
The landscape architect may find Paeonia tenuifolia useful as part of a mixed herbaceous perennial border which is located in full sun. It is also suitable for planting within a rock garden.
Ecologically, Paeonia tenuifolia flowers are attractive to pollinating insects.
Paeonia tenuifolia prefers moist, well-drained soils. It tolerates most pH of soil.
Paeonia tenuifolia requires little maintenance.


Landscape Architecture