The embers of bonfire night were slowly dwindling away just as Celtic were kicking off in Lanarkshire at high noon, and it took a sparkling Patrick McCourt solo run to keep the Bhoys title race fire burning. It looked as if Neil Lennons' side were again going to give up valuable points in a quite drab & vicious encounter, before the two substitutes combined via Tony Stokes to take the vital win back to Paradise as Hooper again came off the bench to seal victory as he had done just a few days prior.
Motherwell began as they never do against McCall's former club – with vigour and aggression. Celtic's defence again succumbed to early pressure and with eleven minutes on the clock, Michael Higdon ghosted in behind the powder-puff rearguard to nod past the helpless Forster. Amazingly, left back for the day, Adam Matthews was in line with the burly striker and still had has hand up for offside – bar this error the young Welshman was industrious throughout and his endeavours were enough to see him named man of the match. For whatever reason, Celtic only come to life when they go behind, if it were still goalless I think we would have found the team plodding their way through to half-time as we have come accustomed too in recent weeks.
Samaras steered a header to Anthony Stokes with his third assist in a week and the Irishman converted his volley home from a few yards just minutes later – The Greeks' height proved a weapon which Celtic were able to call on not just yesterday but against Rennes, and was a dimension Celtic had been missing in their game in previous encounters. His inclusion has perhaps given Gary Hooper some time to think on the bench and a break for the Englishman seems to have had a positive effect when brought on late in proceedings. His three goals in the last four games can surely spur Hooperman into a confident spell of form with Celtic are leading up to a make or break period post useless International weekend.
The Bhoys overcame a gritty, dirty and malicious Motherwell side who although ended up ten men late on, in hindsight were lucky the full complement was kept in tact for that long. Keith Lasley, the SPL player of the month, was especially tough in the tackle and within a few first half minutes had crippled Forrest with a lunge that reds have been brandished for previously and caught Beram Kayal with a flailing arm – Himself, Higdon and Craiganwere especially in the mood for taking bodies and it was surprising in the end that the misdemeanor for which Tim Clancy saw red for was a petulant little kick out at Gary Hooper.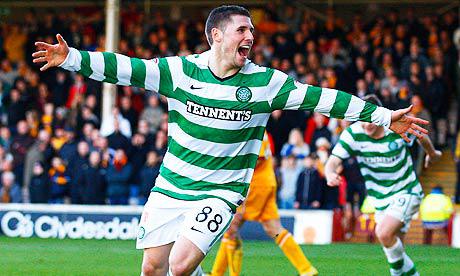 Hooperman seals the win
The Bhoys have now gone seven games undefeated since the beginning of October, and the Tynecastle defeat has spurred the players on to a four wins in that period. Usually to overcome a period of inconsistent and poor performances, you have to go back to basics and grind out results, something which Rangers have been doing all season – previously Celtics poor performances were justifiably ending in defeat, but now it looks like player performance and determination is on the rise. From wins, comes confidence and belief, this in turn will provide improvements on the pitch – again its unfortunate the international break has broken up the momentum as we will have to take all the heart and resolve to the Highlands in a fortnight's time.
As a footnote I would also like to identify two performances which typified the type of steel and purpose with which we need to drive the team on – much maligned in my previous articles, center back Daniel Mastjorovic and captain Beram Kayal – well done Bhoys!
55.828104
-4.222318