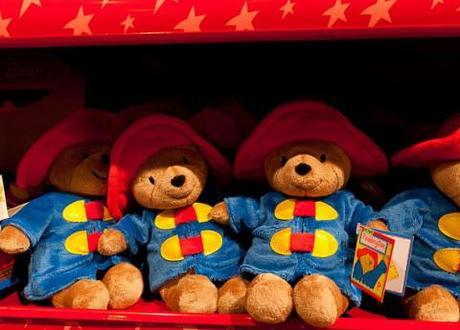 Paddington Bear is to hit the big screen. Photocredit: w.lee http://flic.kr/p/a6yJqh
The background
Four years ago, The Guardian announced that duffle-coated, accident-prone Paddington Bear would be "heading for the big screen". And now the project has ben picked up by Studiocanal, the French production company, with The Mighty Boosh's Paul King set to direct. The original Paddington Bear books, written by Michael Bond, and first published in 1958 have sold 35 million copies worldwide, and have been translated into 40 languages. Paddington Bear has charmed children and adults alike for generations – from darkest Peru, with his love of marmalade sandwiches, he is a classic character.
The film will be based on an original screenplay, and will be a combination of live action and computer generated images (think Stuart Little or Charlotte's Web). Variety confirms that Harry Potter saga producer, David Heyman, will also be producing the remake of the classic children's stories. The film is likely to include various characters and episodes from the books, though Variety says it will also be a "modern take"on the stories.
A beloved bear
The Guardian quoted David Heyman:Paddington Bear is a universally loved character, treasured for his optimism, his sense of fair play, and his perfect manners – and, of course, for his unintentional talent for comic chaos'. The Telegraph quoted Studiocanal's chairman Olivier Courson: "Mr Bond's Paddington is beloved across generations throughout the world". The Film Funds blog said of the announcement that "StudioCanal just warmed the hearts of children and children-at-heart everywhere."
Bringing in the big guns
The film is drawing together several big names with a lot of experience. Variety quotes Olivier Courson on David Heyman: he "has had tremendous success adapting great British literary works for cinema." The film was Heyman's "brainchild", after his secretary read the books and said they "would make a great film", as reported in The Telegraph. Meanwhile,  The Mighty Boosh director, whose feature film debut was The Bunny and the Bull in 2009 will add a bit of British eccentricity.
Please don't ruin the magic
Some bloggers are nervous about what is at stake when taking such a beloved childhood icon to the big screen. Collider's Matt Goldberg says "[Paddington] is very cute, and I trust that Heyman will retain the character's charm rather than try to make him hip and edgy in an attempt to appeal to cynical kids." Time magazine's Lily Rothman says "we hope Paddington ends up made with Potter-level care, especially when it comes to animation."
Twitter: Excitement and anxiety
David Heyman/StudioCanal are going to rework Paddington Bear. WIll be livid if that piece of childhood is ruined. bbc.co.uk/news/entertain… #fb

— Pete Huey (@mediatree) May 11, 2012
RT @vulture There's a Paddington Bear movie on the horizon. Time to stock up on marmalade. /// ok. that's a kiddie movie i might see.

— Karen-SmallEarthVtg (@SmallEarthVtg) May 10, 2012
The guy who directed Garth Marenghi and The Mighty Boosh is making a Paddington Bear movie: moviescopemag.com/features/paddi… AND I WILL WATCH IT.

— Aaron Alexovich (@essrose) May 10, 2012