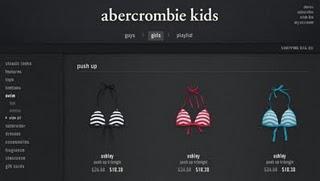 (picture from FOX News and originally on abercrombiekids.com. It is not there today.)
Um, I have a seven-year-old boy and I cannot imagine one of his little friends-who happens to be a girl-strutting around in one of these. I would seriously be horrified. It's a pretty sick idea to get kids this young dressing in a sexual manner. If you agree or don't agree, feel free to object to my comments, but I wasn't about to post this story without saying it's just wrong. (thanks to Audrey for emailing it to me :))
Abercrombie said it will not remove the item, but it will re-categorize it. Here's a statement posted on FOX NEWS:

"We've re-categorized the Ashley swimsuit as padded. We agree with those who say it is best 'suited' for girls age 12 and older," it stated on the social networking website.
The company last week attracted criticism from moms and child development experts who were aghast over the garment and the damage it could potentially do to young girls in making them feel inadequate with their pre-adolescent bodies.

Read more: http://www.foxnews.com/entertainment/2011/03/30/abercrombie-fitch-removes-push-girls-bikini-description-following-outcry/#ixzz1I78GA7kX
FROM ABC:
Would you buy your pre-teen daughter a push-up bikini top? One major retailer hopes you will. Abercrombie & Fitch, a popular store among teenagers, recently introduced the "push-up triangle," marketing the swim top to girls as young as 7 or 8.
But of the parents "GMA" spoke to, the reaction was unanimous -- no one would buy one for their child.

"I thought it was a joke when I first heard about it. Then, I realized, it's so crazy, it must be true," Dr. Michael Bradley, a child psychologist, told "Good Morning America" on Saturday.
Bradley said the American Psychological Association has warned in the past that retailers were going after young girls. "They're targeting girls as young as age 4 to be sexualized creatures," Bradley said.
In response to the public outcry, Abercrombie renamed the top on its online store the "striped triangle." The padding remains, however, as does the outrage. Many viewers wrote in to the "GMA" shoutout board and Facebook page.