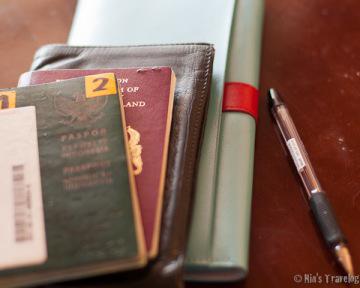 Passport, wallet, ticket, etc.
Unlike most women, I used to travel light whenever I went on trip, either day trip, overnight business trip or backpacking with friends/sister. Here is my packing list for those travels:
ESSENTIAL: passport, tickets, address book, mobile phone (in the old days, we did't use mobile, but we relied on public telephone booths), credit card, and international ATM card, in exchange for cash.
CLOTHING: one pair of trousers to wear and an extra pair if I travelled more than 3 nights. Disposable underwear, to reduce space along the way, so I don't need to do any washing.
CLOTHING ACCESSORIES: none. I don't need a hat or scarf or anything like that.
ACCESSORIES/JEWELRIES: none. As I am a messy person, I tend to lose things, this is only to reduce the probability of loosing my accessories.
COSMETICS AND TOILETRIES: only the basic ones… nothing very special and I don't really wear makeup. Bear in mind that most of my destinations were not in the middle of a jungle where I could not find any daily supplies.
OTHER THINGS: pocket camera, map (just to prepare myself not to get lost), travel alarm clock, a pair of very comfortable shoes which I wear day in, day out.
I am not a fussy person so I don't need any special treatment or health problem, thus I don't really need much. One tote bag was enough for a 3 night business trip or a dirty weekend abroad.
Now things have changed, as an expat, my home is away from my home country. Whenever I go back to my home country, I can't stay at my Mom's place, as she has no room for me anymore, and I still need to pack my cloth and other things, which means going 'home' is similar to going for holiday, and this could last not only a few days but a fortnight or maybe a month by itself. Another thing that adds to my travel preparation is the fact that I am not traveling solo anymore. I have to pack for two persons, my husband and I, and yet, I still like to travel light…. thus, what I do is try to pack for the both of us in one medium suitcase…. yes, only one.
However, as we live in the funny part of the world from our loved ones, I need to consider:
Local climate/weather, as out here (that is in Doha) 9 months of the year the temperature is HOT, HOT and HOT. Clothing wise maybe not so different from Indonesia, but it's totally different from UK (where Keith has relatives) or Australia (where our kids currently live).
The occasion of the trip, such as a business trip, family wedding, normal holidaying/sight seeing or attending traditional/religious activity or even a combination of all of them.
Activities of the trip, whether we will be just visiting family and staying low key, or involving different activities together.
The length of the trip, whether 2 or 3 days, or a month or more.
As much as the excitement of going on holiday, this time is what I end up packing for only a 5 days trip back to UK, visiting my husband's relatives:
ESSENTIALS: passports, tickets (and other paper work in a folder, mobile phone, and travel wallet, where I will put all other cards, (International ATM, Credit Cards, and maybe cash.
CLOTHING: a couple pairs of trousers/jeans (in case one is soaking wet of British weather), a couple of cocktail dress, (as we are attending a couple of formal parties), sets of undies as no disposable panties available in the place I live.
CLOTHING ACCESSORIES: I need to pack all these things, hat, belts to go with each attire, and scarfs to match the shirts
ACCESSORIES/JEWELERY: it's a must now, to go with all the pretty dresses that I will wear to the different parties. Being a wife of a Brit's expat I need to look fashionable, trendy and all that jazz!!!!

 

cosmetics & toiletries

COSMETICS & TOILETRIES: also required now, just to make sure that inside the nice dress is also equally as nice. Because I am not use to wearing make up, I end up taking my whole collection of cosmetics, regardless, as I don't really know what to do.

 

camera gear

CAMERA: what was a pocket camera now has grown into a properphotography gear, which each time I travel, I get confused which lens I should take and which camera bag should I carry. Not to mention other external stuff:  charger, memory cards, tripod, filters, etc.

 

shoes and sandals

SHOES: now this is a new excess that I have to carry in my suitcase: I need to take a few pairs off shoes apart from the pair that I will wear during the trip: party shoes, comfortable shoe for walking as well as trainers for other sporty activities.
OTHER STUFF: the good news, maybe I don't need to take maps, nor I need to take an alarm clock. But I do need the modern gadget: Sat Nav and iPad to have to navigate around and do other things.
Now, can I still travel light? are those 8 items a necessity for just a 5 day holiday? I think the answer is yes and no. Yes if you want to travel in style, showing off to your relatives how classy you are as an expat. But one has to be practical, thus I don't think we need to go in style all the time, sometimes it nice to relax and be a bit scruffy….