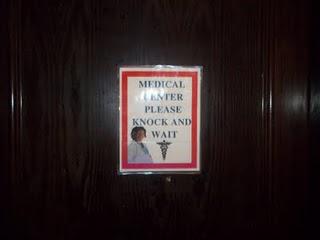 If you have been Chasing Joy with me the last few weeks you know I am recently back from vacation. Oh what a lovely time I had in Jamaica. Check out the pictures if you haven't already. Every day was absolutely wonderful. Only one day started off in the dumps or shall I say in the toilet (I hope that's not too much information)
It was not a reaction to the food. The resort food was excellent and I did not eat anywhere else. Also my roomy was just fine and we basically ate the same things. I drank only bottled water so it wasn't that either. I blame my tummy troubles on eating spices and varieties of food that I was not used too. My bad belly wasn't even that bad. No pain and no nausea, just the need for me to be close to the loo.
But who wants to be busy skipping to the loo when there is a swim up bar and relaxing beach to chill on. Not me! So off I went to the gift shop in search of my cure, my salvation, Pepto-Bismol! "You don't have any Pepto-Bismol?" I said to the sales lady. "You don't have anything for an upset stomach?" I asked in disbelief while looking at Tylenol, Midol, allergy medicine, condoms, KY jelly, and everything else you would fine in a typical over the counter drug store. I left empty handed.
An hour later I met with the resorts nurse in the infirmary. I explained my symptom - cantgetoffthecanitus. She explained her hustle (I mean her fee), a flat $30US to see her. I saw the beautiful pink bottle just out of reach, securely locked in the glass medicine cabinet and reached into my purse. How painful it was to hand over those 30 bucks. I know what you are thinking $30 for a bottle of Pepto, crazy! But its worst my 30 US dollars got me exactly one dose of that pink goodness. (She did promise not to charge me another $30 if I had to come back for another dose that same day.) Luckily one dose did the trick. I was back in the pool by noon.
That day I promised myself I would never travel without Pepto-Bismol again. So that you never have to pay more than you should for the basics here is a list of things to never travel without.
Pepto-Bismol
Insect repellent
Your favorite girl products (you know what I mean)
Tylenol or other pain reliever
Over the counter Sleep Aid
A credit card for emergencies
Sunscreen (even if you are black)
An international calling card for emergencies
What is on your must pack list to make sure your vacation is Joyful???