Easy to make in advance, and highly portable, this simple Mediterranean Quinoa Salad is perfect for picnics and potlucks. Great as a vegetarian main or a hearty side salad, and ideal for lunchboxes.
Total Time Investment: 1 Hour 20 minutes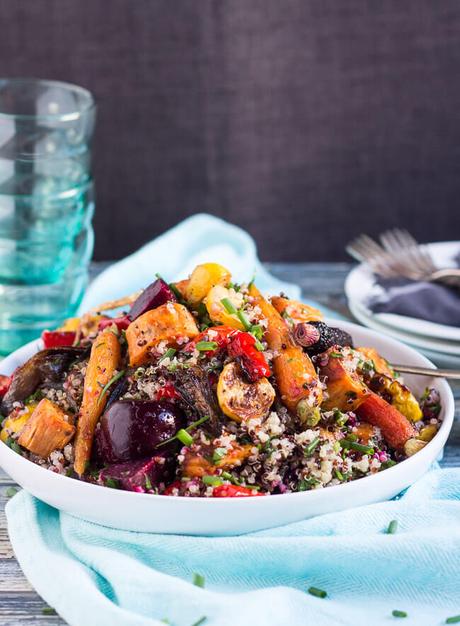 I think there is something magical about a tray of roasted vegetables. Take raw vegetables, subject them to a hot oven, and be rewarded with deeply flavourful nuggets that have infinite uses for the imaginative cook. Eat them on their own as a simple side, tuck them into tarts, quiches or frittatas, blitz them quickly with a little stock into velvety soups or toss them through cooked grain to make this hearty Mediterranean quinoa salad.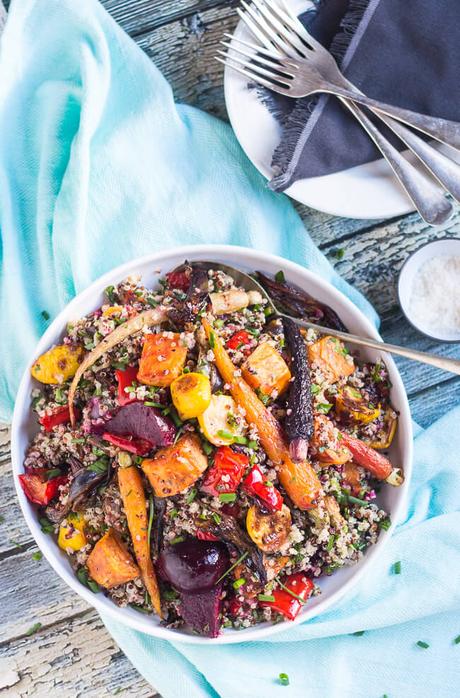 With very little effort, you can quickly have the base for an easy meal. Roughly chop your favourite vegetables, toss them with olive oil, season with salt and pepper, and slide the tray of vegetables into the oven. The vegetables sweeten in the oven, the heat concentrating the flavour and lightly caramelising the edges, enabling you to put your feet up whilst the oven does the hard work.
This simple Mediterranean quinoa salad appears quite regularly on our dinner table during the summer months. Whilst I prefer to roast my vegetables in the oven, I have also successfully used the BBQ when the summer becomes far too hot to even contemplate switching the oven on. It's not just a summer salad though, and is just as good served warm during the cooler months.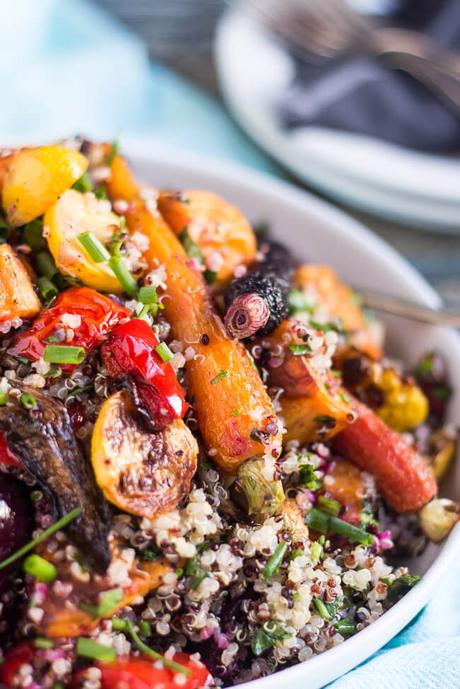 The quinoa in the salad enables it to be served either as a great vegetarian main or a hearty side salad for a simple piece of grilled chicken or a steak. If the number of people at your dinner table suddenly increases, just cook more quinoa or roast more vegetables.
Easy to make in advance, and highly portable, this roasted vegetable salad is perfect for picnics or potlucks, it is also perfect for tucking into lunchboxes through the week. Magic I tell you.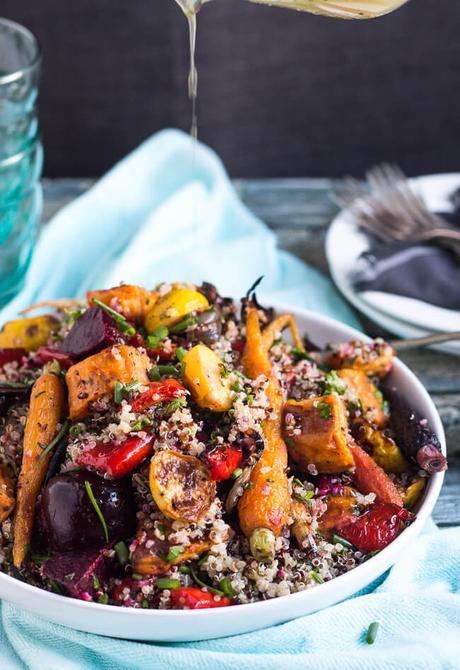 Tips & Tricks to Get Ahead
Both the vegetables and quinoa can be prepared up to three days in advance and assembled just before the salad is required.
My Mediterranean quinoa salad will also keeps for ages (up to five days) once assembled in the fridge. I have packed it into lunchboxes for The Princess on Sunday, and she just removes a lunchbox each day to take to school.
Roast double the amount of vegetables required, or cook twice the amount of quinoa, and use the leftovers for other meals during the week. Any extra vegetables and quinoa can also be frozen separately for other meals.
The lemon dressing can also be made up to three days in advance and kept separately in the fridge. The dressing is also great used in grain bowls or on other salads, so consider making extra to help out with other meals through the week.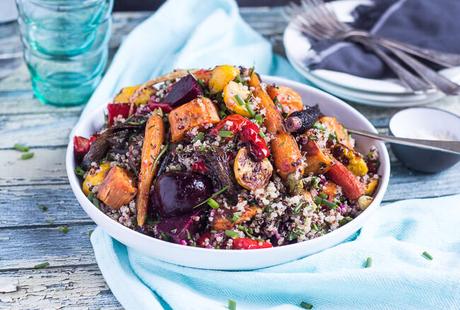 Ingredient Substitutions
This Mediterranean quinoa salad is easily customised to suit your family's tastes, so I really want you to consider this more a template than a recipe. Use any herbs and vegetables you have on hand.
Not a fan of beetroot or squash? Try slow roasted tomatoes, fennel, pumpkin or zucchini.
Don't like quinoa? No problems; use your favourite grain instead. Try farro, wheat, or cous cous.
Mix up the herbs according to what is is season. Use loads of basil and parsley in summer, or chives and coriander in winter. Or try dill, fennel or chervil for an aniseed twist.
If you can't find fresh lemon juice, use red wine vinegar instead.

Simple Mediterranean Quinoa Salad
P.S. If you are a fan of quinoa salads, then check out my Grilled Zucchini & Feta Quinoa Salad.