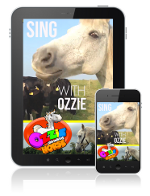 Just last week the world's #1 celebrity horse, Ozzie The Talking Horse, released his debut 10-track album, Sing With Ozzie, an album filled with awesome rap songs, happy rhythms, beats and lyrics! Ozzie is happy to announce an exciting new mobile app to go along with the album!
The app allows you to talk with the goofy 12 year-old Connemara! Curious about how it is in the life of a celebrity horse or Ozzie's favorite music? Ask away! In addition, his crew from Hungry Petz , Ozzie has 10 new music videos like Giddy Up, Ozzie Baby and the fan favorite: How To Be A Horse.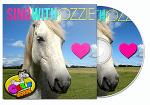 Just in time for the Holidays, Sing with Ozzie , and Ozzie The Talking Horse App, are a great duo, perfect for a last minute gift and a great way to entertain the kids during
Christmas
vacation! Sing-A-Long and now... talk with Ozzie !
Ozzie The Talking Horse is a Connemara - here are some fun facts about the The Connemara:
The Connemara pony originates from the West Coast of Ireland. The majority of ponies are gray and average between 12.2hh to 14.2hh. The Connemara pony has enormous courage only limited by the belief of his rider. Connemara ponies are friendly although a little hesitant when meeting strangers for the first time.
Links
Website: www.ozziethetalkinghorse.com
Facebook Fanpage | Twitter
Users of A-Z-Animals.com have been given a free download for Ozzie The Talking Horse App. Please click here to download it.