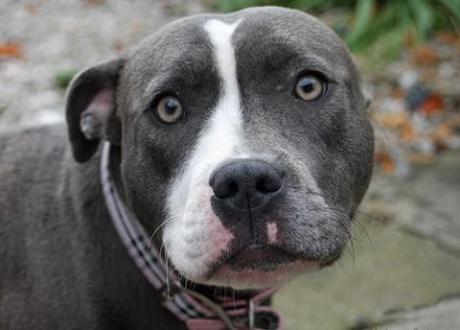 A staffordshire bull terrier looking not that dangerous. Photo credit: digital wallpapers http://flic.kr/p/5tvpEX
The background
Owners of dangerous dogs which attack people in public will face stiffer penalties, including up to 18 months in prison, from today as the Government seeks to clamp down on irresponsible animal owners. Owners of dangerous dogs will receive harsher penalties under tough new rules by the Sentencing Council.
Judges and magistrates have been advised to administer more jail sentences and fewer dismissals, with the starting order for such offences becoming six months instead of a community order, reported PoliticsHome. Under the guidelines, owners, or anyone in charge of a dangerously out of control dog, would face up to 18 months in jail, with the sentence rising to the legal maximum of two years in exceptional cases.
"With increasing numbers of convictions for offences involving dangerous dogs in recent years, the new guideline will help ensure courts use their full powers when dealing with offenders," a Sentencing Council spokesman, quoted on The Telegraph, said.
No injury required
The Telegraph noted that even in cases where no injury is caused, owners could still face up to six months in jail if they allow their dogs to be dangerously out of control in a public place, especially if children or other vulnerable people such as the elderly or disabled people were around at the time.
A stiff reminder
Trevor Cooper, legal consultant for the Dogs Trust, told the BBC: "This tougher approach should serve as a stiff reminder to dog owners to keep their pets under proper control and to behave responsibly."
A step in the right direction (but more needs to be done)
Labour MP Luciana Berger, whose constituency has seen several vicious dog attacks in recent times, said the new guidelines were "a step in the right direction" but insisted more needed to be done to prevent dog attacks from happening, as well as extending legislation to cover private properties, reported PoliticsHome. Berger said: "There's a whole coalition of organisations that want to see the law extended to cover private properties. If you're attacked in your home currently the dangerous dogs legislation doesn't cover you for that, and there's no justice for the people that are affected."
Focus on the causes
Steve Goody, director of external affairs at animal welfare charity Blue Cross, quoted at The Telegraph, warned that tougher sentencing alone was not enough to prevent dog attacks. "The campaign to reform the current Dangerous Dogs Act has been dragging on for some 20 years now," he sighed. "We feel that there is an urgent need for preventative action, or dog attacks will continue to increase. We believe the introduction of useful, practical measures could be used specifically to target irresponsible dog owners before an attack happens."
Dangerous owners make dangerous dogs
Plenty of owners of so-called dangerous dogs object to the branding of their pets and insist it is dangerous owners who create dangerous dogs by mistreating them. Here are a few videos displaying staffordshire bull terriers acting in not very dangerous ways.