Especially since I've started using Snapchat, I get a lot of questions as to what makeup I use. I shared my skincare routine last winter, but I haven't updated since I've tried new products, made some lifestyle changes, and now it's spring.
When I took photos of me using the L'Oreal Lumi Cushion I also took stills of my entire makeup routine. Figured it would be pretty text heavy, so I put them into a slideshow video. It seemed pretty sad without sound, so I added some of the music YouTube offers for free. Wow, all of them seemed so incredibly inappropriate! I ended up using, "Playing Hooky with Sloane" purely from the title. A Ferris Bueller reference?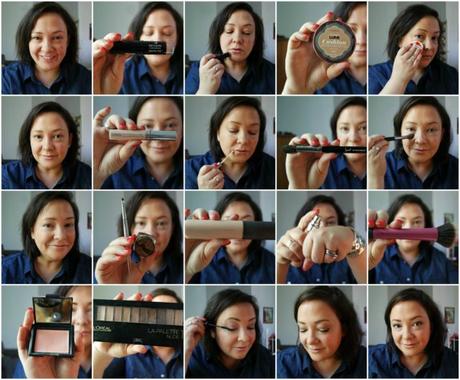 For those who can't watch or don't like videos, here's most of the still from the video. This is my daily face; a breakdown of what is used:
In the morning I only wash my face if I've used the NuFACE (see here). If not, I just use Thayer's Rose Witch Hazel with a reusable cotton round to wipe off any remaining night cream and any, as Emerson calls it, dust around my eyes
Right now I'm applying three pumps of Elizabeth Arden SUPERSTART (reviewed here), then two pumps of Elizabeth Arden's FLAWLESS FUTURE serum, and then a moisturizer with SPF (right now it's one from L'Oreal I don't especially love enough to promote). I then brush my teeth to let everything soak in.
I touch up any zits or especially dark circles with Revlon Photoready Insta-Fix. It's a bit darker and more yellow than my skin, which helps hides purple and red parts. This is not always a step I do, just when I'm looking especially tired or have a lot of breakouts. I put right on my skin from the tube, and blend with my ring finger.
I then apply L'Oreal Lumi Cushion Foundation (read about it here). I use either the pad that comes with it or a BeautyBlender.
Then, I use Clinique Line Smoothing Concealer. I draw half-circles from below my inner brow to under my eye, on the corners of my mouth where I downturn and have some wrinkles, a touch under each nostril. I blend using the Sigma F64 Soft Blend Concealer Brush.
I then do my brows. I use Tarte Amazonian Clay Brow Mousse in Dark Brown and Trish McEvoy's brow brush (#32). I don't use a stencil, I sort of start in the middle and draw the end first since that's the most sparse of my brow, then I fill in the beginning near my nose.
Then it's highlighting. I use Becca Shimmering Skin Perfector in Opal. I put not even a whole pump on the top of one hand and use the Real Techniques Stippling Brush (find it gives a softer look than my fingers) and tap along my check bone up to my temples and lightly blend
Blush - I use NARS Sex Appeal with the Bobbi Brown blush brush. I brush sort of in a circle along the cheekbones and up to my temples, and a touch on my hairline, nose, and chin.
Shadow. I use L'Oreal La Palette in Nudes 1. For the lid I mix the pale grey, soft gold and champagne together with the Trish McEvoy Sheer Application brush. Most days that's it for shadow. If I'm feeling dramatic, I'll dip my Trish McEvoy #29 dome brush into the medium matte brown and swish swish like a wiper blade into my crease to create depth. I'll then take the Trish McEvoy #68 Everything Eye brush in the same medium brown and put it along my lashline for a subtly smoky look. If I'm going out, I'll wet an angled brush I've had for a kazillion years no longer made from The Body Shop (this is awfully similar) and take the dark metallic brown from the kit and use it like liner on my top lash line.
Curl my lashes (Kevyn Aucoin lash curler) and mascara (right now it's Lancome Definicils in black).
It sounds like a lot, but I can do it in less than five minutes.
My Favorite Lip Colors:My Favorite Setting and Face Products:My Favorite Brushes and Tools:
Do you have a standard daily face? What are your go-to products?

Turn on your JavaScript to view content

Turn on your JavaScript to view content

Turn on your JavaScript to view content
Then it's lips. My daytime go-to lipsticks are NARS Pigalle and Bite Beauty Chai. If I want to go red, my go-to is Lancome LeCarmin, though I'm also known to rock Revlon Certainly Red, Bobbi Brown's Lady Ruba, and NARS Heat Wave. If I want shine, I add NARS Viva gloss over one of the neutral colors. I also often use Revlon Just Bitten Kissable Balm Stain in Romantic or Smitten, which can also double as cheek color when I'm keeping things quick and easy.
If I know I will have a long day, I'll start with Bare Minerals primer. It's a basic silicone-based primer but works well. If it's summer, hot, or I have to look really great after work I set my makeup with Skindinavia finishing spray (ELF's is also pretty decent and I'll likely buy again when I run out of the Skindinavia). I also carry NARS Setting Powder in my purse in case I get shiny; it also helps blur everything so I look more polished if I have to meet with clients or go out unexpectedly after work. At work, the only touch-up I do is lipstick. I sometimes touch up my face with the Lumi Cushion before heading out if I'm feeling fancy or am going somewhere right after work.
Over the years I have tried a lot of cosmetics but lately I want to keep things simple and routine. Having this base face makes life so much simpler. Instead of 50 different shadows, I just amp up the standard daily look. I am finding some pretty perfect lipcolors lately so I don't see the need to keep buying more. Likely products will be fewer and different for the hottest part of summer; I'll readdress it then.