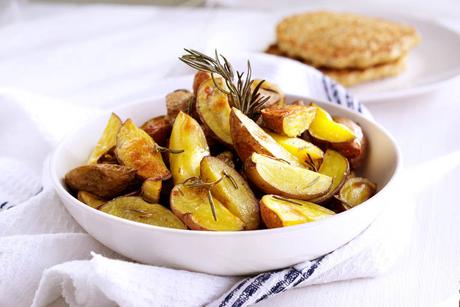 This recipe is so so simple, but it's so unbelievably good! There is just something about pairing rosemary with potatoes: it's a classic combination that always tastes good. And you can't really beat the crispy golden outside paired with the creamy inside of a perfectly roasted potato. Usually, a side of potatoes at a restaurant can be pretty greasy, but these Oven Roasted Rosemary Potatoes are the ideal, lightened-up side to any comfort-food dinner (or breakfast, or brunch!)
With only a handful of simple ingredients, these potatoes need to be in your regular rotation. I love how the wonderful, fresh aroma of rosemary fills my kitchen when I'm making these (but you can make them with dried rosemary too!)
These will last up to 4-5 days in the fridge so you can totally make them ahead of time and enjoy them throughout the week. I like to roast them with the skin on for added texture (and a fiber boost). You can also switch up the spices depending on your mood, but I find myself returning to the classic combination of rosemary, salt and pepper most of the time! Each serving has only 70 calories, and is vegan, vegetarian and gluten free.
Kitchen Tools I Used for this Recipe: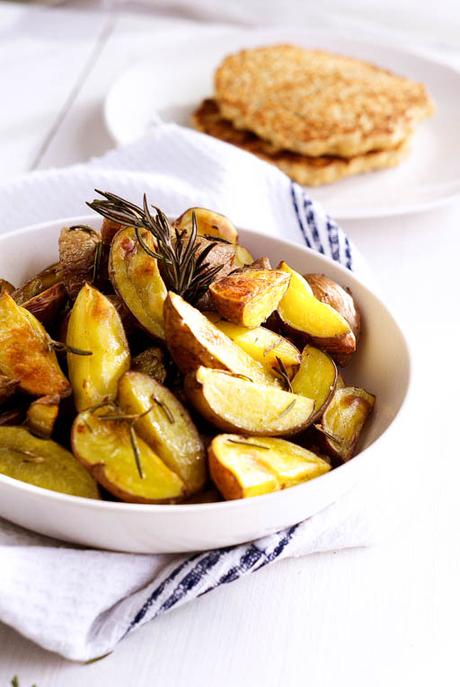 The next time you make these, be sure to pair them with my Oatmeal Sunflower Pancakes for a tasty, healthy brunch, or even as breakfast for dinner! Oh and did I mention that kids love this too? You can try it with sweet potatoes and root veggies (or a mix of sweet and regular potatoes AND root vegetables) to mix it up from time to time too!
The Ingredients:
1 lb baby red potatoes, quartered with the skin on
1/2 tbsp olive oil + 1-2 sprays of Extra virgin olive oil cooking spray
1 Tbsp fresh rosemary
1 tsp salt (more to taste)
Freshly ground black pepper to taste
The Directions: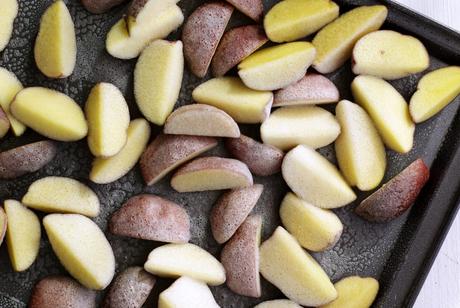 Step 1: Preheat oven to 425 degrees and spray a baking sheet with olive oil cooking spray.
Step 2: In a large mixing bowl, toss the potatoes with the 1/2 tbsp olive oil, salt, pepper and rosemary.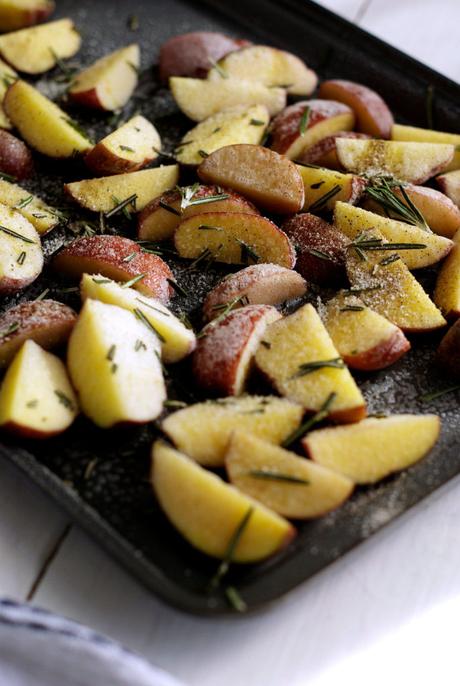 Step 3: Spread the potatoes out on the baking sheet. Bake for 45 to 50 minutes until the potatoes are golden brown, stirring every 15 minutes. Serve hot.
Oven Roasted Rosemary Potatoes