Don't know how you do your bacon, but I can assure you that this is a fail safe perfect way to make bacon that's no work but all the goodness!  I like to use thick cut hardwood smoked because it just works better, but you can use regularly sliced bacon as well~~just watch how long you keep it in the hot oven as it will crisp up fast!
Here's to making the best bacon without any of the work~~goodbye splatters, pops and standing there watching it fry! Remember sometimes the best recipes lie in the simple techniques!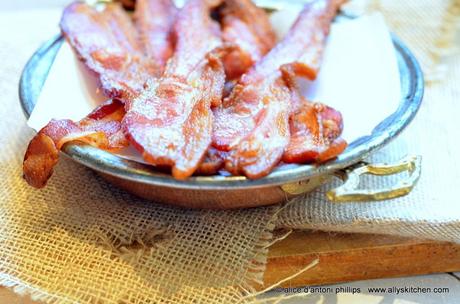 Makes: 8 slices
Preheat oven to 375
What you need:
8 slices of thick-cut hardwood smoked bacon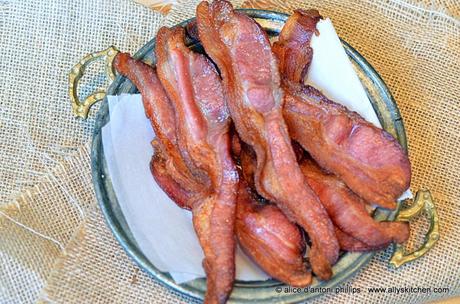 What you do:
Cover a cookie sheet with a draining or cooling wire rack. Place the bacon strips side by side  on the rack . Put in a cold oven that's set for 375 degrees. Bacon will be ready in about 18-20 minutes.

Monitor doneness depending upon how you like your bacon~~soft and pliable or well done and crispy, which could take a little longer.

When done, remove and try to keep the bacon for whatever the meal is, well, hide it, before everyone eats it!

 

Comments
comments