When we studied in Schools, zero mark [getting nothing] was comically termed as 'kozhi muttai' [egg of a hen]…. In English it actually is 'goose egg' referring the numeral zero, indicating the failure of a team to score in a game. 

In cricket, a duck is a batsman's dismissal for a score of zero.  Batsman getting out first ball is 'golden duck'.  It is stated that the reference to 'duck's egg' dates back to centuries when Prince of Wales scored a nought in 1866. 
What is the shape of an egg
… a search revealed – 'the shape of an egg is approximate by "long" half of a of a prolate spheroid, joined to a "short" half of a roughly sphericalellipsoid, or even a slightly oblate spheroid'.   Certainly not easy to figure out what it is all about…. 

An oval (from Latin ovum, "egg")

is a closed curve in a plane which "loosely" resembles the outline of an egg. The term is not very specific, but in some areas (projective geometry, technical drawing, etc.) it is given a more precise definition, which may include either one or two axes of symmetry

. In common English, the term is used in a broader sense: any shape which reminds one of an egg.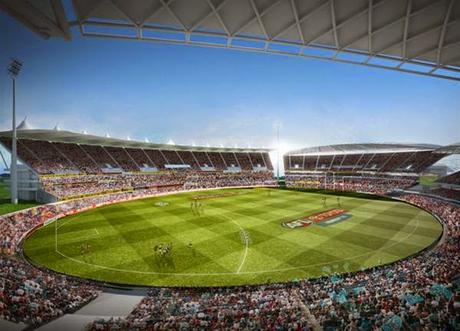 There are many Cricket grounds that are oval in shape.  The one at Adelaide, South Australia is known as 'Adelaide Oval'.  The more famous is the one in South London.  It is 'the Oval', sometimes referred to as the Kia Oval due to commercial sponsorship,  is at  Kennington, in the London Borough of Lambeth, south London.  It has been the home ground of Surrey County Cricket Club since 1845. It was the first ground in England to host international Test cricket, in September 1880. The final Test match of the English season is traditionally played there. In addition to cricket, it has hosted many other sporting  events including rugby matches.   Kennington is a district situated in London, England, south of the River Thames.
Indian moment of glory came at Oval in 1971 – on that tour when Indian spinners – Bedi, Venkat & Chandra excelled claiming 37 wickets – it was Bhagwath Chandrasekhar – whose eight wickets brought India their biggest win to date. Years  later, in the final Test of 1979 Series, Sunil Gavaskar played a classic knock in the 4th innings. Chasing a mammoth total of 438 runs in the fourth innings, he set the The Oval stadium on fire with a masterly knock of 221 runs.
Not to be confused with Kennington, there is another – the 'Kensington Oval' in the capital city Bridgetown on the island of Barbados.  Besides many other important matches, the finals of 2007 World Cup between Australia and Sri Lanka was played here.  It was a rain-shortened match.  Australia made a mammoth 281/4 in 38 overs aided by a brilliant century of Adam Gilchrist (149) and won by 53 runs in D/L finish. 
MailOnline reports of a perfectly round egg that was sold on eBay for £480 [Rs.44600 approx]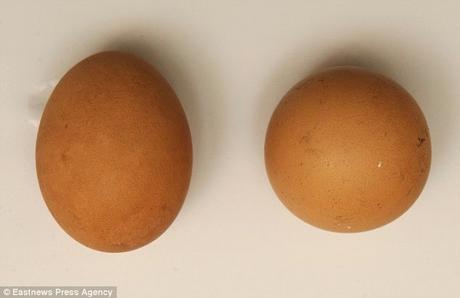 A hen called Ping Pong laid a one-in-a-billion perfectly round egg - which was  sold on eBay for £480. Owner Kim Broughton, 44, from Latchingdon in Essex, was left shell shocked after her prize Buff Orpington hen laid the spherical egg on Pancake Day.  Ms Broughton and Ping Pong decided to auction the egg off on eBay and were amazed when it sold for £480. She is planning to donate the money to the Cystic Fibrosis Trust after a friend's son died from the disease.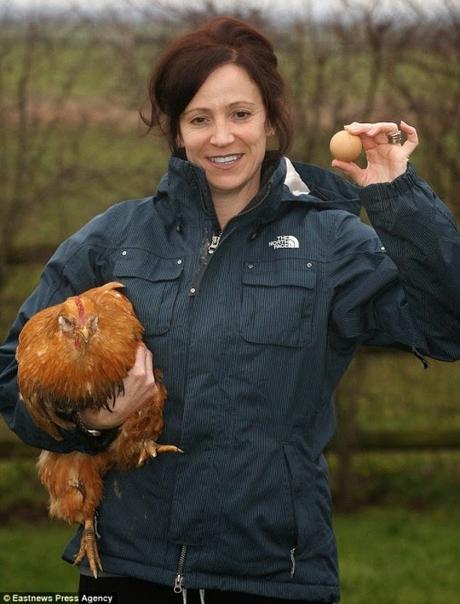 The owner  Kim Broughton  has since re-named the Buff Orpington hen – 'Ping Pong'.  Such occurrence of perfectly spherical egg is believed to be 'one-in-a-billion' chance. 
 Ms Broughton said she had been tempted to cook and eat the egg before being told it was 'one-in-a-billion'. She said: 'I was literally about to crack it open to make a pancake when a mate saw the photo I put on Facebook and messaged me to say 'Don't do it!' – it really went off the roof.
The first duck in a Test match was made in the very first Test between Australia and England at Melbourne in March 1877, when Ned Gregory was caught by Andrew Greenwood off the bowling of James Lillywhite.
With regards – S. Sampathkumar
25th Mar 2015.
Photos credit : dailymail.co.uk