In a year where reality bludgeoned spirits relentlessly the world of music that has faithfully offered escape for our entire lives welcomed us with a blanket of amazing new music that seemed unlikely when you consider the high standard of 2009. From the outset it threw the new Vampire Weekend our way before New Pornographers and MGMT came in with genuine album of the year contenders, this was before you could even contemplate thinking about festival season in which the libertines took the pressure off everyone by turning the spotlight back on them. No new music but hope for English music. The summer saw the return of big hitters Gaslight Anthem building on their album of the decade with a competent effort. Mark Ronson and Cee Lo Green soundtracked the dregs of the season with a couple of tracks that the year will definitely be noted for. On the subject of great tracks, Dog is Dead turned up with little fanfare and a sack of catchy tunes at numerous events and walking away with the title of ones to watch in 2011. Stars in the ascendancy were Brighton's Blood Red Shoes who toured endlessly in the summer backed up by a brilliant album and an already impressive back catalogue. Fun's Jack Antonoff fronted Steel Train were the best surprise for me, their third album sounding like a flawless debut. Conor Oberst has slowly been dusting off Bright Eyes and released two impossibly resonant tracks that only heightened the anticipation for his 2011 release.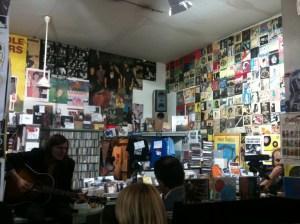 Outroversion's Best
Tracks of 2010
Kathryn Calder- Arrow
Grinderman- Palaces of Montezuma // Heathen Child
Bright Eyes- Coyote Song // I know you
Earwig- Starcross'd
Riot Tapes- Everything is local
Warpaint- Undertow
National- Bloodbuzz Ohio
Surfer Blood- Swim
Best Coast- Boyfriend
Kanye West- Power
AVI Buffalo- What's in it for?
Ellie Goulding- Your Song
Lights- Saviour (acoustic) // Boots
Now Now Every Children- Giants
Yea Sayer- Ambling Alp // ONE
Cee Lo Green- Fuck You
Mark Ronson Ft. MNDR & Q Tip- Bang Bang Bang
Arcade Fire- Sprawl II (Beyond the mountains)
Darwin Deez- Constellations
Villagers- Twenty Seven Strangers
Steel Train- Bullet // Soldier in the army
Summer Camp- Ghost Train
New Pornographers- Silver Jenny Dollar // Sweet
Talk
Vampire Weekend- White Sky
Blood Red Shoes- Light it up // Heartsink
MGMT- Brian Eno
Dog is dead- Glockenspiel Song
Beach House- Zebra
Bern & the brights- It goes like that
Lisa Mitchell- Oh Hark!
LoveLikeFire- Stand in your shoes
Gaslight Anthem- Lucky // Spirit of jazz
Jenny & Johnny- Scissor Runner
Rocket Summer- Roses
Eminem Ft. Lil Wayne- No Love
Hollerado- Juliette
Emanuel & the fear- Guatemala
Massive Attack ft. Guy Garvey- Flat of the blade
Metric- Waves
Allo Darlin- Silver Dollars
Arctic Monkeys- Catapult
Lexland- Play in reverse
Blur- Fools Day
Listener- You were a house on fire
Sally Seltman- On the borderline
Everything Everything- My keys your boyfriend