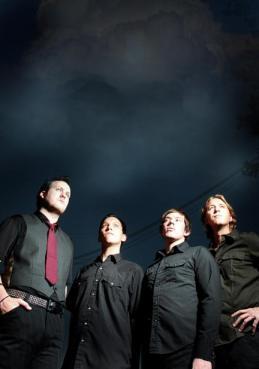 You know the way all those English bands do the same generic rhythmic drumming, progressively escalating guitars before reaching a crecendo and the media say they're the best bands of all time? Here we're talking muse, we're talking keane and snow patrol, the script, we're talking most mainstream british bands that aren't teenage rappers.
Well the reason I mention this is because Sounds Under Radio ARE reminscent of muse. Ok, don't hate- it's all the good things you actually don't mind about muse. They focus on well constructed music without being "wanky", great vocal delivery without inhaling Matt Bellamy's ballsack into one's nostrils with each line and genuine showmanship without being a cunt. And besides, they're from Texas (making some of this redundant) so how can you hate?
O.K It's my first post of the year and I've sworn more than I ever have in my life but it's because I actually think these guys are worth your time and think that if they weeeere to be successful outside of the indie circles it would be on their own merits.
Cinematica was self-produced and released as their debut in 2008 and it'd be pretty hard not to include them in the SXSW line up each year but I'm pretty sure that they're going to be going a lot further this year. Their second album comes out at the end of march, entitled my communist heart and I suggest you check it out when it "drops". Yeah I can't say drops…
MP3: All you wanted (4shared)