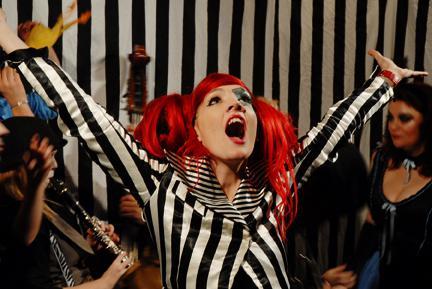 Gabby Young and other animals
I first posted about Gabby Young late in 2009 in anticipation of a big year for her and her animals. It saw the 8 piece touring their debut album everywhere you can imagine, honing their craft ready for an equally impressive onslaught in 2011.My previous post tells you pretty much all you need to know…______________________________________________________________________________
Outroversion December 2009-
It's always nice to look back on how you discovered a band and think that you're doing something right. I assumed that I found Gabby Young through the guardian's "next big things" but can't find the article so I have no idea how I did, but i'm glad that I did. It does seem however that had I not, I would have eventually for gabby and her animals are getting the recognition that the music, her innovation and commitment to the cause deserves.
There are a million reasons why you should be listening to gabby young and the reasons not to like, "i really should get something to eat" or "a homeless man licked my earbuds earlier and then handed me a doctor's note outlining the symptoms of syphallis" isn't going to fly. You'll fall for the music eventually and whether it be by her huge voice, described as "having the power to make you feel like you're swimming in velvet", her style, her unique approach to selling records which i shall go into in a moment or the fact that her last tour was of vintage shops-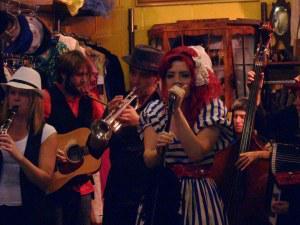 So you may have watched sky news this morning and seen Gaby on a feature regarding indepedant artists and their survival in a world dominated by commercialism and lady gaga. On her website there is the option to "become an animal" and, as i'm sure you're aware- animals have pretty sweet lives. My cat's upstairs lounging on the bed as we speak, which I guess is fine as it's saturday but let me tell you- he does the same thing ALL week. Yeah- that's right…
As I was saying, you can become an animal, not by living well in this life and being rewarded with good owners in the next but by donating to the the fulfillment of their musical dreams. This can either be in the form of a mole, a bear or a tiger and to be honest with you it's the greatest, most unusual but spectacularly amazing move i've ever seen. Like for three scores and a godiva you get all this-
"We're All In This Together" signed Album + 4 tickets to invite only shows + merchandise including limited edition back catalogue CDs + special prize draw every month + free videos + bonus tracks + video blog updates + exclusive access to the band + personalised Gabby Young video message + high quality signed photos. PLUS Tigers will be invited into many aspects of Gabby Young and Other Animals' world… a rehearsal, a music video, our website, join in on a writing session, to hang out post gig backstage and many other surprise honours."
All bands should do this. I can barely formulate superlatives to describe how great an idea this was, seriously all other bands in the entire world are missing a trick. I have a feeling in the future that this will become the norm and to do so will be a verb, "to gabby young".
I've posted a couple of tracks up there that she was kind enough to send me but I urge you to check out the website and consider supporting them through buying their wares or becoming a big rawrlysnarly animal for there isn't a day that goes by where I don't think about how hard it is to be a musician but when someone says they like your stuff or actually buys your music it makes you feel like the struggles worth it.
We're all in this together video-