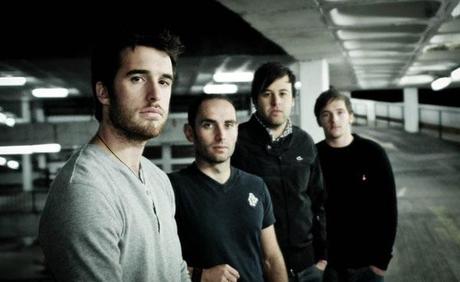 In 2011 it's quite hard to come up with a name that might seem unusual to those having followed say Cheeky Cheeky and the Nosebleeds or even the Arctic Monkeys who Very Nice Harry take after in a huge way. However, VNH's off key name is just that and is taken  from a line in Lock Stock and Two Smoking Barrels where one macho man says those very words to another :D
Their debut EP, Sugar Lounge is hopefully representative of their sound as it would be a shame for what should become an instantly recognizable signature for these Didcot fellows to become a sidenote in their foundations and development. The atmospheric nature of Carmen, is massively emblematic of this, perhaps bringing comparison to Maximo Park's latest album and if you're familiar; Broken Records.
Olive Stone & Sterling Fella could easily have been taken from Alex Turner's back catalogue, not that i'm accusing the boys of plagiarism, merely suggesting their work is of a high quality. I would also like to suggest an influence from the soundtracks of movies like Lock Stock and Pulp Fiction, as the bass line and delivery at times is hugely reminiscent of the kind of killer and unmistakeable sound you get during these movies. A louche comparison? Perhaps, but also remarkably accurate.
The finale is a fucking gorgeous tribute to Lewis Carroll's Alice Through the Looking Glass. An absolutely pulsating bassline coupled with the rollercoaster lyricism that LC's work is famed for. Perfection.
They've been kicking other bands into touch with their high brow, yet accessible brit-rock tunes in the Live and Unsigned competition, with Very Nice Harry's likeability, artful craft and great tunes a prosperous summer looks to be on the horizon. Kicking off with a couple of shows at the Oxford Academy and their next EP #REFORMAT will be out in June and no jokes- this is probably the only summer you'll be able to catch them without everyone else knowing who they are.
Catch them this summer. There'll be a load more dates but it's a pretty healthy list as it stands-
7th MAY – CORN EXCHANGE, BEDFORD/L&U AREA FINAL
8th MAY – CANCER RESEARCH, CHARITY EVENT
11th MAY – O2 ACADEMY OXFORD
19th MAY – MACMILLAN CANCER SUPPORT, BULLINGDON ARMS
3rd JUNE – THE SWAN, WANTAGE
11th JUNE – OXFRINGE FESTIVAL, JERICHO TAVERN
17th JULY – GUILFEST 2011
22nd JULY – CORNERSTONE BEER FESTIVAL
30th JULY – BROADWAYS, DIDCOT
Sterling Fella
Tragic Tale of a Holiday Romance
Get the very nice Sugar Lounge EP here.