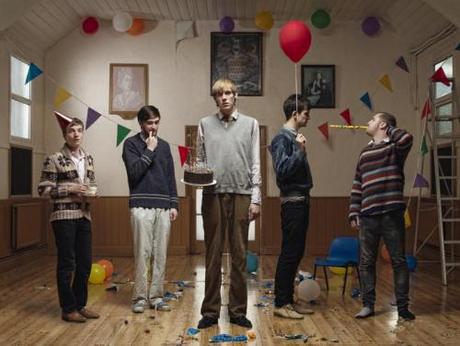 Before I'd really given Spring Offensive a huge deal of listening they were already ensuring they had, at the very least the city's attention with a series of counter culture glorifying ways of getting their music out to anyone with ears. First that was with 13 minute opus "The first of many dreams about monsters" and on valentines day this year they released "Between me and you" an EP that really drove home the band's sound.
UK bands these days tend to meandre towards the electric guitar purely because it's been done and people dug it at the time. Alternative music isn't just about math rock it's about sending messages to people and Dylan proved there's no better way than with an acoustic guitar. While they do also use electric they do in the same way that Frank Turner does, a performer with who they share not just their preference for sparse musicianship but their focus on expert lyricism. On tracks like "Every Coin" you get everything that Spring Offensive are doing so well, showcasing all they're becoming great at as well as the punk elements that make them well, let's face it- a sure fire smash hit!
A couple of EP's, a mini album and another unique single release have lead to this summer being huge for the guys, their biggest tour yet with no doubt a few festivals thrown in, a headline show at the Oxford Academy and the release of their first album hopefully in the not too distant future.
Make sure you catch them tonight at the Truck Store in Oxford for their show of support for record store day in the form of an in-store gig. And also why not see how many times you can see them this summer as a way of one up manship before everyone else is banging on about them after the summer..
Apr 16 RECORD STORE DAY @ Truckstore (acoustic) Truckstore OXFORD
May 9 Club Fandango @ Bull and Gate London
Jun 2 CLUB.THE.MAMMOTH @ The Old Queens Head London
Jun 4 The Windmill w CATS AND CATS AND CATS London
Jun 10 West End Centre w/ JUMPING SHIPS Aldershot
Jun 18 O2 Academy 2 Oxford
Jun 29 Death 2 Disco @ Notting Hill Arts Club (FREE SHOW) London
Watch the video for isolation encapsulating "stutter and start" below. It's a proper video too, well done and the way they should be. It gets a bit smack my bitch up at the end but it's 100% super swish-
A stutter and a start
Every Coin
Download:
The First of many Dreams about monsters