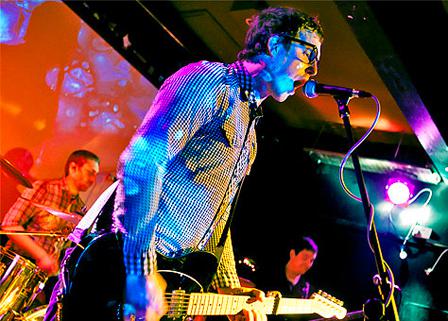 Black Hats
In a city shrouded by a cloud of intelligentsia, math rock and deliberately innaccesible thinking man's music it takes a smarter and braver band to break the mould and thrust post-punk shoutalong anthems more in the vein of Future of the Left or The Young Knives than Radiohead or Foals.
They're described as a group of "Yob Savants" and you know I wouldn't cover anyone where there would be even a slight risk of having to mention the Kaiser Chiefs or Hard-Fi so I feel I should reassure you that there is more going on here than an English answer to Drop Kick Murphy's.
While BK might not promote themselves as being arbiters of academician music tracks like Blood and Space have elements that are borderline prescient. The muscianship is in the class of the sadly defunkt Dartz! and i'm thinking here we might finally have a worthy replacement. Thank Oxford for Black Hats!
Go "like" them on facebook and stick around for news, releases and shows.
Upcoming Gigs:
24TH APRIL 2011 MAXFEST AT THE EAGLE TAVERN, WITNEY FREE
13TH MAY 2011 WITTSTOCK FESTIVAL AT THE RAILWAY INN, CULHAM TICKETS
30TH MAY 2011 JERICHO TAVERN, OXFORD TICKETS
11TH JUNE 2011 OXFRINGE @ JERICHO TAVERN, OXFORD TICKETS
16TH JUNE 2011 THE HOBGOBLIN, STAINES TICKETS
17TH JUNE 2011 THE SWAN, WANTAGE FREE
18TH JUNE 2011 RIVERSIDE FESTIVAL, CHARLBURY FREE
23RD JUNE 2011 FAT LIL'S, WITNEY TICKETS
13TH JULY 2011 12 BAR, SWINDON TICKETS
23RD JULY 2011 THE BEAR, MARLBOROUGH (PRIVATE PARTY) N/A
30TH JULY 2011 D-FEST AT THE RED LION, DRAYTON TICKETS
You can download "Tunnels" by the black hats via the spires compilation
Michelle McCool