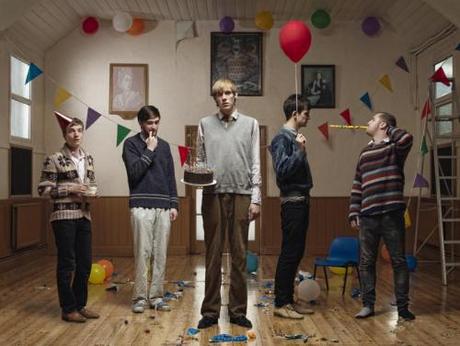 .
Spring Offensive
.
At the start of the year Outroversion tipped Spring Offensive for a most prosperous 2011, we checked in a month ago as part of the Outro Introduces Oxford series to check on their ascent and this week Chloe interviewed Lucas the frontman of the outfit, take it away…
Hotly tipped for  2011, Oxford's latest export have been gigging every nook and cranny in their fair city, building a buzz around them and grabbing attention first from the wisest local promoters, to the odd play on Radio 1 and even on station for the discerning, 6Music. They've now set their sights to the big smoke, where they have a number of gigs coming up, including taste-whetting indie night, Club The Mammoth and a few festivals to boot, not to mention the forthcoming release of their EP, Pull Us Apart. Curious as ever, we caught up with Lucas for a chat to find out a bit more about them.

How did Spring Offensive come about- how did you meet?
We met at school a few years ago, then went off to universities and things like that, and eventually all met up again here in Oxford.
Introduce yourselves – who plays what, what is your background, how did you get a leg on the rung of the oxford scene? Any person or organisation you are particularly indebted to? What are your plans to build on this for UK domination?

Theo and I (Lucas) are brothers, I sing and he plays guitar. Matt is the other guitarist, Pelham is on drums and Joe, who we found on Gumtree, plays bass.
The way we got our name about in Oxford was just by playing loads of gigs. The idea was to try and get to the stage where everyone, within reason, had heard of us. You risk people getting bored of you, but it worked for us. Promoters who used to put us on and show an interest in us from an early stage helped us establish ourselves here, people like Daisy Rogers, Gappy Tooth. But also OxfordBands, as it was known back then, and Tim and Dave at BBC Oxford Introducing, though we'd already been played on 6 Music before they picked us up! We're now taking the same approach to London basically. We play in London twice as much as we do here, with mixed results, but more people notice the good ones than they do in Oxford. We've been on tour and been played on Radio 1, so there are people across the country who know of us already. It's just a question of making that grow.
How do you feel about being associated with the "mathletes" (if you will) Foals and the like- do you mind this math rock association, and what do you think of those bands closely associated/ compared to you?
It's fine, if a little lazy. I think that if you listen to us, there isn't much of that going on in it. But people need reference points. We quite like some of Foals' stuff, and used to be massively influenced by Youthmovies, Minus the Bear and bands like that.
What should people unfamiliar with Spring Offensive expect from the release? 
Pull Us Apart was something that we wrote over a few months. It's fairly dark and bleak but hopefully accessible while it's doing it. It's actually quite far removed from what we do now. It's also not a full album. Our plan is to do a full length. It won't be ready for a while though…
Which musicians do you take inspiration from – from golden oldies to the current set? Who did you grow up listening to, do you take any inspiration from your parents record collection and who currently floats your boat?
I just yesterday bought the new albums by Wild Beasts and The Antlers. Those are two of the best bands around at the moment in my opinion. In terms of the older bands, the Smiths is probably the single major influence. And Hope of the States and The Cooper Temple Clause were the bands that convinced us to form in the first place. And then there's A Silver Mt. Zion, Nick Cave, Death Cab For Cutie, Anathallo. The list goes on. My parents don't have very interesting record collections.
Which bands/ songs are your guiltiest pleasures?
Most of the stuff by the Wombats. It's actually a lot better than they market it to be.
What's in store for you guys this year?
Working on the new material, almost exclusively. We're hopefully going on a couple of tours, maybe abroad. We'll see how it goes. The important thing is to write a great record. It's coming along nicely.
When you're writing, what do you take inspiration from? What is your creative process- is it one of you who takes charge or do you lock yourselves in a kitchen a la Keef and Mick in the early Stones days?
It's either an idea that we hear from somewhere, like the idea for Every Coin, which was in a throwaway line in a play, or it's something that's close to our hearts. Matt tends to start these off, and then I (Lucas) join in. We try and go to interesting places, or at least out of the house, in order to write. A couple of weeks ago we drove four hours to West Wales just to spend a night writing. It came out pretty well. We might do that again soon. 
I heard someone swallowed a coin during a performance of "every coin" recently, a song which I feel encompasses your sound and should be the first song new listeners check out, tell us about it! Was it intentional? A show of dedication?!
I have no idea. I noticed a bit of something going on in the crowd, but no one was hurt so it's fine. People can enjoy our shows in whichever way the choose.

A stutter and a start is gorgeous and while the song is gripping it piques curiosity in many different ways. Firstly the unique style of the release, this isn't the first time you've twisted the game a little, is there inspiration behind this perhaps from abingdon? what made you decide to go the extra mile?
Yeah, Radiohead certainly have the means to do it on a grander scale, but I think we're all starting to realise that just releasing music isn't really enough. You have to do something else, you have to think outside the box. That's why we went with a colouring book, naming all the people who bought the last record. It makes listening a more interactive process. Speaking as one of them, most people have a short attention span these days.

I couldn't wait to get this interview together as I wanted to know where in Oxford that video is shot! I'm pretty sure it will become a pilrimage for followers of yours, would you ever consider doing a competition for best remake of the video? I think that'd be pretty swish.
It's Queens Lane, which runs from the High Street up to the Sheldonian. We chose it because we knew it would be quiet on a Sunday morning. It's a nice little spot. I think Trophy Wife have since made a video there as well. We'll have to think about running a competition. People should realise that it's pretty frustrating though! In a single take, when one thing goes wrong at the end, then you have to reset and start again. It's not as bad as some though: that long 6-minute shot at the end of Children in Men apparently took 15 hours to reset.
How do you like the Oxford scene? What are your favourite idiosyncracies, venues, bands, people, shops, festivals, cafes, talk about pretty much anything you dig…
There are some great bands here in Oxford, and among them,
Ute
, Adam Barnes and
Gunning For Tamar
are probably our favourites. But there's something for everyone really. The best venue is, in my opinion the
Cellar
, but the O2 Academy is probably the nicest from a performer's point of view. Truck Store is the shop I go to the most and the guitarists are always in and out of
PMT
, and I tend to eat at Atomic Burger or
Red Star
. You might be sensing something of an OX4 theme here.The Ultimate Picture Palace is awesome, and the best pubs in this area are the
Rusty Bicycle
and
the Star
, and further afield I like the Lamb and Flag, and the Three Goats Head in the centre. In terms of food, the Mission is also pretty great and, if I'm ever over that way, the
Gardener's Arms
in Jericho does great vegetarian food. And if I'm in town I tend to go to
Combibos
for coffee. Punting is quite fun as well actually. Or at least being in the sun in one of our parks, particularly
University Parks
. Thinking about it, it's a pretty good place to live. Everything's walking distance. This is a good thing.__________________________________________________________________________________
Catch Spring Offensive Live:
Jun 2 CLUB.THE.MAMMOTH @ The Old Queens Head London
Jun 4 The Windmill w CATS AND CATS AND CATS London
Jun 10 West End Centre w/ JUMPING SHIPS Aldershot
Jun 18 O2 Academy 2 Oxford
Jun 29 Death 2 Disco @ Notting Hill Arts Club (FREE SHOW) London
BUY THEIR MUSIC!!!