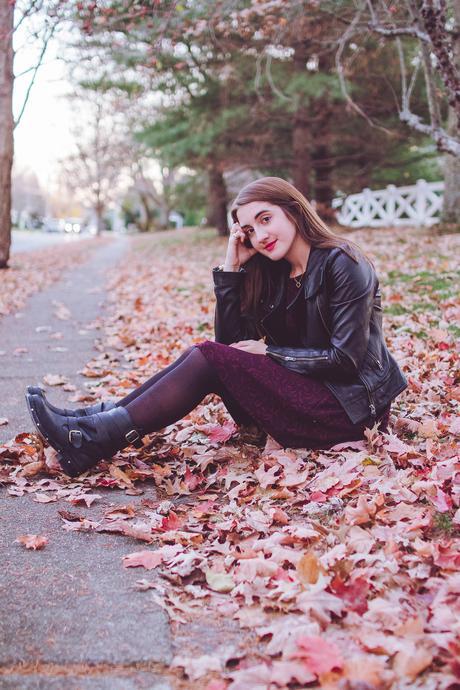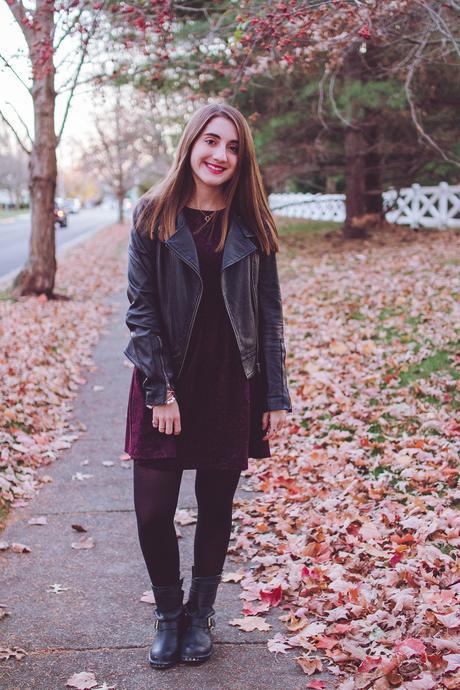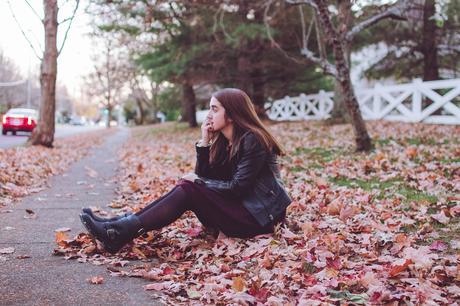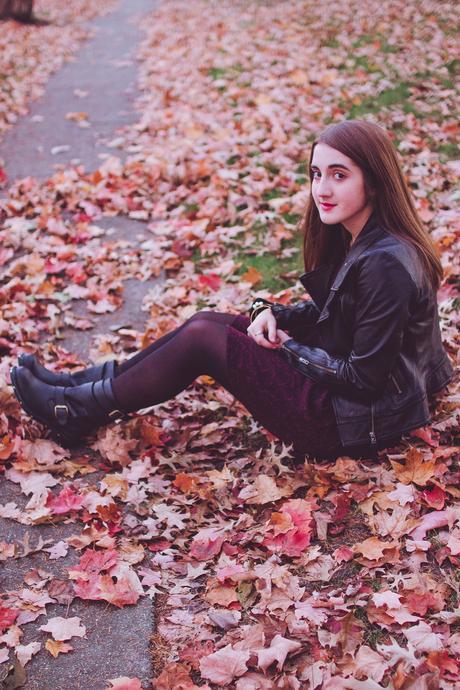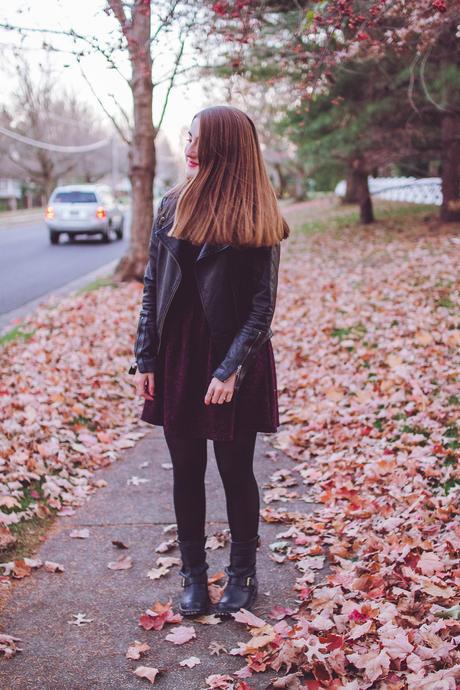 Wearing:// Dress: Nordstrom, Jacket: Aritzia, Shoes: Jeffrey Campbell *old*  (Vince Camuto Boot)
         Curling up with my dogs, homemade apple bread, and a marathon of 90210 ahead of me is what I call BLISS. I came home often during my sophomore year, but the last time I came home before this Thanksgiving break was Fall long weekend in October. Not seeing my friends and family so frequently just makes each homecoming all the better. I somehow survived my last exam week ever at my high school, and have been knocking out my college applications and tv episodes ever since. It has been as solid month since I last posted an outfit post, so I was a bit rusty with my "modeling", but it felt comforting to go out shooting with my mom again. I haven't been doing as much shopping- shocker, I know- with school occupying my time, but I did order this dress with a unique patten off of Nordstrom recently. I have been buying just about anything in this burgundy/maroon color, so expect to see sweaters and pants galore in this shade. 
Like a "normal person", I was just brainstorming Instagram bio options, and realized, "give me a leather jacket + i'll conquer the world" would be suitable for me. I wore my leather jacket pretty much every day while I lived in France (strongly considered just wearing it to bed tbh), and have been wearing it on the weekends when I don't have to rock a blazer to school. Everyone should find a piece in their wardrobe that gives them a world domination type feeling, and my leather jacket with bold red lips serve that purpose. 
Besides seeing friends and hangin' out with my dogs, I mostly look forward to Thanksgiving for the heaps of pie. I'm not sure that I blogged about it, but last year, I didn't really have a Thanksgiving. The nearby French high school put together a lovely look-alike American style dinner, but it just wasn't the same. My mom almost forgot that I wasn't even here last year until I reminded her, but nonetheless, I'm looking forward to drowning my plate in turkey, mashed potatoes, pie, stuffing, pie, and more pie. As usual, I wanted to say how thankful I am for everyone who reads my blog, whether you're a longtime reader or a newbie. Happy Thanksgiving everyone!!xoxo Isabelle 
     {FACEBOOK}{TWITTER}{INSTAGRAM}{BLOGLOVIN'}{TUMBLR}
SHARE:
Labels: #myaritzia , aritzia , frenchi , isabelle nazha , lost but not found , minelli , nordstrom , outfit post , teen vogue , thanksgiving outfit idea