Oz is knotted with social unrest: The Emerald City is mounting an invasion of Munchkinland, Glinda is under house arrest, the Cowardly Lion is on the run from the law, and Dorothy is back. Amid chaos and war, Elphaba's green granddaughter born at the end of "Son of a Witch", comes of age. Rain will take up her broom, and bring the series to a close.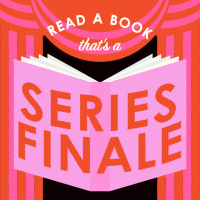 ***
[It would take Dorothy Gail and her relatives three days to reach the mountains by train from Kansas, the conductor told them]
***
(Headline Review, 7 June 2012, 660 pages, paperback, A Year Of @EpicReads 2019, a book that's a series finale, bought from @AmazonUK)
***
***
The first book in the series, Wicked blew my mind when I read it many years ago. I was less enthusiastic about A Lion Among Men and Son of a Witch. They lacked the magic of the first book, dull at times; too many characters vanished into thin air, unrealistic occurrences and way too much backstory. Still, I'm a completest and enjoyed Wicked so much I bought the last book in the series. I could never bring myself to read it. Until now. Out of Oz redeems the series and is almost as good as Wicked. What a relief. I especially loved it when Dorothy is put on trial for killing Nessarose and Elphaba. This is one of the best sections in the book. This brought the series to a satisfying conclusion. I might re-read the series as a whole to see how it fares as I don't think the books do well read in isolation years apart.