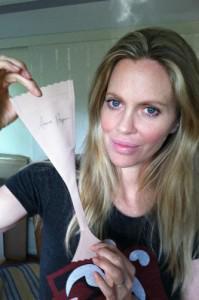 It started with Joe Manganiello's (Alcide Herveaux) modesty pouch going up as an incentive for Kristin Bauer van Straten's (Pamela Swynford de Beaufort) Out for Africa Kickstarter campaign.
Anna Paquin's (Sookie Stackhouse) Super Snatch Patch continues the tradition of unique items being put up on the virtual auction block to support Kristin's anti-ivory poaching documentary Out for Africa. The listing posted on Friday afternoon includes the female modesty patch donated by the True Blood costume department, signed by Paquin and includes a signed photo of Kristin Bauer. It ends September 24.
Another high profile auction item up for bid is one Pam herself would approve of heartily. A pair of Christian Louboutins  worn by Lucy Griffiths (Nora) at the True Blood season 5 premiere with one shoe signed by Lucy and the other by Kristin could be yours. The nude/mandarin red sandals with the signature red Louboutin soles were worn just for the premiere and include a signed photo of Kristin. Ends September 21.
Rare magazine covers featuring and signed by Alexander Skarsgård (Eric Northman) were also put up over the weekend. One is the infamous naked Rolling Stone cover featuring Alexander, Anna, and Stephen Moyer (Bill Compton). The other is the EW Gothic painting inspired cover of Anna and Alexander. Both include a signed picture of Kristin. They end September 25.
Also ending tomorrow are EW signed covers from June 2012 featuring Deborah Ann Woll (Jessica Hamby) and Nelsan Ellis (Lafayette Reynolds) respectively. Both include signed photos of Kristin Bauer and end September 18.
Be sure to check the eBay widget on the right for all of the active items that are added to the Out for Africa auctions!
Source: eBay.com-"Items for Sale "
Image Credits: Out for Africa