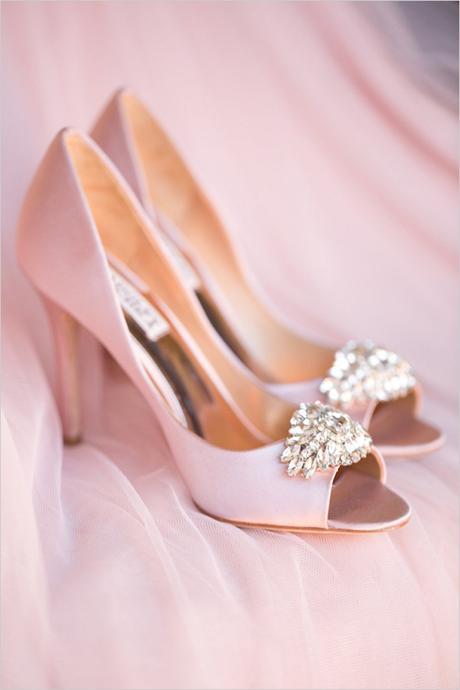 After over a year of planning, I can't believe our wedding day has come and gone! It's been a little over a week since we've jumped the broom, and I've finally recovered from all of the wedding madness and have had some downtime to decompress and reflect. I've shared lots of details from our wedding planning process here on the blog before, but this time around I wanted to give you guys a little wedding day recap, along with sharing a few wedding day tips that helped me out during the craziness. We haven't gotten our actual photos back from the photographer yet (I'm super anxious to see them!) but I found this gorgeous photo of my actual wedding shoes online (pictured above), and found it fitting to use for this post. And you can always check out my Instagram for more pics from the big day (totally overflowing my page…sorry, I'm not sorry).
The Weather: The week leading up to our wedding day was spent by me obsessively checking the weather forecast. I started checking about 10 days out, and didn't stop until we actually headed to the wedding ceremony. Of course since I planned an outdoor ceremony, the weather forecast was absolutely awful for the entire week. About a week out is when I think it hit me that there would be a pretty good chance that it would rain on my wedding day. Along with this realization came the tears – yes, I cried for at least 3 days because of the weather forecast changing my wedding plans. I will say though – thank heavens for an amazing wedding planner. She was able to totally flip around our original plan to accommodate moving everything indoors and it was executed so well that in the end, I think everything actually turned out better inside than if we would have been outdoors!
Favorite Moments: Everything about the entire day was so amazing that it makes it hard to narrow down some of my most favorite and special moments. Seeing my husband for the first time at the end of the aisle, and holding hands while saying our vows are memories that make me smile. We were also surprised by Grammy nominated singer Luke James (who is actually a family friend of mine) and he sang for our first dance! He brought along his girlfriend, Jessie J – yes, Bang Bang Jessie J – who we got to meet which was really cool. She was super sweet and her accent is to die for! We capped off our night second lining out of the museum with a brass band and Mardi Gras Indians which was definitely one of my favorite moments. The Indian costumes are amazingly beautiful and no New Orleans wedding is complete without a second line at the end!
Not So Favorite Moments: The morning of the wedding, I had an allergic reaction to something on the hotel towel that I washed my face with. It actually got red and puffy and there were welts on my eyelid! Oh, and it itched like hell. The makeup artist was able to cover it all up, and besides the itching I think I managed it in stride. I consoled myself by remembering that Solange had an allergic reaction on her wedding day too, and Beyonce' had to bring the bride Benadryl so that they could continue the celebration. I wound up getting 2 prescriptions in the days following the wedding to clear the reaction completely up. Only me. And Solange.
What I Wish We Would Have Done Differently: There are always a few things you wish you would have done differently following such a huge life changing event. I actually wish I would have given the photographer a list of specific shots I wanted them to take. I love my photographer and his work, and while I'm not really worried how our wedding photos will turn out, I just wish I would have given them a bit more direction regarding the type of shots I wanted. Also, I've kind of gone back and forth over the necessity of having a reception dress. While my second dress was much easier to dance and move around in, I'm not sure if I feel like it was really worth it in the end. I loved it, but that could have been dollars put to better use elsewhere. Lastly, we decided to buy our own alcohol for the reception in order to save on costs, and we definitely bought way too much. But, I do think it's better to have too much than not enough, and we also made sure to keep our receipts so that we can return the unopened cases for a refund.
Wedding Day Tips: It's been said time and time again – but don't sweat the small stuff. I worried about the weather for at least 10 days, and everything turned out beautifully. Your wedding will be full of love and beautiful no matter what – trust me. Secondly, surround yourself with the best people you can. My wedding planner, hairstylists, makeup artists and my bridesmaids and mom were the most supportive and loving bunch. It made the day of so much less stressful knowing that I was surrounded by people who truly support and love Rashaad and I. There were no cat fights, no getting ready issues, or anything even close to that, for which I am extremely grateful. Lastly, relax and enjoy your wedding day! You'll hopefully only get one and believe me when I say it goes by so fast. Take a deep breath, and enjoy every single moment – you've earned it.
{image via}