Back in 2012 as honeymooners, Ken and I had a 3 day layover in San Francisco while en route to Maui. We planned it that way so we could check out the Bay Area and break up the frightening long flight from Minneapolis to Maui. As we jetset over San Francisco at sunset en route to Maui, all I could think was: 3 days in San Francisco was nowhere near enough time–we'll definitely be back. So 3 years later we decided it was time!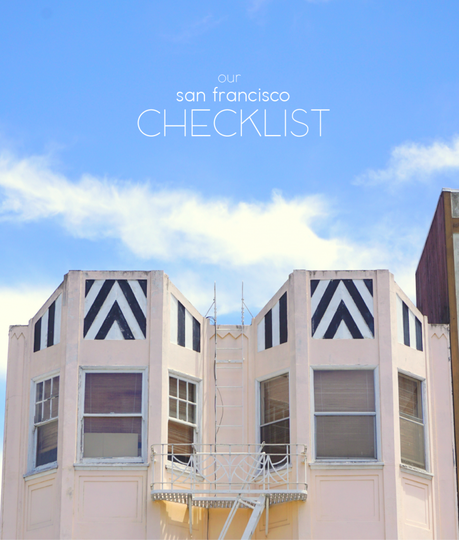 Having been once before + doing tons more research before we left, we had a pretty good idea what we wanted to do again, what we could skip, and what we couldn't miss checking out the 2nd time around. Here was our checklist: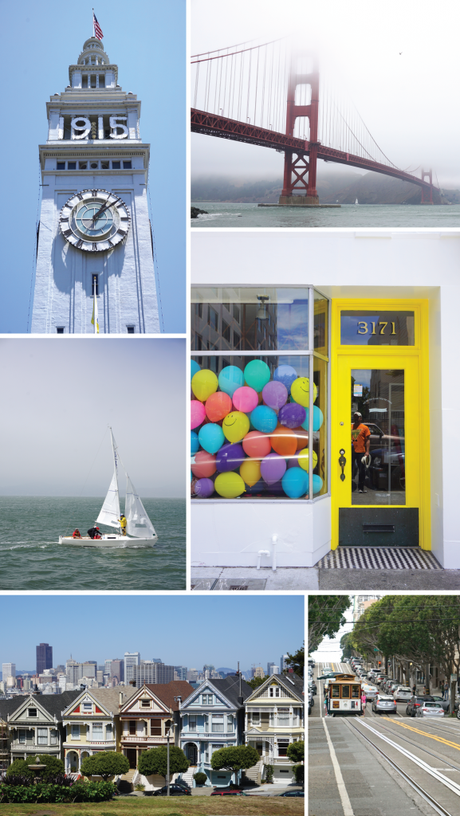 Ferry Building  + Picnic at Alamo Square: I'd heard great things about the Ferry Building and it's food offerings, so we decided to spend a few hours perusing and taste-testing our way through the gourmet shops, picking up picnic fixings here and there: fresh goat cheese from Cowgirl Creamery, salame from Boccalone Salumeria, wine and crackers from Village Market, and of course, spring rolls from Out The Door.  Then we hopped the cable car up to Alamo Square for a picnic on postcard row overlooking the painted ladies and the SF skyline. As we sat there picnicking in a shady spot in the park, I couldn't help but wish they'd bring Full House back to after school TV. Kimmy Gibbler was the BEST!
Bike the Golden Gate Bridge: Okay, before you give me the proverbial touristy eyeroll, let me first say biking the Golden Gate bridge is something I'd recommend to anyone heading to SF! It's something we did last time we were in town and had so much fun the first time, we decide to do it again! We rented bikes at Blazing Saddles, cycled up and across the bridge (which offers fantastic views of the bay), then over to charming Sausilito for a lunch and window shopping. Ending the afternoon with a happy hour ferry ride back to San Francisco.
Cruffins at Mr. Holmes Bakery: Prepare to wait in line for 20 minutes, but also prepare for it to be WORTH IT! Try to go in the morning if you can, as they typically sell out of cruffins. Take heart if they do sell out, an excellent spread of other delicious pastry still await you!
Ride the Cable Cars – A San Francisco classic that will get you up the hills in charming style without you actually having to walk up those hills.

Oysters at Hog Island Oysters Co.: Fantastically fresh, local oysters with a view of the bay.
The Mission: Home to a melange of hipsters + the Latin American Community, The Mission District has some of the hottest new restaurants in town, established vintage shops, and the largest concentration of exterior murals in the city.

Oh Happy Day Studio: The DIY & party blogger that inspired this Minneapolis gal to start a blog and write about the stuff she makes. While we were in the Mission, we had to check out where the magic happens!

Cocktails at Bourbon & Branch Speakeasy: Located in the former location of an actual 1920's speakeasy that operated during Prohibition, Bourbon & Branch carries on the tradition by requiring a password (that they give you when you make a reservation) to enter their unmarked (other than the street number) establishment.  Their imaginative and sta-rong drinks are whipped up by a dapper, handlebar mustached barkeep, and the entire experience doesn't disappoint in delivering an authentic prohibition-style watering hole.