American Art and the Portrait Gallery share not only a building but also our museum stores. We have two stores that are now under new management with a completely new array of gifts and merchandise that is collection-based. Writer Warren Perry, at the National Portrait Gallery recently spoke with Milissa Ferrari, the new manager of our stores. If you're in town come by and peruse the offerings. Our main building store is located just off the G Street lobby. The shop at our Renwick Gallery, across from the White House, features many artisan made gifts.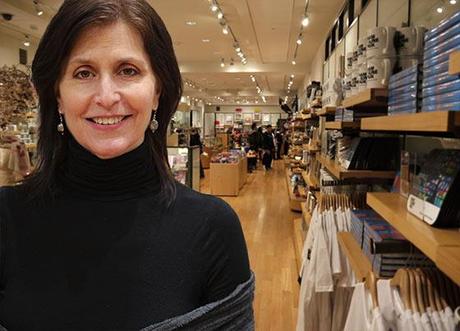 Milissa Ferrari in front of renovated museum store. Photo by Ben Bloom.
Warren Perry: Please tell us about your career and education.
Milissa Ferrari: I have a BA in art history from the University of Wisconsin-Madison. As a student I ran the art galleries for the student unions at the university. After graduating, I helped to open the Madison Civic Center—which housed two theaters and the Madison Art Center—working as the outreach and volunteer coordinator as well as house manager. I moved on to the Dallas Opera in Texas, where I worked in the marketing department, then on to become director of the Learning Annex (a national adult education program) in Chicago. After taking a brief time off to have my two children, I began a new career in retail with Williams-Sonoma while still working on various art education programs through various school districts and serving on local arts councils. I was able to combine both my arts and retail experience in my next job as the store manager for the Portland Art Museum in Oregon. After three years in Portland, I am now here as the store director for the two gift shops located in the building for the National Portrait Gallery and American Art Museum, as well as the Renwick Gallery.
WP: What is your vision for the museums' store?
MF: My vision for this store is that it becomes a destination shopping spot for the neighborhood and a wonderful surprise for all visitors. My hope is that it will appeal to the more serious art lover through our collection of art related books and monographs and yet also to the novice, with products inspired by works from the collection and the other beautiful, whimsical, and wonderful things we offer in the shop.
WP: Do you have some favorite works in the collections?
MF:I have very diverse taste in art. My new favorite works from the collection include the beautiful watercolors by Till Freiwald, I am always drawn in by them. I also love William H. Johnson's work and George Nakashima's beautiful wood pieces. Also, I really like the portrait of Pocahontas [from the Portrait Gallery's American Origins exhibition].
WP: How do you like Washington, DC?
MF:I'm very lucky to have lived a rather nomadic life. I have lived in many big cities. Washington is a wonderful and sunny change from my last three years in Portland. I am living very close to the two museums and love that I have so many wonderful things to do and see all within walking distance. I don't have a car and am so pleased to be able to hop on the Metro or even the Circulator to get around town. I am very happy with my move here and have already reached a comfort level that usually takes a bit longer than the two months I've been here so far.
WP: Can you tell us about some of your hobbies or interests?
MF:I am a big foodie, for one thing. I have been eating my way around town, always looking for good food wherever it might be found. My second passion is music. I love to hear live performances in small settings. I haven't really found any place for that yet but I'm open to suggestions. I am an adventurer, so if anyone has thoughts on a neighborhood I should be walking around, a market I should go to, please stop in the shop and give me your suggestions. Guidebooks are ok for the casual tourist but I would rather have the inside scoop from those who know.