I've written before about how tender our Lord is. There are many scenes in particular when He is tender with women. His quiet leading of the sinful Woman at the Well...his gentle chiding of Martha ... His dawn appearing to Mary in the garden after His resurrection...all beautiful and tender.
I especially love His care of Hagar in the wilderness. Badly used, cast off, alone and about to die, the Lord incarnated and appeared to her, and personally reassured her. I wrote about that twice.
Our Tender and Loving Jesus
Hagar in the Wilderness Drinking from the Living Waters of Life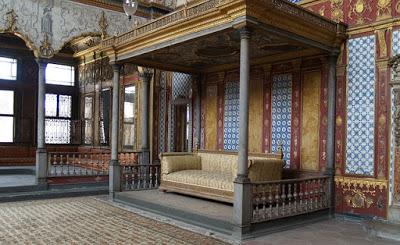 Harem bed in Istanbul
Here is another example of our Lord's amazing care and tenderness toward His people. Sarai. See the passage in Genesis 12:10-16,
Now there was a famine in the land. So Abram went down to Egypt to sojourn there, for the famine was severe in the land. When he was about to enter Egypt, he said to Sarai his wife, "I know that you are a woman beautiful in appearance, and when the Egyptians see you, they will say, 'This is his wife.' Then they will kill me, but they will let you live. Say you are my sister, that it may go well with me because of you, and that my life may be spared for your sake." When Abram entered Egypt, the Egyptians saw that the woman was very beautiful. And when the princes of Pharaoh saw her, they praised her to Pharaoh. And the woman was taken into Pharaoh's house. And for her sake he dealt well with Abram; and he had sheep, oxen, male donkeys, male servants, female servants, female donkeys, and camels.
The Bible is great because it shows us the sins of the sinful people the Lord with which the Lord is building His bride. We are all flawed and sinful, and here Abram was no exception. Counted as righteous, a great man, and a Patriarch of the faith, Abram was still a human...and we know what that means. Sometimes we stumble. Badly.
He lied and a worse, didn't have a thought for Sarai, knowing likely she would end up in a harem. He knew her beauty would attract the attention of the harem keeper and this would be reported to Pharaoh. That is exactly what happened.
But did God say 'Because Abram will be my Patriarch, I will fix this." ? Or, "Because of Abram who is great in my sight, I will fix this."? No. What did God say?
But the LORD afflicted Pharaoh and his house with great plagues because of Sarai, Abram's wife.
(Genesis 12:17)
Because of Sarai.
God personally intervened. His rescue of the situation focused on the protection of Sarai. Calvin's Commentary says,
And here we have a remarkable instance of the solicitude with which God protects his servants, by undertaking their cause against the most powerful monarchs;
If you are feeling lonely tonight, marginalized, overlooked, or downtrodden, remember the Lord's intervention with the Woman at the Well, His tenderness to Martha and Mary, and His descent from heaven itself to comfort Hagar in the desert. He protected Sarai and restored her marriage.
Hagar praised Him, saying
So she called the name of the LORD who spoke to her, "You are a God of seeing," for she said, "Truly here I have seen him who looks after me."
(Genesis 16:13)
We have a good and gracious God. Lord Jesus is in control and whatever is happening is for your good and His glory. What a comfort.