Hello, it is that time of the week again where I bring you a product review of the week. So today I thought I'd introduce one of our plastic/opaline placemats, Tropically Toucan.
Before I go into my love of the amazing toucan, I just want to mention the versatility of our plastic placemats. They are made from 500-micron clear opaline, digitally printed on the reverse side where layers of varnish protect the print; therefore the matt side is the correct one for use. They are extremely versatile being very light, waterproof, easy to wipe clean, fit into a drawer for storage; obviously they don't take extreme heat, but that's where the cork is used at its best!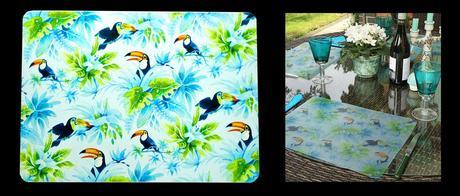 Other places to use them is on bedside cabinets, coffee tables or anywhere where you need to protect the surface from liquid stains and scratches.

If you take time to look at the Decorque collections you will see that we love all nature and birds – they appear in many of our designs. The Toucan has such striking areas of colour; in fact it is the Toucan's distinctive colourful bill that has made it one of the world's most popular birds.  Of course, we all think of the famous Guinness toucan.
The South American tropical forests are the home of the Ramphastos Toco, the real name of the Toucan. It lives and nests in trees, hopping from one to the other. It actually regulates its body temperature by the blood flow to its bill and sleeps with it tucked inside for warmth.
I decided the Toucan should look at home in my print, perching on and in between tropical foliage. The little scenes in their habitat are all hand painted in watercolour, then cut and repeated in Photoshop on a soft turquoise tint. If you shop by colour for your home, then these will coordinate well with a turquoise, green, yellow color palette or look stunning with black or white.
I couldn't resist taking the Toucan as a subject for one of my art prints as well. Here, I painted a larger toucan as the main subject perched on a branch at the forefront of a tropical background scene.  Then, introducing some large sympathetically tonal flowers.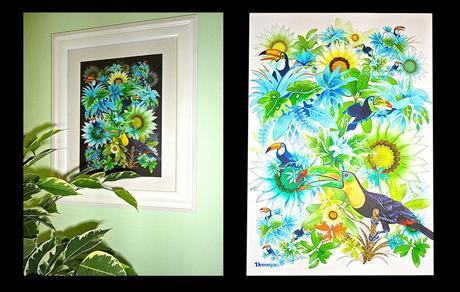 So, if you too love the Toucan, and the 'Tropical Look', we have a couple of products that might interest you, whether it's practical you want or just decorative!
Here's a few more interesting products I've found show casing the popular Toucan, think we're on trend with our use of this infamous bird!

Like this post? Then you'll love Lesley's other product reviews too, like her one on the best selling Lantern at Daybreak art print.
Image Refs: Jug – http://www.astonpottery.co.uk/shop/content/toucan-jug-2-pint Moorcroft vase – http://www.artistsandart.org/2009/09/moorcroft-pottery.html  Cushion – http://www.adairs.com.au/soft-furnishings/cushions/mercer-+-reid/rainforest-toucan Fashion – http://www.newlook.com/shop/womens/playsuits-and-jumpsuits/black-toucan-print-playsuit-_253458909
Author information

Lesley Stevens
Head designer running Decorque on a day-to-day basis. My background has been primarily as a textile designer for the fashion industry, but I have enjoyed designing for different parts of the industry including Home.