When I last left you on our honeymoon, Mr. A and I had just finished cruising through the beautiful Amalfi Coast.The next morning we awoke to Sicily's Messina.

  

Like we did in Rome, Florence, and Naples, we decided to use another private tour company with a group from the Cruise Critic roll call.Our group selected Sicily With Mario (also known as Mario Astone).
His company has gotten so popular that he actually asked his brother, Ignazio, to help him with the tours.We were lucky enough to have Ignazio take us around all day to visit Messina, Taormina and Castelmola for only 45 Euro ($63) a person.
Off all of our days in Italy, this one felt the most Italian—it was a leisurely stroll amongst family and friends.
Since both Taormina and Castelmola are small towns and one of the few attractions in Sicily, Mario suggested that we start our tour at 8am.When we got off the ship, Ignazio introduced himself and welcomed us into his van.
We then started the 45 minute journey to Taormina.Ignazio spent the whole ride giving us a history lesson about the island and its inhabitants.You could tell that he really has a passion for it.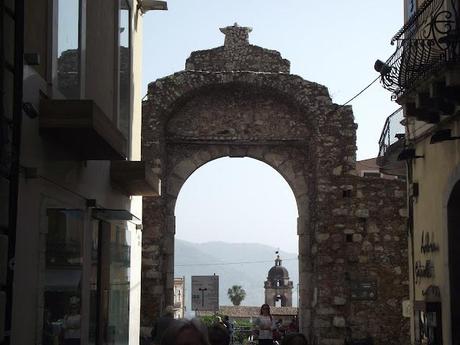 He dropped us off right at the gate to Taormina at the beginning of Corso Umberto.We had 2 hours to explore this tiny cliffside town on our own.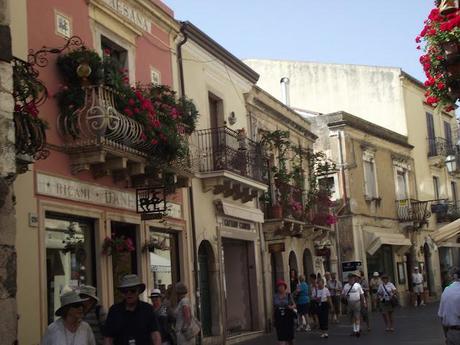 Corso Umberto is a pedestrian street filled with shops and restaurants.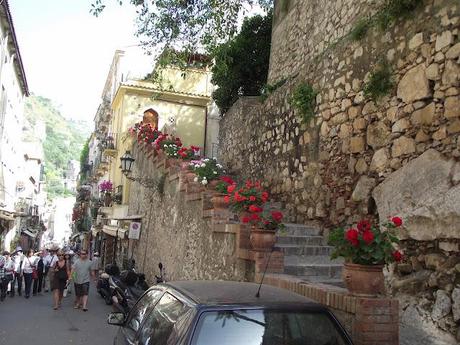 Everywhere we turned there was beautiful landscaping and secret coves.
Since we arrived so early, we didn't have to contend with the crowd but most of the shops were closed (Europeans don't start moving until 10-ish—if you are lucky).
We didn't mind since we aren't souvenir-y tourists.We would much rather spend our time exploring.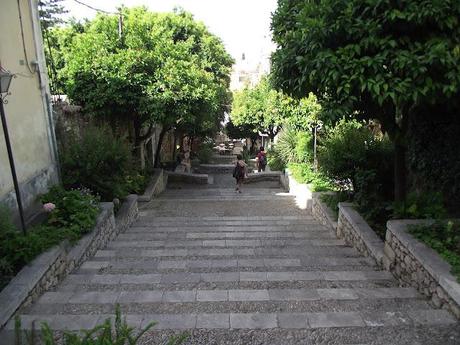 Since Taormina is a cliff town, there were tons of hidden staircases and lots of climbing.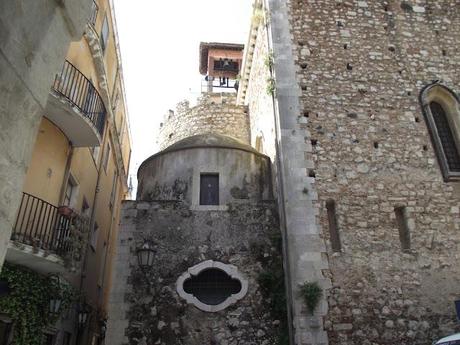 The town was also filled with of Ancient relics, including many buildings like the one above that were built up to 1000 years ago.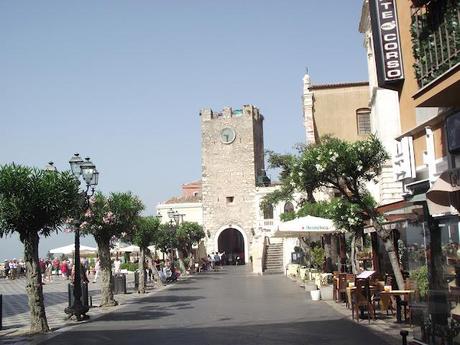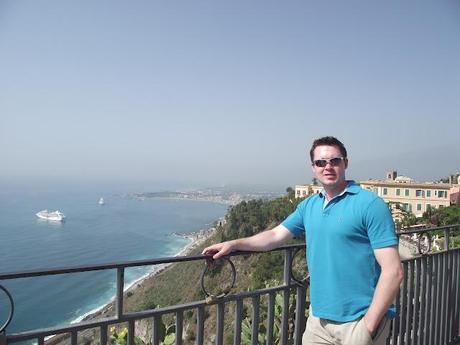 Eventually, we made it to the Piazza IX Aprile on the other side of town.This Piazza contains amazing ocean views and of course a cathedral (because what's a European Piazza without a cathedral).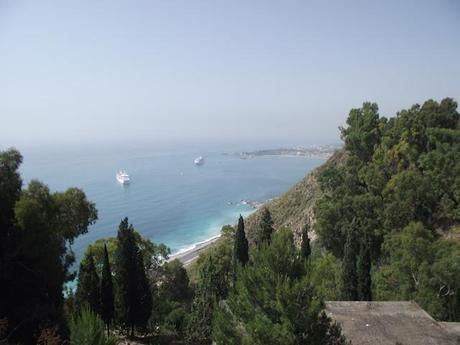 After walking down the length of Corso Umberto, we walked to the town's southern edge to get a better look of the Ionian Sea.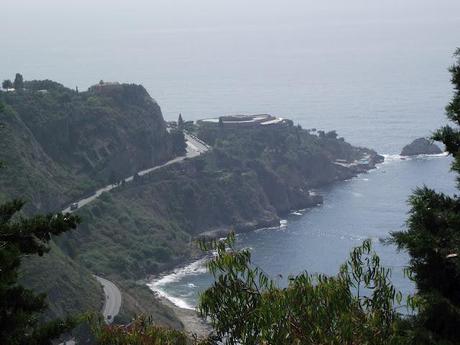 Can you tell that Taormina is a cliff town?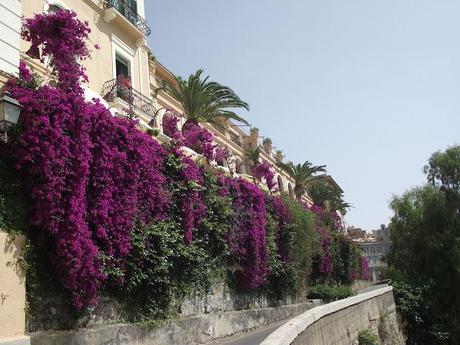 Be careful walking along this stretch (Via Roma).There are several sharp turns and the only thing keeping you from tumbling down the Cliffside are the thigh high barrier walls.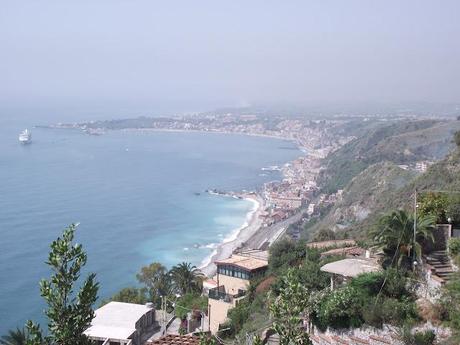 For your bravery, you will be rewarded with some amazing scenery.
We hiked back to the town's gate to meet up with our tour van to ascend a 1,000 plus feet to Castelmola.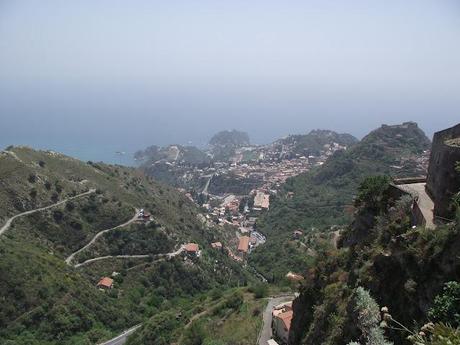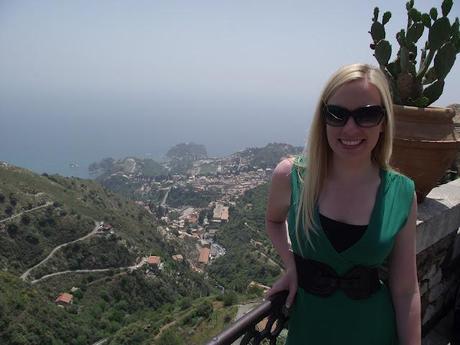 Once we arrived, Ignazio showed us a scenic overlook that featured Toarmina.It was crazy to see how far up we had traveled.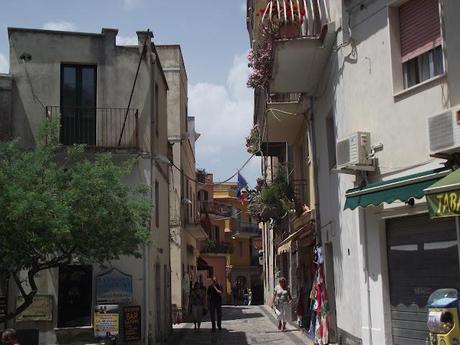 Ignazio then proceeded to walk us through this teeny tiny town.It was so remote and quiet we didn't even see another tour group, which was a nice change of pace from our other ports.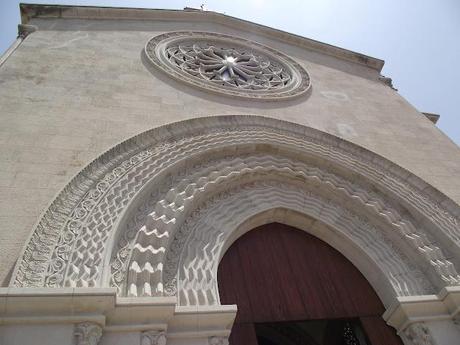 Ignazio led us up some winding roads to a palace turned cathedral constructed in 350 AD.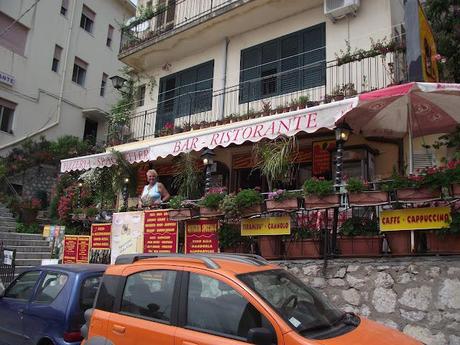 After climbing to the top of the town, we stopped for lunch at Gallo Cedrone, a quaint, quiet local family restaurant.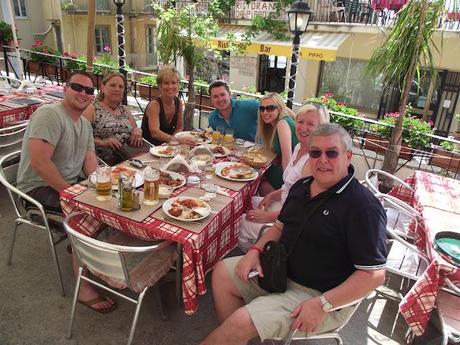 We ate an amazing locally grown Italian meal served by the sweetest Mother and Daughter team in all of Italy.I can still remember the sweetness of the tomatoes and the freshness of the mozzarella from my caprese salad.
We had the most relaxing beautiful meal of our entire trip sitting in this hillside restaurant overlooking the rest of Sicily.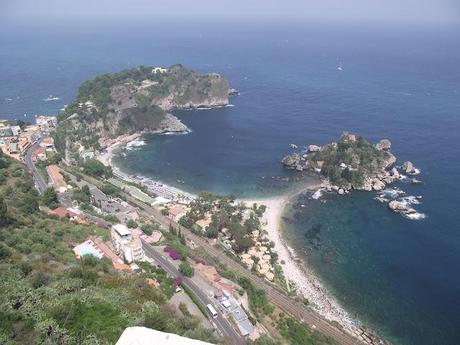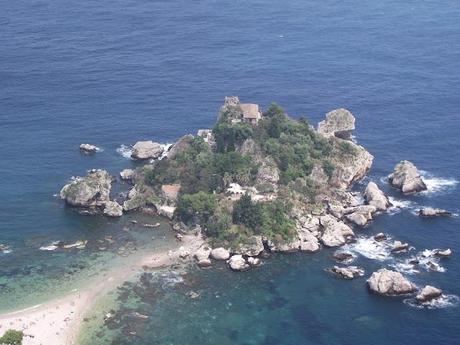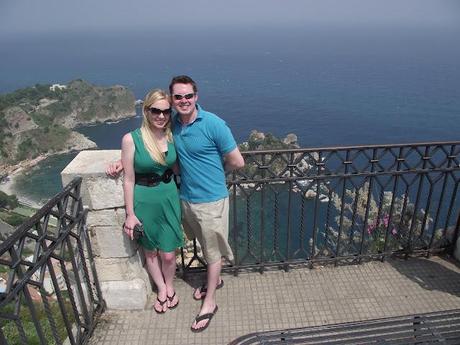 When lunch came to a close 2 hours later, we headed back to the van and down to another scenic overlook.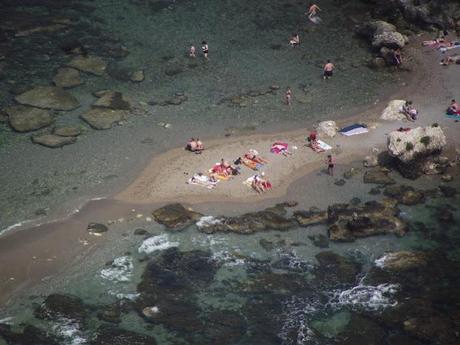 I definitely want to see one of these beaches up close one day.
We then headed back into Messina to visit some of its historic sites.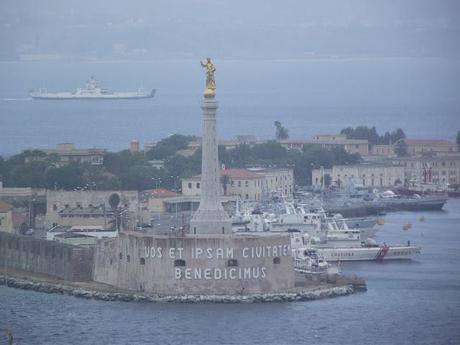 First, we went to an overlook of the Messina Harbor.From the picture above, you can see the statue of Madonna della Lettera, the port's protectress.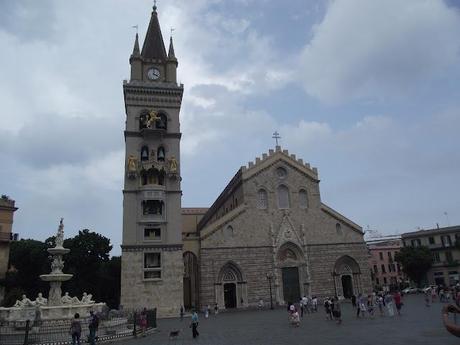 Next up was the Cathedral of Messina, which holds one of the world's largest astronomical clocks, built in 1933.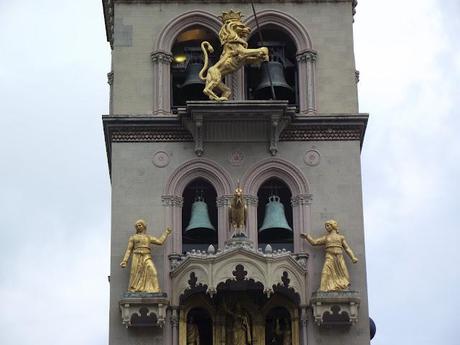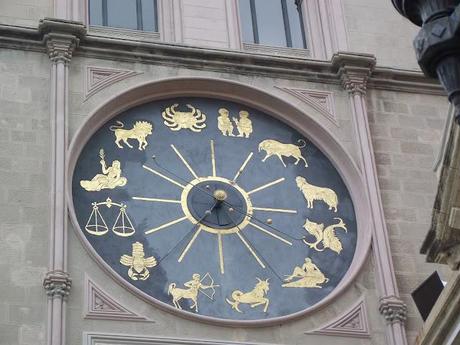 Everyday at noon, the clock comes alive, illustrating events from civil and religious history.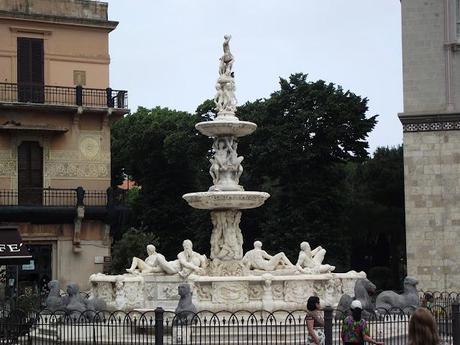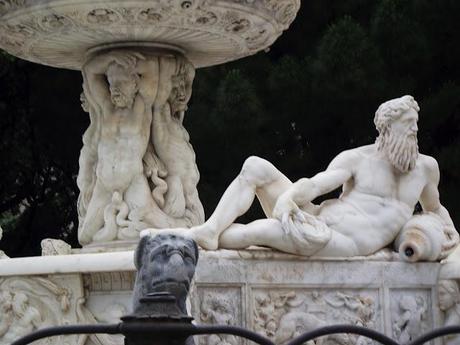 The Piazza in front of the Cathedral also holds a beautiful fountain.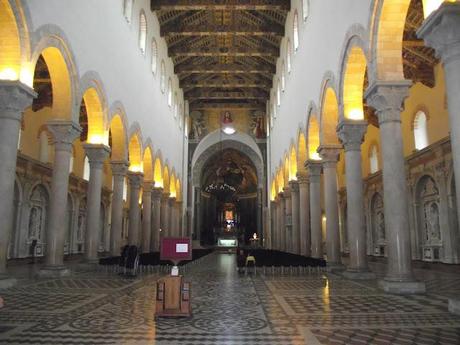 After touring the Cathedral, Ignazio droves us back to ship.It was sad to see him go.He was such a sweet guy.
I highly recommend Mario and his brother if you decide to tour Sicily.Ignazio was the friendliest, most enthusiastic tour guide we had.Everywhere we went he introduced us to friends.He always had an amazing story to share and he was willing to do anything we asked.I loved that he never operated on a time frame.Lunch went on for hours without any interruption from Ignazio.He just wanted us to have a good time.

  

Mr. A and I were both pleasantly surprised by Messina and Sicily.We didn't think that this small island could compete with the likes of Rome and Florence.But it honestly was a beautiful place.So many people in our tour group kept commenting about how they would love to come visit Sicily for a week (and this was after visiting Rome and Florence).So I guess you can say Sicily definitely gets our seal of approval. 
What You've Missed
:
Monaco
Pisa
Florence
Ancient Rome
Vatican Museums
Sistine Chapel
St. Peter's Basilica  
Pompeii 
Amalfi Coast
Up Next
:
Palma De Mallorca