We've given one reader's Minneapolis living room a facelift for Spring! Come see the transformation of this first-ever reader makeover!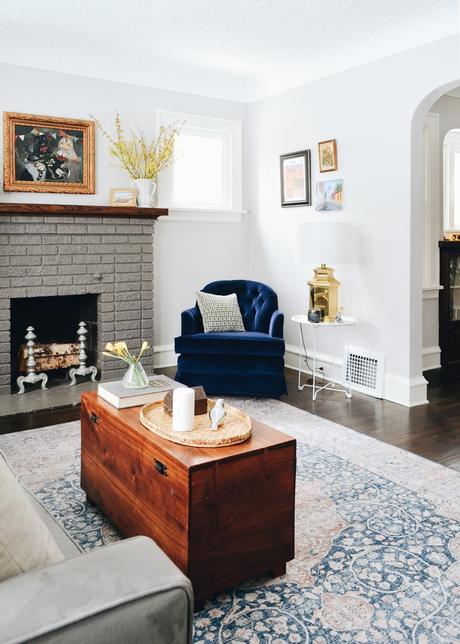 Today's the day! It's reveal day of the first-ever reader makeover I did with interior designer, Tasha Schultz of @tchotchkesdesignstudio ! You might remember we hosted a giveaway contest on Instagram in January and asked local readers to tag their living room spaces with #francoisXtchotch for a chance to win a makeover with a full size Loloi Rug,custom throw pillows, Tchotchkes Design Studio accessories, and professional styling, of course!
BEFORE: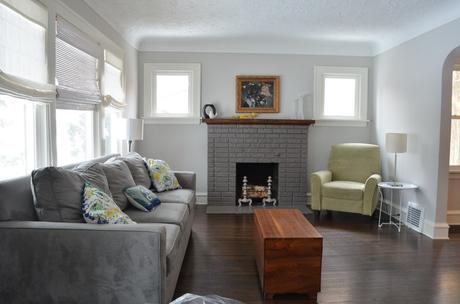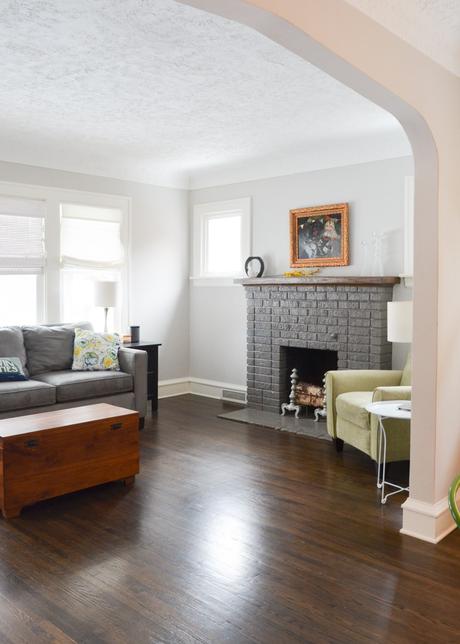 Our Makeover Winner
We had an overwhelming number of entries and it was SO hard to pick, but Terrae's home was our winner in the end! Terrae, her husband, Jack, their two sweet kiddos, and Italian greyhounds live in South Minneapolis in a charming 1920's era home.
Their living room has such wonderful bones: beautiful hardwood floors, original brick fireplace, nice light grey walls, and neutral charcoal sofa, so our goal was to build on what they already have with layers of texture and color. Above is a look at the living room BEFORE.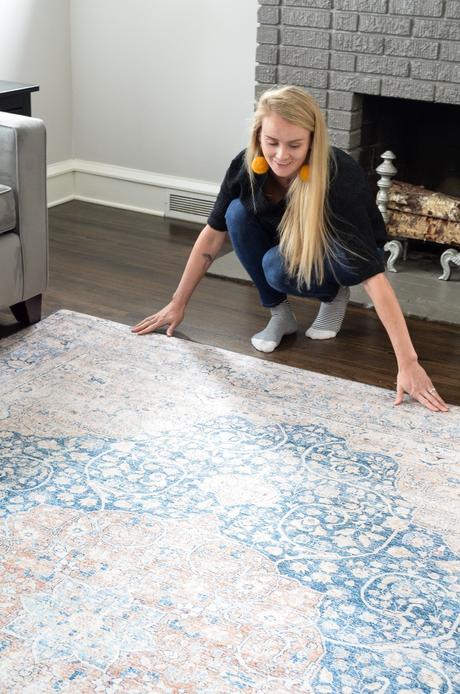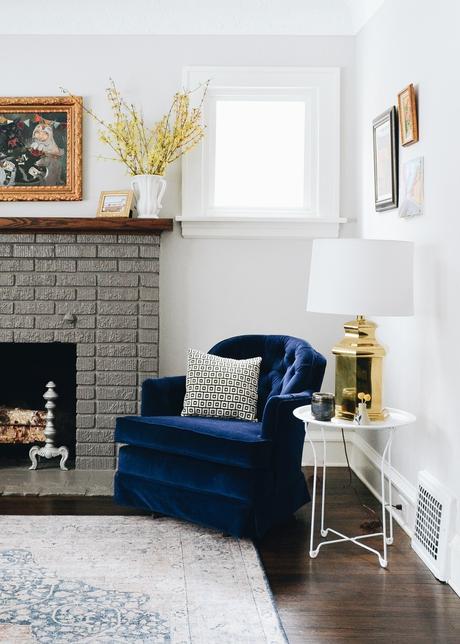 The Magic
Tasha and I showed up at Terrae's at 10am on makeover day each with a car full of home goodies. Once everything was brought in, it started snowing outside. So we got down to it, just as flurries began flying!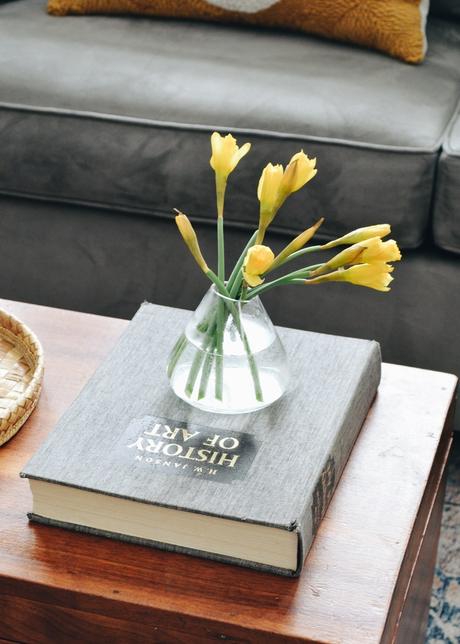 The first order of business was incorporating a large area rug to pull the room together + ground the space. The living room has dark, walnut-esque floors and a dark grey sofa, so we went for Loloi's Layla rug in Blue/Tangerine which is a nice tone contrast to the darker existing elements, yet it has enough movement and texture to hide dirt and spills with kiddos. It has the look of a vintage Persian, deliciously distressed in all the right ways, and the price seriously cannot be beat!
Next came plants and flowers which are wonderful for bringing movement, life and texture, especially amidst the home stretch of winter. We added a large fern in the corner, forsythia in a Tchotchkes vase on the mantel and daffodils on Terrae's coffee table chest which her mom had made in high school. People often think big plants are crazy expensive, but this big fern was $39.99 from Home Depot and packs quite a punch. Ikea also has nice big plants in the $40 range.
Next, we switched out their light green lounge chair to the left of the fireplace with Tasha 's deep indigo swivel chair and added lots of texture and softness with throw pillows.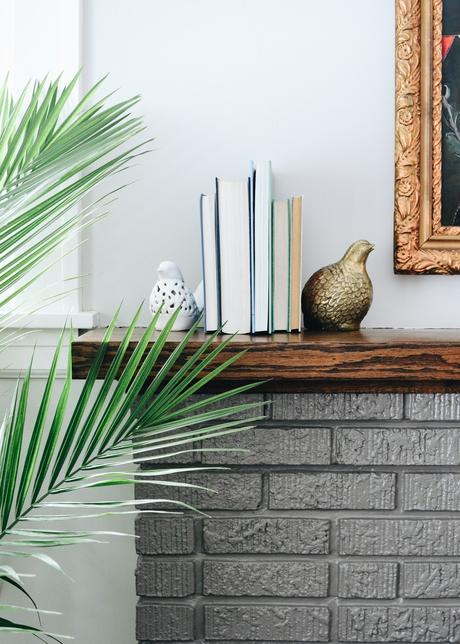 And finally, accessories. Above the swivel chair, we added a grouping of art combining a Tchotchkes floral still life, along with art Terrae and her family collected in their travels. Terrae also has a tasteful collection of bird accessories we worked in with Tasha's baskets, books, candles, and a brass lamp beautifully to round out the look.
Where Do I Start At My Own House?
Design can sometimes be hard to break down into bite sized information to then turn around and incorporate in our own homes, so I've summarized what we did here today in five steps.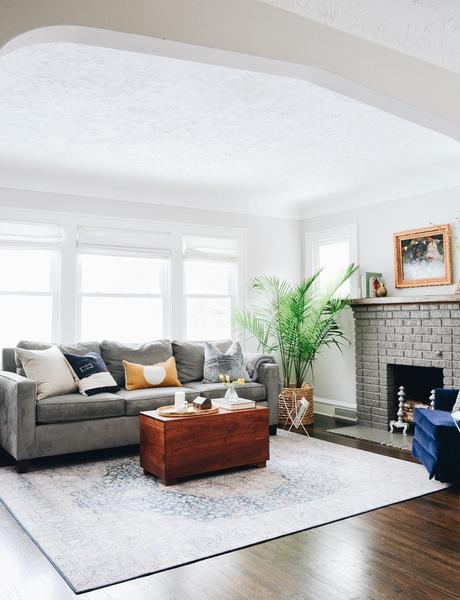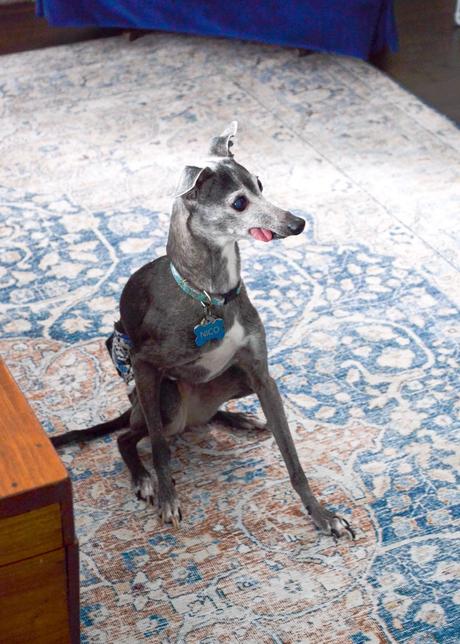 Establish Color Palette. With makeovers, where you're working with existing larger pieces (like a sofa), take inventory of what's staying in the room and choose color palette with existing pieces in mind.
Unify Room With An Area Rug. Start with a large area rug to unify room color palette and ground the space.
Bring in plants to add life, movement, and texture. Think both larger potted plants and vases of flowers.
Add Texture & Warmth Through Pillows, Throws, & Baskets.
Accessorize with Meaningful Pieces, Books, and Interesting Objects.
That's a wrap on the makeover! Check Instagram for a behind the scenes IGTV video and IG stories!
Did you like this makeover? I'd love to hear from you! If you guys like these, I'm hoping we can pull off more of these as the year unfolds.
Kid-friendly Living Room Makeover Guest Room / Office Makeover - With a Murphy Bed! Slow Design: A Bedroom A Year In The Making
Devour More Makeovers: