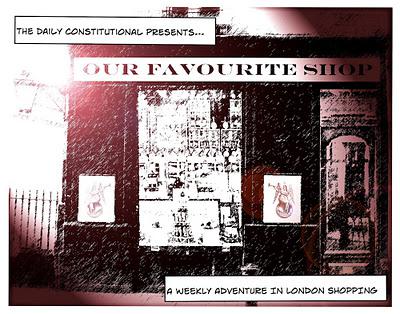 Every Thursday we bring you The Daily Constitutional guide to the best of London shopping – independent, one man- and one-woman bands, unique boutiques, singular emporia and London institutions.
These are our favorite shops. To nominate your favourite shop for inclusion send us an email with a short description and a brief reason why you think it is the best shop in London.
Candy Cakes
What:Cakes, all colours, all sizes. Mmmmm.

Where: 36 Monmouth Street WC2
Why:It's not one of your five-a-day, but it certainly is fun! The gaudiest, yummiest cake shop in town. Your guide Adam will point it out to you on The Hidden West End – Gin City, the Seven Deadly Dials, the Slum of Slums pub walk this Saturday night at 7.15 (Tottenham Court Road Station Exit 3). Cakes and gin and scandal – this walk, we're pleased to say, is VERY bad for you indeed!
Web:www.candycakes.eu