With April 22 marking World Earth Day this year, there really is no better time to reflect on how you can be more responsible while traveling. We know you care about the footprint you leave, so why not let us show you how to explore the world with a lighter touch? 
Sustainable trips are at the forefront of many people's minds, especially as we begin booking exciting vacations after a long period of staying put at home. Thankfully, you'll discover numerous destinations where you can indulge in one-of-a-kind activities and slumber in sensational hotels – all while minimizing your impact on Mother Earth. Whether you've got a specific country or region in mind or you're open to some eco-friendly suggestions, we're here to show you our top locations for more sustainably-minded vacations. 
Responsible travel in incredible India
Wonderful wildlife and some of the most singular communities in Asia make India one of the best destinations for a responsible travel experience. When it comes to responsible accommodation options in India, consider CGH Earth hotels scattered from Kochi to Kumbakonam in the South. The family-run hotel group is renowned for its sustainable approach to protecting wildlife while simultaneously upholding the traditions of the cities, towns, and villages the hotels are located in.  
When it comes to activities to enjoy in India, a tiger safari is definitely at the top of the list. Ranthambore Tiger Reserve in Rajasthan is a prime location to spot these beautiful big cats in the wild. Despite its history as a former hunting ground for the Maharajas of Jaipur, it's now a haven for all sorts of creatures, from Royal Bengal Tigers to unusual birdlife. If you're looking for somewhere to stay within the reserve, eco-friendly SUJAN Sher Bagh is an ideal choice. Its 12 luxury safari tents blend in with the natural surroundings, plus you'll be able to enjoy farm-to-table dining and private game drives.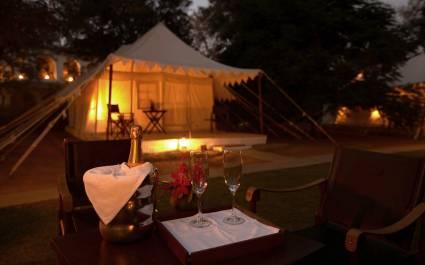 SUJAN Sher Bagh, Rajasthan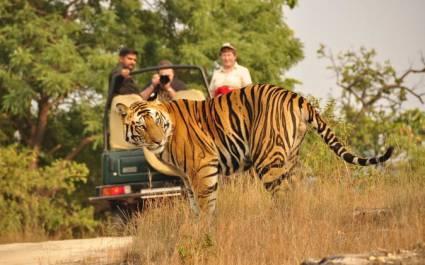 Tiger spotting in Ranthambore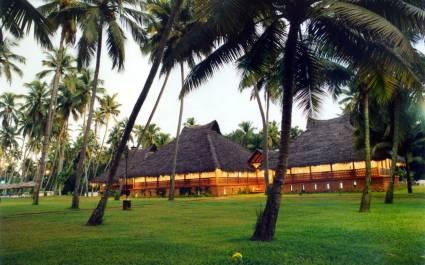 Marari Beach, Kerala, CGH Hotels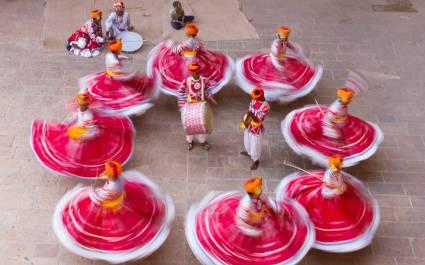 Traditional artists in Jaipur, Rajasthan
Sustainable trips in Central and South America
Huge expanses of wilderness and some of the most fertile land on the planet await when you book a vacation to Central America. The region stretches from Mexico to Panama and hosts some of our favorite sustainable tours. Here are a few highlights:
Embark on a coffee tour of Antigua, Guatemala
Coffee lovers won't want to miss a sustainable tour of the local coffee farms surrounding Antigua in Guatemala. Beginning in the village of San Miguel Escobar, you'll meet some of the region's coffee farmers before traveling into the foothills of Volcán de Agua. The volcano's fertile soil is littered with coffee fruits and you'll learn all about growing, harvesting and cultivating the crop. What's more, a member of the farm family will give you a lesson in traditional methods of roasting and grinding the beans. As a souvenir, you'll even get to take home a bag of authentic Guatemalan coffee straight from the source!
Stay at a tropical refuge in Tenorio, Costa Rica
Costa Rica is blessed with an array of wildlife, with sleepy sloths being on most people's bucket lists. For a chance to see them, and other wonderful species, in their natural habitats, book a stay at the Rio Celeste Hideaway. The eco-lodge is a stone's throw from the Tenorio Volcano and surrounded on all sides by lush flora and fauna. Rio Celeste Hideaway is passionate about sustainability; the resort tries to keep its carbon footprint as low as possible by protecting and growing the rainforest. Nearly 95% of their suppliers and tour operators hail from the local area. What's more, Rio Celeste Hideaway is a member of 'Pack for a Purpose' – an initiative that lets visitors aid local communities by saving space in their luggage to bring essential items they might need. 
Soak up lush scenery in the Ecuadorian Amazon
While technically part of South America, Ecuador sits near the top of the continent and is a gorgeous location to witness one of the world's most important landscapes. Often called the 'lungs of the Earth', the Amazon Rainforest is a vital part of the global ecosystem and is spread out over two million square miles! 
Napo Wildlife Centre sits within the Ecuadorian Amazon and is a real adventure to reach. Situated in a remote section of Yasuní National Park – one of the world's most biodiverse regions – it features eco-friendly lodges overlooking the Añangu Lake. Typical activities include close-up wildlife encounters and meetings with local Amazonian communities. Alternatively, you can head to the Mashpi reserve within Ecuador's magnificent cloud forest. Here, you'll stay in a five-star lodge that supports the community through jobs and by sourcing food from local producers.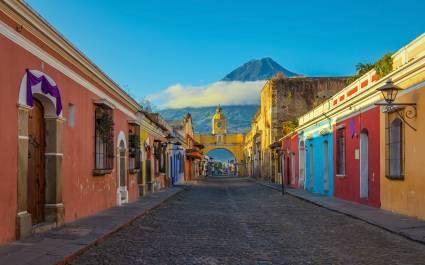 Antigua and Volcan de Agua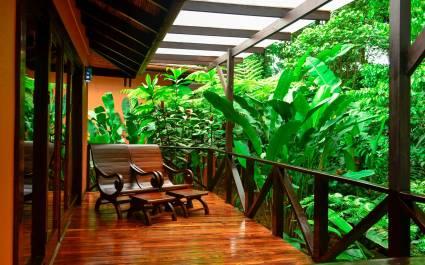 Rio Celeste Hideaway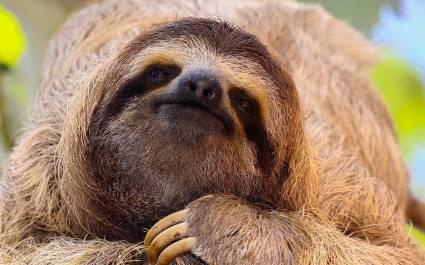 Sloth spotting in Costa Rica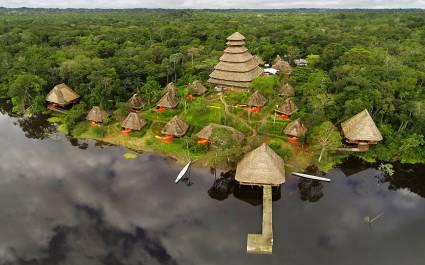 Napo Wildlife Center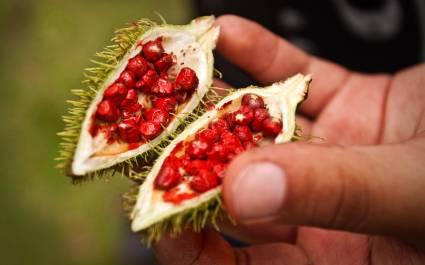 Achiote plant in the amazon rainforest
Eco-friendly accommodation in Asia
There are dozens of hotels across Asia which have embraced responsible practices, whether that's by becoming completely self-sustainable or simply making sure they make the least amount of negative impact on the local community as possible. Here are a few hotels with particularly admirable ideologies:
Rayavadee, Thailand
Situated on the shores of southern Krabi, and within minutes of idyllic Railay Beach, Rayavadee is a luxury beach resort with an eco-friendly ethos. Stay in deluxe pavilions or villas that have been carefully built between the trees so as not to disturb the habitats of the local wildlife. Rayavadee also largely employs locals to run the resort, plus it regularly organizes eco-friendly projects such as beach clean-ups and wildlife conservation trips.
Raya Heritage, Thailand 
If you'd rather explore Thailand away from the sand, Raya Heritage is a sublime choice for a sustainable trip. Perched on the Ping River in Chiang Mai, Raya Heritage's design is inspired by the simple and elegant heritage of the ancient Lanna Kingdom. You'll find numerous natural materials used throughout, in addition to beautiful one-of-a-kind furnishings made by local craftsmen. All the food in Raya Heritage's restaurant is sustainably sourced, plus you'll find the resort supports a plethora of charitable causes. 
98 Acres Resort and Spa, Sri Lanka
Sri Lanka is no stranger to eco-friendly hotels. This includes the stunning 98 Acres Resort & Spa which offers guests a chance to unwind without impacting the environment. The resort in beautiful Ella features a selection of chalets which have largely been constructed from recycled materials. You'll get around the resort on battery-powered golf carts, plus you'll find most of the furnishings have been handcrafted by local artisans. 
Mai Chau Ecolodge, Vietnam
If peaceful Vietnam is your destination of choice, you can't go wrong with a stay at the Mai Chau Ecolodge just outside Hanoi. Enveloped by lush rice paddies, dramatic mountains, and wild rainforest, it's a haven for nature lovers. Mai Chau's spacious accommodation is almost entirely powered by renewable energy and over 80% of the resort is outdoors, making the most of the gorgeous location. What's more, 90% of the workforce is hired locally and the ecolodge tries to only buy materials – whether that's food or decor – from regional suppliers.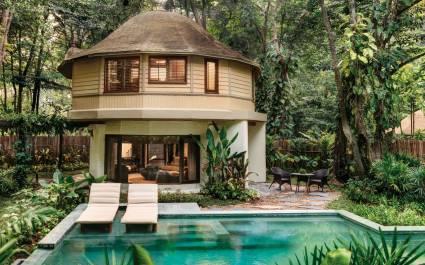 Hotel Rayavadee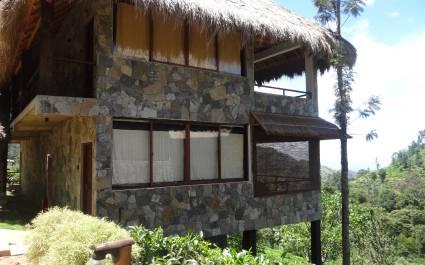 98 Acres Resort & Spa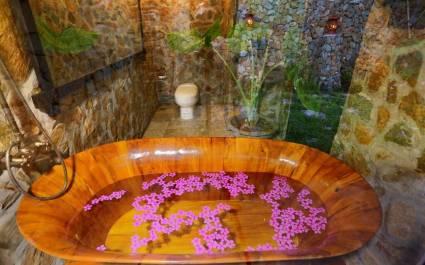 Mai Chau Eco-Lodge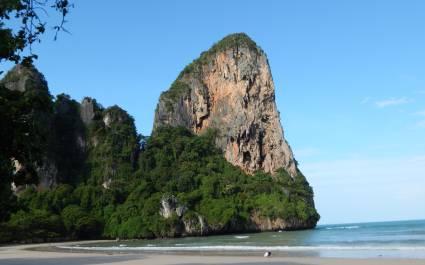 Railay Beach
Cultural and natural preservation in Africa
Whether you've always wanted to see a lion in its natural surroundings from up close or you're fascinated by indigenous ways of life, few places on earth offer up as many awe-inspiring experiences as Africa. Sustainable travel isn't only about being eco-friendly; it's also about preserving and respecting the traditions and cultures of the places you visit. Some of our favorite responsible travel locations in Africa include:
Tanzania 
It's not only in Kenya that you can meet the legendary Maasai. Neighboring Tanzania is also a prime place to learn about the ancient community's cultures and customs, especially at locations like Mt. Kilimanjaro. Spotting the Big Five animals on a safari is another top thing to do in Tanzania and a key part of our Zanzibar Safari Tour. Combining bushwalks in the Serengeti with beach time by the azure Indian Ocean, it's one of our most popular responsible travel trips. 
Namibia
For a vacation that focuses on wildlife conservation, Namibia is an excellent choice. This Southern African nation is home to numerous rare and protected species, from leopards to pangolins. Enjoy diverse wildlife encounters during a bushwalk or private game drive at the Okonjima Nature Reserve. Located in the Omboroko Mountains, the park aims to exist harmoniously with nature and offer visitors a chance to experience some of the world's most amazing species without adversely impacting their habitats.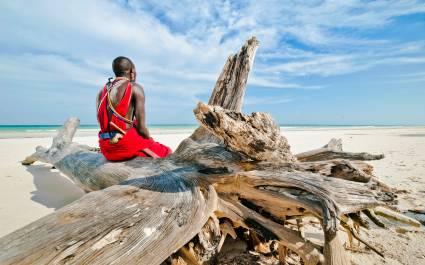 Maasai tribe member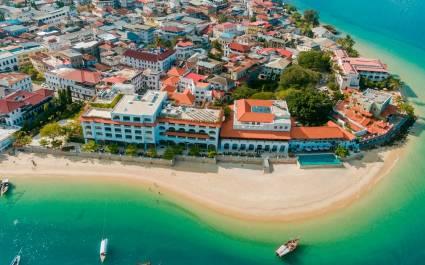 Stone Town in Zanzibar, a UNESCO site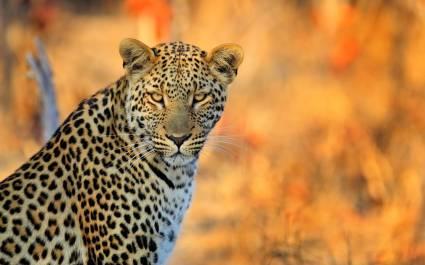 African leopard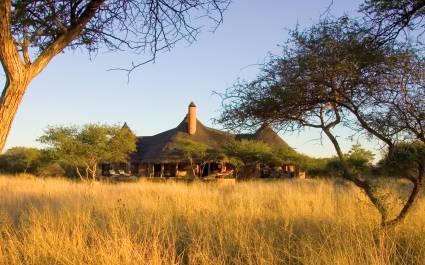 Okonjima Bush Suite
Celebrate Earth Day by planning a sustainable dream trip. Our experts are happy to help you design a responsible experience anywhere in our 70+ destinations around the world. You can also learn more about our responsible travel approach here!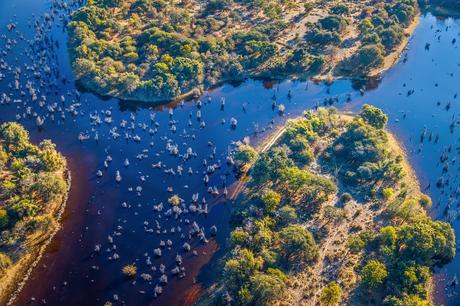 Explore Responsibly
See our trips