Hi Huneybees,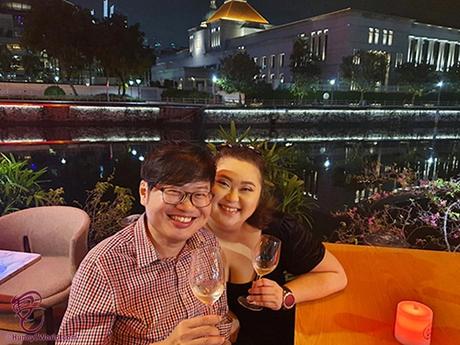 With so much time spent at home these days, any chance to get out of the house, or once we hear of any new dining places, hubby and I are ready to go check them out. So, for our first December dinner date, we were
George Town Tze Char & Craft Beer
.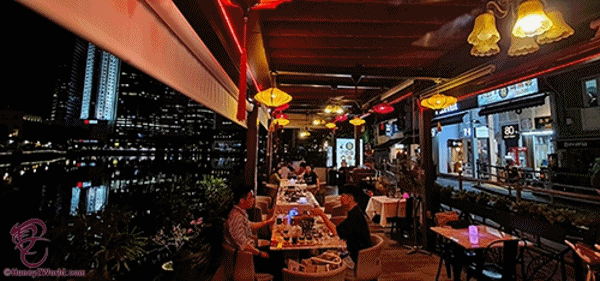 Located on the bridge end of Boat Quay, the restaurant is easily accessible; with alfresco dining under the stars and stunning view of the historic Singapore River, while enjoying traditional Penang favourites and delectable seafood.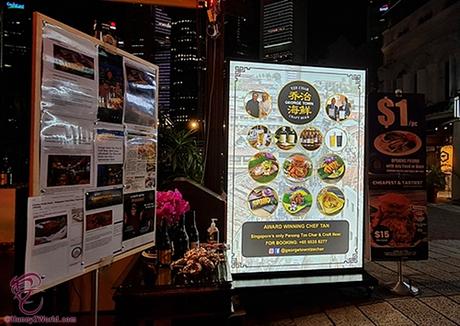 The restaurant is helmed by
award-winning Executive Chef, George Tan from Ayer Hitam in George Town, Penang
. With over 20 years of experience, Chef Tan has garnered numerous accolades and his signature Rendang Crab has won an award at the Asia Top Heritage Food Award 2019 by IBF (International Business Federation). In addition, he also won the Asia Top Heritage Food Chef Award 2019 by IBF (International Business Federation).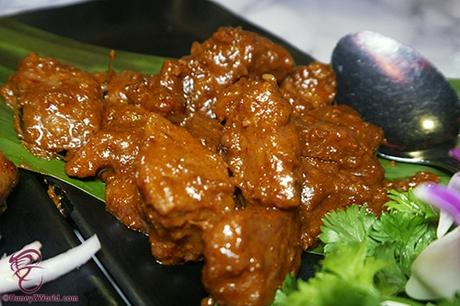 Rendang Beef Cubes ($18)
For meat choices, I would recommend the
Rendang Beef Cubes
. The meat is just nicely cooked that simply just melts in your mouth; in addition with the slight tongue tantalizing Rendang sauce, it makes a great dish to pair with a bowl of white rice.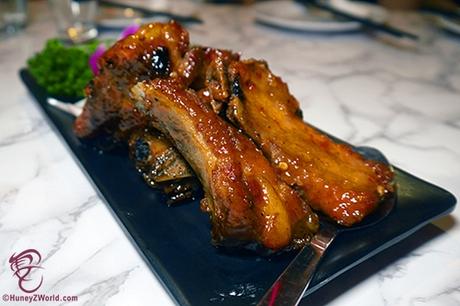 Marmite Ribs ($18)
If beef is not for you or you prefer something that's not so spicy, you can also try the sweet Marmite Ribs. It will be a more kid-friendly dish, every piece of rib meat is glazed with the sweet marmite sauce but for me, I'm just too vain to be seen chomping on a rib in public. 😆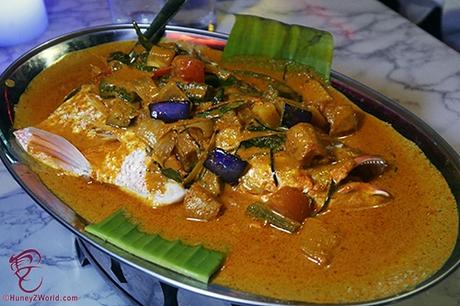 Thai Curry Fish Head ($28)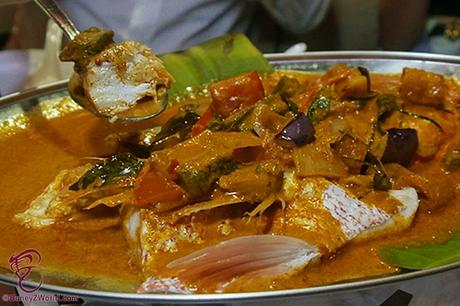 If you like fish head, you must not miss the appetizing Thai Curry Fish Head as it is meticulously prepared with Thai herbs and spices including lemongrass, tamarind, lime leaves, curry leaves, bird's eye chilies, and coconut milk. The slightly spicy and tangy sauce stimulates one's appetite and I think it makes a good dish during this rainy season to have with a nice fragrant bowl of plain rice.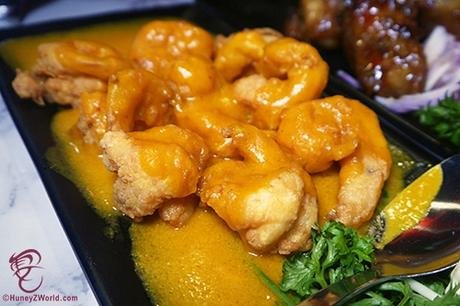 Pumpkin Prawns ($20)

The restaurant serves some good wine and craft beers as well. We would recommend these couple of dishes to pair with - 
Pumpkin Prawns and Penang Thai Style Squid.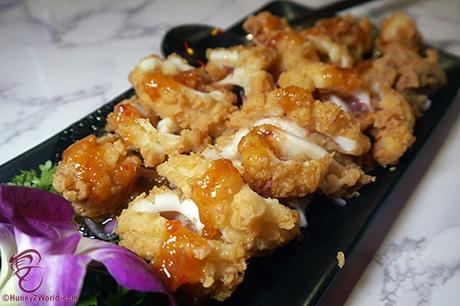 Penang Thai Style Squid ($15)

The sweet pumpkin sauce brings out the freshness and juiciness of the fried prawns when paired with wine, you get an exciting pairing of floral, fruits, and seafood. The Penang Thai Style Squid on the other day is just nicely fried and with a light sweet sauce. A bite into the chewy flesh of the squid will make you dip nonstop into this dish as you pair it off with their choice of beers.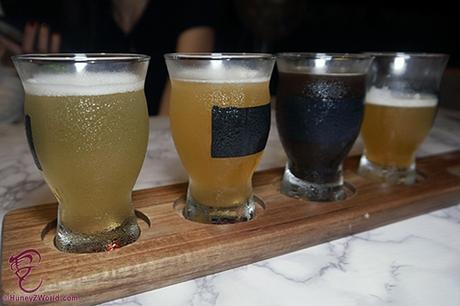 Tasting Flight ($18)


So, speaking of beers, there are 4 types to offer from Brewlander (local craft beer on tap). They are namely - Peace, Hope, Respect and Love.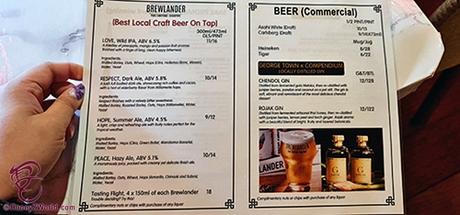 If you are not sure which one you want to get, you can also try the Tasting Flight - 150ml of each beer to try before deciding on one.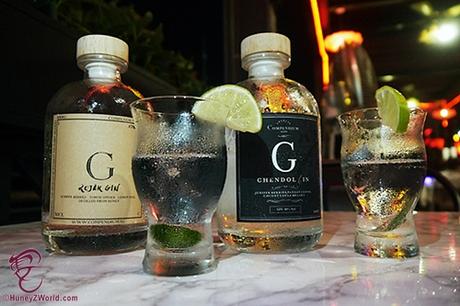 Chendol GIN - $12 per glass, $128 per bottle
Rojak GIN - $12 per glass, $122 per bottle


I would recommend trying out the Gins that comes with a local twist - Chendol GIN and Rojak GIN. I find that they aren't as spicy as usual gin and they both have a sweet after taste, a good "dessert" to end off your dinner affair. 
Chendol GIN is distilled from fermented gula Melaka, then re-distilled with juniper berries, pandan and coconut on a pot still, it even has a close taste to the Chendol dessert itself! 

Rojak GIN is 

distilled from fermented artisanal Thai honey, then re-distilled with juniper berries, lemon peel and torch ginger. It does have a slight peanut taste resemblance but I would say lacking in that prawn paste sweetness...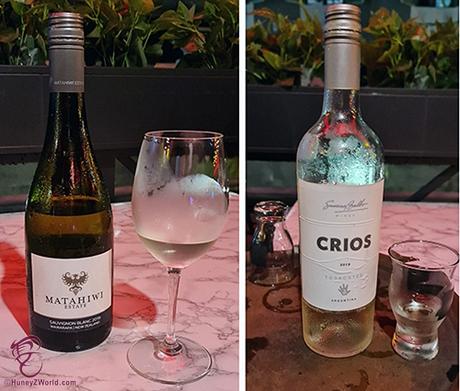 For wine lovers, there's a slew for you to choose from. For Red Wines, opt for Santa Helena (Cabernet Sauvignon 2018- House Red, House Pour at Marina Bay Sands, Chile - $9 per glass/$35 per bottle) or the Hentley Farm Villain and Vixen Shiraz 2018 (Top 100 Australian Wine 2018 by James Suckling Vivino Rating 4.1, Top 2% of all wines, used in Wolfgang Cut Restaurant - $88 per bottle).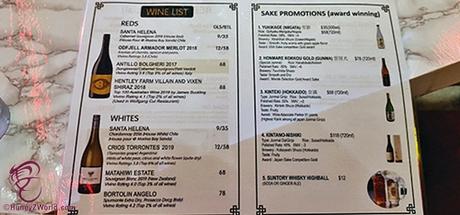 For White Wines go for the Santa Helena (Chardonnay 2016 – House White, Chile, House Pour @ Marina Bay Sands - $9 per glass/$35 per bottle ) or Bortolin Angelo (Spumante Extra Dry, Prosecco Docg (Italy), Vivino Rating 4.2, Top 2% of all wines - $78 per bottle) or Matahiwi Estate (Sauvignon Blanc 2019 – New Zealand, Vivino Rating 4.0, Top 3% of all wines - $68 per bottle).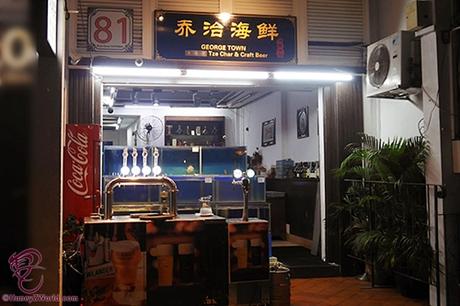 Overall, we love the variety of tasty food offered and its location makes it a good date spot. We'll definitely be back for more and if you would like to head over and try, 

George Town Tze Char & Craft Beer is located at 81 Boat Quay Singapore 049869.  

For orders, please call 6535 6277 or WhatsApp 9682 3826.





Do follow me on my social media for more daily updates...
Facebook page | Twitter | 

Instagra

m

http://www.huneyzworld.com