Late last year Simon and I got into a conversation with his parents about what we should get one another for Christmas. A bright spark (me) said that it may be a nice idea to have a little holiday together instead of buying gifts for one another. Fast forward to last week, and we were off to Centre Parcs.
Simon and his family have been to Centre Parcs before several times. They live just over an hour away from the Elveden forest site, and Simon has told me (and I've seen the video evidence of) their trips there when they were younger. We decided to head there for a week, as it encapsulates the type of holiday which suits his family best - active and outdoorsy. The last week in February was decided upon and we booked a 3 bedroom villa to accommodate Simon, Isabelle, his parents, his sister and myself. I wasn't sure what to expect never having been, and after reading Hayley's experience at Bluestone over on Sparkles and Stretchmarks, I was a little bit apprehensive. However, after a week at Centre Parcs I can say without any hesitation that it is fantastic! (Which, by the way, I told Hayley who is now thinking of heading to Centre Parcs herself!)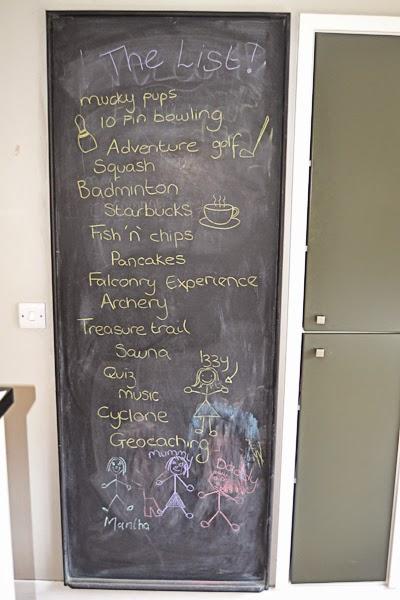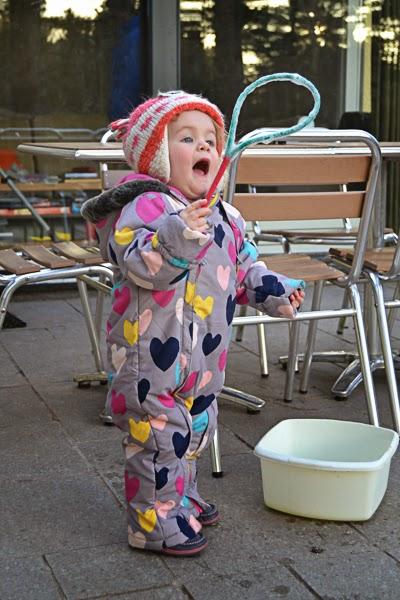 The accommodation is largely made up of self-catered villas. I was disappointed to see all the villas were attached together, however quickly found that they have been so cleverly built that they are attached just at corners, and that reduces noise between them and means that even when you are out on the patio area it is pretty hard to tell you have neighbours. Inside the villa was great. It was sparkling clean and had pretty much everything we needed for our stay, including a full kitchen, bathroom, TV and DVD, fireplace, 2 toilets, patio with table/chirs/BBQ and a lovely dining area. I was really impressed with the cot that was in the villa - Isabelle hates travel cots (and don't they look so uncomfortable?) so it was lovely to see the cot we had was made of sturdy wood. The living area was a great size with plenty of room for Isabelle to play and the dining area had plenty of room for all 6 of us round the table, including the high chair which was provided too. It was a great base for the week, and the absolute best thing about the villa were the big patio doors which looked out onto the lake. The ducks and geese (which I hate!) who lived on the water would come up to the villa to be fed, and the squirrels were constantly bounding about on the outside table looking for food. We even had a little deer come right up to the window! Isabelle loved throwing food out for the animals and watching them come up, and she loved it even more when we went out and she was able to chase the ducks about.
As it was self catering we ate in a lot, however the restaurants at Centre Parcs were fabulous. There are around 8 or 9 places to eat, along with 4 Starbucks (including one in the pool!) and a take out place. The restaurants varied from French to American and were all really tasty, however the food was quite expensive, which was maybe the only downside. However, the reason I loved the restaurants is because they were the most child friendly restaurants EVER. Each one had a mini soft play area which was amazing for keeping Isabelle entertained while we waited for dinner. It made all the difference between having a happy toddler and a grumpy toddler while we waited. In one restaurant, Huck's, not only was there a huge soft play area, but they also had a kids' buffet which allowed us to feed Isabelle asap, so she didn't have to wait at all. Everyone with kids knows how long the wait can be for food to arrive with a hungry child, so little things like this made such a difference to our eating out experiences. There were great baby changing facilities too, and I had a peek at the baby feeding rooms as well. Which reminds me - several of the restaurants offered baby food jars and a microwave so that even tiny diners were catered for.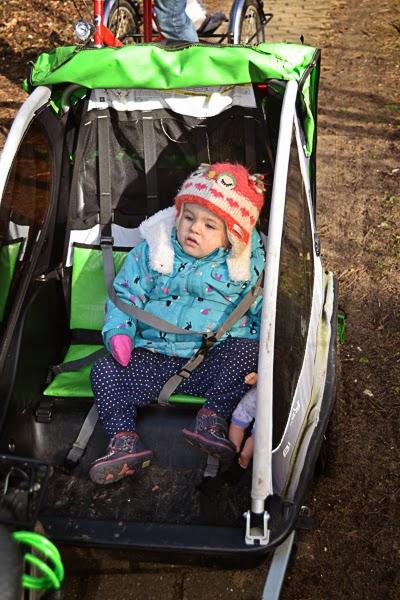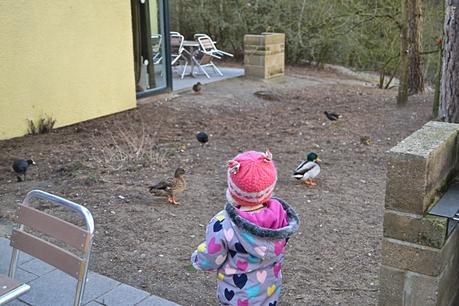 So, what did we get up to? Well, despite the fact that you can do every activity under the sun at Centre Parcs - from archery to spa treatments - we actually took it pretty easy. Simon has his broken wrist, and Isabelle is still too young for most of the activities so we didn't exert ourselves too much. We spent a lot of time at the swimming pool which has a huge main pool with a lazy river, and an awesome kids' section with slides. There are lots of slides for adults too - including The Cyclone which is a world first water slide because of its insane angles. I went on it once with Simon's dad and thought I was going to wet myself and I was actually shaking when I got off! Despite that, the pool area is fantastic - and Isabelle LOVED it. She squealed with joy and had a wonderful time when we were there.
We also did a bit of cycling, which is the big 'thing' at Centre Parcs. As no cars are allowed into the complex people largely get about on bike. We hired bikes and a trailer for Isabelle which she loved, despite my worries she would hate it. She would dictate who was allowed to pull her that day, and Simon's poor mom seemed to draw the short straw a few times! Simon hired an adult trike, with the idea being it would be more stable for him and his broken wrist. WRONG. It was a death trap, and he's lucky he didn't break the other wrist! We cycled round the complex a few times, and stopped one day for a picnic as well.
Simon and his family played badminton a few times while Isabelle napped and they also took a boat out on the lake. His mom and sister went to the spa, and we played some crazy golf and went to the beach as well. We spent a lot of time at the park as well, which Isabelle really loved, although she did take a dislike to their swings! Her favorite thing at Centre Parcs was probably the mini trollies in the supermarket - she adored these and sped round putting things in with glee. She was a bit of a danger to society, and almost had the ankles off quite a few people!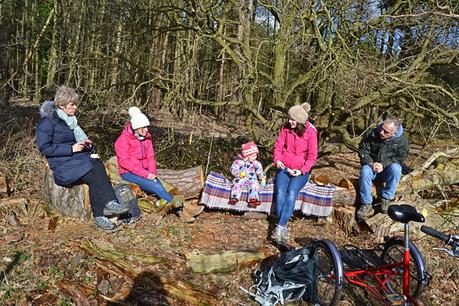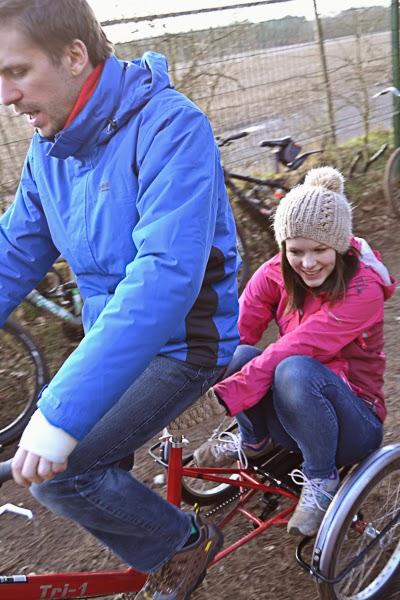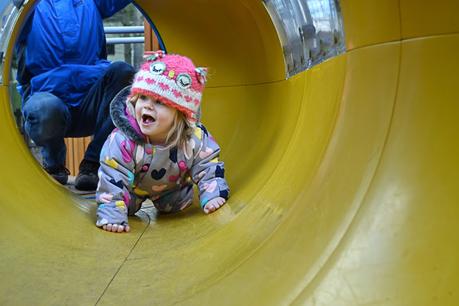 There are only two things I didn't love about our week. Firstly, there are NO laundry facilities at all in Elveden. For us, that meant we had to change to disposable nappies for a week and leave our lovely cloth nappies at home. It also meant that we had to take a full week's worth of clothing and bring home a full week of washing, and that by the last few days the towels we had were really a bit gross. I cannot understand why there is nothing for this - the rest of the Parc is so fabulous and this really lets it down. Secondly, the activities are insanely expensive. £6 for 30 minutes of ping pong, for example. All you get for your money is your villa, the swimming pool, the paths to walk/cycle and the parks. Everything else has to be paid for and if you have several kids it would be very costly. So this is definitely not a cheap option holiday, especially as it isn't cheap to begin with!
That said, overall we had a great week. It was lovely to get to spend time with Simon's family, and for them to get to spend time with Isabelle and do so much with her. I was so pleasantly surprised with the whole place and can definitely see us going back many times in the years to come. In fact, we are already looking to book another Centre Parcs holiday later in the year!