The Fingerprint sensor on mobile phone devices can be used in a more productive manner than what we do currently. Probably that's the reason we have the Oukitel U7 Plus, where the company provides improved functionality of the fingerprint scanner. The phone comes with some extra functions in the fingerprint scanner apart from the normal unlock option.
To start off, you can set different fingerprints for unlocking selected applications. So if you have kids at home and you do not want them to access certain applications, this feature will definitely help you. You can choose a different fingerprint impression to unlock the phone and another one to access Facebook, for an example.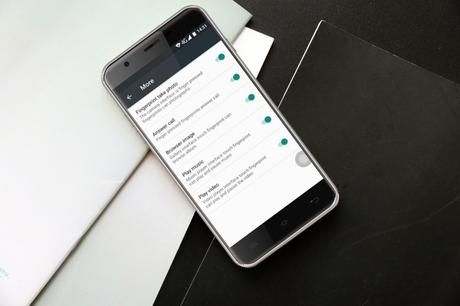 Oukitel U7 Plus allows you to use for various actions like picking up a phone call or clicking an image. It can also be used as a digital trackpad to navigate through your media list or to start/stop the audio or video playback.
Also Read : Teclast X98 Plus II With Retina Display
The Fingerprint scanner on Oukitel U7 Plus can store up to 5 fingerprints and works with 360° functionality. Each of these fingerprints can be assigned a different task for e.g you can use your thumb to open WhatsApp even with the screen being off.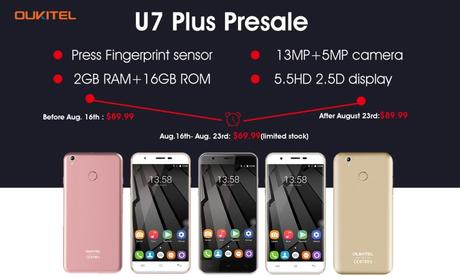 Oukitel U7 Plus Specifications
U7 Plus comes with is a 5.5 inch HD display device with a unibody poly-carbonated battery cover. It is powered by an  MT6737 Quad-core 64bit 1.3GHz chipset, 2GB RAM and 16GB ROM. It also comes with a 13MP rear camera and a 5MP front camera. Oukitel has already started accepting pre-orders at the price of $89.99, from August 16th, there will be the flash sale for this 4G smartphone only at $69.99. The phone can be bought from the official website.