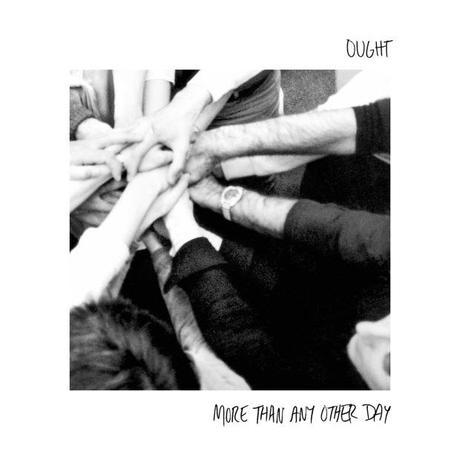 If you're not aware of Ought, it's high time to get acquainted with their brash and jittery art-punk. After their very capable and bracing self-released New Calm EP, the Montreal band just released their debut album on the legendary Constellation Records. If you ask me, More Than Any Other Day is – by some margin – this year's finest debut. The variety of different punk styles, post-hardcore, art-rock and krautrock influences showcase such a confident and sonically matured body of work that it's hard to believe it comes from a band this early in their musical career. And not only does this eclectic mix come together to represent a remarkably coherent work, it's also widely accessible.
Ought kick off the album with "Pleasant Heart", a remake of a slower and longer lo-fi version of the song that previously could be heard on New Calm. It's a commanding start, sucking the listener in with greasy guitar riffs playing on top of restless percussions. The same directness and melodic punch burns through on "The Weather Song", the albums wisely chosen first single, and likewise on the galvanic Fugazi-like "Around Again". These tracks can sound deceptively simple, but believe me they're not. Yes, they are built around repetitive, snappy hooks, but the way the drums are tangled up in deeply funky bass lines, brings that added elements of complexity and nervy tension to these arrangements.
When the band doesn't choose to play in a riff-heavy skittish pulse, they make measured angular punk that doesn't feel far drawn from Talking Heads' and Television. Especially on "Habit", the album's most obvious highlight, lead singer Tim Beeler sounds much like a young David Byrne. But as often shows, Beeler, a former folk singer and poet, can alter his versatile voice to fit which ever mood the band is playing in. On "Habit" his voice goes from tuneful to angst-filled, before completely collapsing on itself during the songs glorious closing minute. In this respect, Beeler's half-spoken half-sung conversational styled vocals sounds much like Joe Casey from Protomartyr, another band who recently released an inspired and inviting variety of art-punk. And Beeler too have a thing or two to say, even if it's often concealed under a great dose of humor; "Today, more than any other day, I am excited to grocery shopping / And today, more than any other day, I am prepared to make the decision between two percent and whole milk." But mostly, Beeler is more content with explicit statements like "I retain the right to be disgusted by life/ I retain the right to be in love with everything in sight.", which isn't as much political, as it's full of heart and a sense of quiet desperation.
There are also sonically more experimental – at times chaotic – material like "Forgiveness", "Gemini" and the pensive near-title-track "Today More Than Any Other Day" that are far from straightforward. These secure nonetheless an added depth to the albums overall dynamics. On these tracks, the guitars often sound discordant, eerie, and flat out fantastic. There are also moments when organs and violins play these sort of anxious, droning textures that together with the guitars create a riveting juxtapose to the albums more cadenced, hook-driven tracks.
In many aspects, Ought might play familiar music, but it's hard to exactly pinpoint its origins. There are those above stated influences, along with lesser known names like the Ex or Cap'n Jazz, but they essentially dodge all pitfalls of any sort of revivalism or piracy. They make their influences sound their own and have – to a certain degree – already carved out a singular space in the current music climate. More Than Any Other Day is a widely eclectic work in this stylistic trajectory; ranging from knife-sharp political rhetoric to lighthearted hook-heavy punk rock. And then there is "Habit" that manages to be both.
8.3