Happy Valentine's Day!


Ah, Valentine's Day... the day to celebrate love and romance. Also a season of advertising jewelry, flowers, and, of course, chocolates. I've seen so many chocolate advertisements lately for pricey truffles with major brand names. The funny thing is that I see those commercials and remember that I actually don't like those truffles all that much. I am a big chocolate fan and enjoy most chocolates so for me to not like a truffle is odd. I haven't completely pinpointed exactly what it is about those truffles that I don't care for but I think it has something to do with the contrast in texture from the outer shell and the inside truffle filling. If that shell doesn't melt in my mouth along with the truffle, it taints the rest of the chocolate for me.
Now Ghirardelli Chocolate Squares are a brand I can really enjoy. I've loved their mint and raspberry versions from the first time I tried them and the milk caramel is a wonderful treat on occasion. I was thrilled when SheSpeaks.com offered me a chance to try the new Milk & Truffle version of Ghirardelli Squares. I was sent one package of the chocolates to try plus two $1/2 Ghirardelli Squares coupons.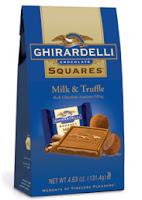 I shared my Ghirardelli Milk & Truffle Squares with my husband and my mom. All of us agree they are wonderful! My husband, being a man of few words, simply said, "mmmm" and left it at that. My mom gave a bit more of an analysis, commenting that the milk chocolate square and the truffle filling both melt easily and the flavors complement each other well. I agree with mom and also love the size of the chocolate square. Although the bag states that a serving size is actually three squares, I find that they are rich enough that one satisfies my chocolate craving, at least for a time.
My husband and I don't really have any Valentine traditions - we are both pretty laid back about gift giving for all holidays - but if chocolate were one of our traditional gifts I would much rather have a single flavor bag of Ghirardelli Chocolate Squares than a boxed of mixed chocolates, flowers that will die, or jewelry that I wouldn't wear.
I hope that you have a wonderful Valentine's Day however you spend it. What are your favorite Valentine traditions? Do you have a favorite brand of chocolate?
Note: All opinions provided on this blog are my own. If a product was given to me for review, the source of that product is noted in the post. Bookstore links are generally affiliate links and I do earn a small amount for each purchase. Other affiliate links will be noted in the post.