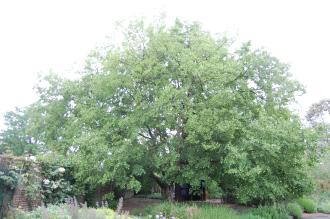 Ostrya virginiana (07/06/2014, Kew Gardens, London)
Position: Full sun to partial shade
Soil: Moist, well drained
Flowering period: Spring
Eventual Height: 18m
Eventual Spread: 12m
Hardiness: 3b, 4b, 5a, 5b, 6a, 6b, 7a, 7b, 8a, 8b, 9a
Family: Betulaceae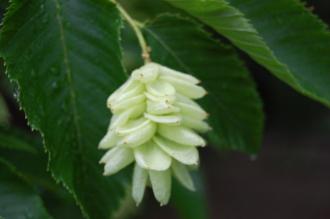 Ostrya virginiana Flower (07/06/2014, Kew Gardens, London)
Ostrya virginiana is a deciduous tree with a rounded habit. Its mid green leaves are ovate to lanceolate with serrate margins, up to 13cm long and 6cm broad. Its leaves turn yellow in autumn before they fall. Its bark is grey/ brown with flaking platelets. Its flowers are dioecious catkins which appear at the same time as the leaves. The male flowers are red/ brown, up to 5cm long. The female flowers are light green, up to 15cm long. Its fruit are hop like greenish fruit clusters that become brown in autumn.
Ostrya virginiana, commonly known as the American Hop Hornbeam, Eastern Hop Hornbeam or Ironwood, is native to East North America and Mexico. In its native habitat it grows as an upland forests tree on dry rocky slopes and well drained flood plains, as an understory tree.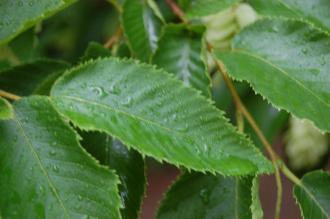 Ostrya virginiana Leaf (07/06/2014, Kew Gardens, London)
The etymological root of the binomial name Ostrya is derived from the Greek ostrua, meaning bone-like which refers to its hard wood. Virginiana is derived from the Latin meaning 'from Virginia, USA'.

The landscape architect may find Ostrya virginiana  useful as an attractive tough tree which will tolerate most conditions and is suitable for use as a street tree. Once established this tree is drought tolerant.
Ecologically, Ostrya virginiana will attract the larvae of some species of lepidoptera will feed on its foliage.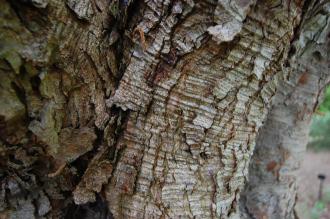 Ostrya virginiana Bark (07/06/2014, Kew Gardens, London)
Ostrya virginiana prefers moist, fertile, well-drained soils. It tolerates most pH of soil.
Ostrya virginiana requires little to no maintenance. Dead or damaged material may be removed in winter.