"Departures," winner of the 2009 Academy Award for Best Foreign Language film, opens this year's Eiga Sai, the Japanese film festival, on July 1 (Friday) at the Shang Cineplex Cinema 2, Shangri-La Plaza, EDSA, Mandaluyong City. The filmfest is part of the month-long activities for Philippines-Japan Friendship Month.
Eiga Sai will play at the following venues: Shang Cineplex Cinema 4 (July 1 to 10), Gaisano Grand Citimall, Davao (July 22 to 24), Ayala Center Cinema 4, Cebu (August 2 to 7) and UP Film Institute (August 17 to 20). Departures
In "Departures," Masahiro Motoki plays Daigo Kobayashi, an aspiring cellist who becomes an embalmer--a role that won for Motoki Best Actor awards at the 32nd Japan Academy Prize in 2008 and the Kinema Junpo Awards in 2009. The film was directed by Yojiro Takita.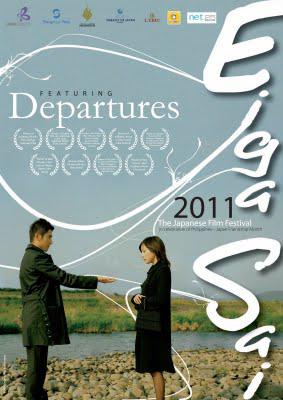 The film festival officially reels off with an invitational screening and special performance of Renato Lucas, the principal cellist of the Philippine Philharmonic Orchestra, together with pianist Naomi Sison, at 7 p.m. at the Atrium Plaza, Shangri-la Plaza.
Completing this year's roster of films to be featured are "The Summit: Chronicle of Stones; "The Chef of South Polar," "One Million Yen Girl," "Your Friend," "Yunagi City, Sakura Country," "Summer Days with Coo," "Climber's High," "Feel the Wind" and "Villon's Wife."
"Eiga Sai," which literally means "film festival," is now on its 13th year in the Philippines, and is organized by the Japan Foundation, Manila together with the Embassy of Japan, The Shangri-La Plaza Corporation, UP Film Institute and with the support of Lyric Piano, ClickTheCity.com and NET 25.
All films will be shown with English subtitles. Admission is free. For detailed screening schedules and inquiries, visit the Japan Foundation website, www.jfmo.org.ph, or call (+632) 8116155 to 58.