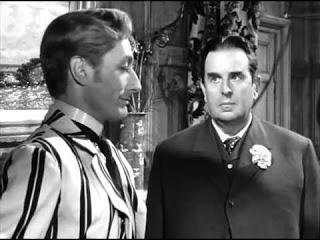 "Truth is never pure and rarely simple."
Gregory Ratoff's
Oscar Wilde
(1960) had the misfortune of coming out the same week as Ken Hughes'
The Trials of Oscar Wilde
, with its lavish budget and Technicolor photography. More modestly staged, Ratoff's film boasts an impressive turn by Robert Morley.
Playwright Oscar Wilde (Robert Morley) befriends Alfred, Lord Douglas (John Neville) during the premiere of Lady Windermere's Fan. Their relationship quickly grows more serious than companionship. Douglas's father, the Marquess of Queensberry (Edward Chapman), publicly accuses Wilde of sodomy. Wilde sues him for libel, leading to a scandalous trial and unraveling Wilde's reputation.
Both Oscar Wilde films were produced as gay rights became a major issue in England: contemporary viewers could easily compare Wilde's persecution with John Gielgud's arrest for "cottaging" or even Alan Turing's chemical castration and suicide. Then again, the comparison isn't perfect. Wilde behaved with shocking indiscretion, with Douglas and other lovers, and arrogantly sued Queensbury, precipitating his own downfall. Nevertheless, both movies argue there should be no need for homosexuals to be discreet.
Based on a play by Leslie and Sewell Stokes, Ratoff's film suffers next to
Trials
, but it's even more direct in presenting its subject. Wilde and Douglas flirt publicly and attend discreet gay soirees. Jo Eisinger's script shows Douglas using Wilde to scandalize his father, with Wilde a willing conspirator. Wilde turns his trial into a debate over art and morality, with barrister Sir Edward Carson (Ralph Richardson) failing to see humor in his quips. Ultimately he's reduced from high society to a jail cell and exile in Paris, cackling madly at corner bistros.
Robert Morley makes Wilde charmingly arrogant, whether bantering with noblemen or bluffing a blackmailer. Morley is broader than smooth Peter Finch, but his unflappable insouciance makes Wilde's downfall even more tragic. John Neville plays "Bosie" as a preening debauchee, driven by hatred of his father. Ralph Richardson gives an electrifying turn as Wilde's stuffy prosecutor. Dennis Price and Phyllis Calvert feel wasted in minor roles. 
Oscar Wilde
has the staging of a drawing room drama and the forcefulness of a message picture. Less expansive than Ken Hughes' film, Ratoff's sparse rendering retains its impact.