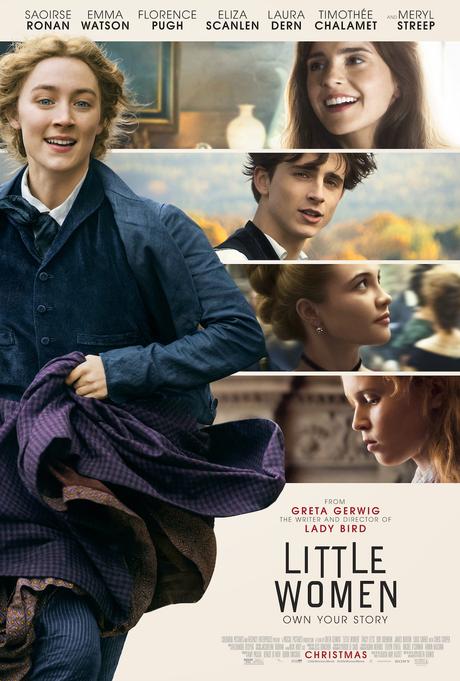 Given the debate surrounding the value (or lack thereof) of yet another "Little Women" adaptation hitting theaters, let me preface this review by saying that I have never read Louisa May Alcott's classic novel. Furthermore, my memories of the 1994 film adaptation have long faded. With that being said, I approached Greta Gerwig's latest work with great anticipation. And what I discovered was a cinematic tour de force that is fully worthy of praise and a place in the Best Picture conversation.
In this classic tale of sisterhood set around the time of the American Civil War, we are first introduced to our main protagonist Jo (played by Saoirse Ronan), an aspiring writer hoping to sell her latest work. As the story progresses, we soon learn that she is just one of several sisters with artistic inclinations, including an avid pianist (Beth, played by Eliza Scanlen), an ambitious painter (Amy, played by Florence Pugh) and a talented actress (Meg, played by Emma Watson). These interests will evolve and change over the years, however, as they come of age in a time of hardship which will test their family and other relationships.
Indeed, romance, humor and tragedy are the order of the day, as Greta Gerwig delivers a bold interpretation of classic costume drama tropes. Making a strong case for a second Best Director nod, she perfectly balances the contrasting tones through smart visual and storytelling choices. At once delicate and exuberant, the cinematography is equally adept at capturing the restless optimism of youth and the stillness of disillusioned adulthood. Similarly, the color palette reflects the contrast between the glow of nostalgia and the more solemn pragmatism of the present and future, further emphasized by non-linear storytelling which enriches rather than obfuscates the narrative.
As that narrative follows the diverging lives of the titular sisters, Gerwig's screenplay - worthy of consideration for Best Adapted Screenplay - compellingly explores feminist themes which continue to resonate today. And in conveying the perspectives of the richly defined characters, the audience is treated to a plethora of sensational performances. Among the sisters, Saoirse Ronan and Florence Pugh are standouts, deservingly garnering attention for Best Actress and Best Supporting Actress kudos respectively. As the headstrong and fiercely independent Jo, Ronan anchors the film with vulnerability and charisma. Meanwhile Pugh is truly inspired in her take on the petulant Amy, brilliantly charting her character's arc with almost vaudevillian expressiveness in her youth and stoic poise as she finds her way in the world.
Simply put, "Little Women" is one of the most entertaining, emotionally affecting and downright gorgeous films of the year. Several of its painterly shot compositions (nominations for Best Production Design, Best Cinematography and Best Costume Design deserve to be foregone conclusions) are seared into my memory, and Alexandre Desplat is on track for another Best Original Score nomination for his typically wonderful music. It may tell a familiar story, but Greta Gerwig's "Little Women" is unforgettable.